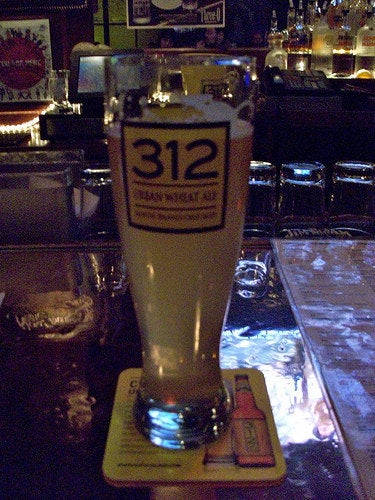 It's not like this should come as a real shocker. Goose Island has been partnered with the Craft Brewers Alliance for several years now, and Anheuser-Busch has a 32.25% stake in the organization. Only now, it's 100% -- Goose's founders and investors will get around $23 million for their 58% stake and the remaining 42% owned by CBA will be acquired for $16 million.
On the positive side, Budweiser dollars mean that Goose Island will now be able to bring its brews to the palates of more beer lovers around the country. But what has most people concerned is the departure of head brewmaster Greg Hall. With the main man heading for an advisory role, what does this mean for the flavor Goose Island's beers? I guess we'll have to wait and see.
But if you're an outraged craft beer fan in Chicago and think that Goose Island has sold out, here are some alternative local choices you can hit up in protest.
Revolution Brewing: With former Goose Island brewer Josh Deth leading the team, it's no wonder this brewery hit the ground running. Revolution Brewing creates 35 different beers throughout the year, including current spring beers like the Village Green English Bitter and the Willie, a Scottish ale made with cherrywood smoked malt that was no doubt named after a certain groundskeeper.
Half Acre: In just five short years, this local brewer has moved from its modest beginnings into a fully functional brewing facility, where they've been since 2009. Surf around their Web site a bit and it's clear that Half Acre knows a thing or two about good aesthetics -- an attention to detail that they bring to brews like the Ginger Twin India Red Ale and their classic, the Half Acre Lager.
Metropolitan Brewing: The native Chicagoans at Metropolitan Brewing are proud of their beer. So much so that they've each got a bio page on their Web site, which also has nifty Google Maps mashups of where you can find their beer on-premise and off-premise. The brewery is located in the Ravenswood Industrial Corridor of Chicago, where they are happily producing beers like the Krankshaft Kölsch and Flywheel Bright Lager.
Three Floyds: Founded by brothers Nick and Simon Floyd and their father Mike, Three Floyds has been bottling unique brews out of Indiana since 1996. Grab a six pack of Alpha King or Gumball Head (our favorite) at Whole Foods or go by the bottle at one of the many area bars and that carry the stuff. If you're a true devotee, splurge on a ticket to the sold out Dark Lord Day on Stubhub and make the trek up to Munster, Ind. for this brew that is only available one day each year.
Support HuffPost
The Stakes Have Never Been Higher
Related
Popular in the Community