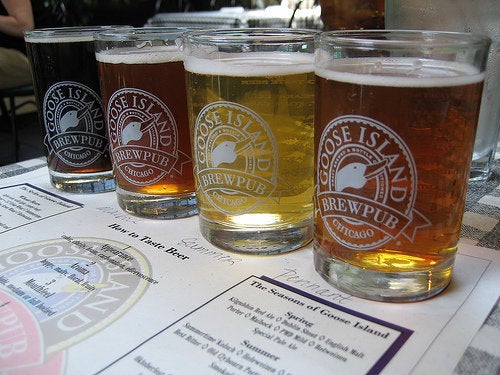 It's been a real up-and-down couple of weeks for Greg Hall.
The brewmaster at Goose Island announced in late March that he'd be leaving that role, as the Chicago-based craft brewer was bought up by Anheuser-Busch for a hefty $39 million. He'll be leaving for an undisclosed new project, according to statements at the time.
And last Friday night, Hall celebrated his 45th birthday at Bangers and Lace, a self-described craft beer and sausage bar that Time Out Chicago recently named its Best New Bar.
Unfortunately, according to the Chicago Tribune, the celebration got a bit out of hand. In a conversation with the Tribune on Monday, Hall didn't deny accusations made by the Bangers staff that he urinated in two beer glasses and left them at the bar.
As Hall and his group began to leave, [bartender Matty] Eggleston said he heard Hall tell his friends, "Don't drink that."

Eggleston said he put his finger on the side of one of the two full 8-ounce glasses. It was warm enough to know it wasn't Honker's Ale, he said. ...

On Saturday, Eggleston said, he received a message from Hall via Facebook which he forwarded to the Tribune. It said, "I apologize for my outlandish behavior last night. I enjoyed myself at Bangers and Lace very much, the beer selection is tops as was our service . . . I'm very sorry to have ruined the night as I did. No excuses, just sincere apology."

"It was disgusting, vile and revolting," [Eggleston] said. "We all do dumb things; that went to a level that was pure insult."

Goose Island apparently sent a case of the brewery's Big John beer over to Bangers and Lace as a peace offering on Saturday morning, but bar owner Matt Eisler said it was "up in the air right now" whether or not B&L would continue to carry Goose Island products, the Tribune reports.
The zingers were already flying on Twitter Tuesday, shortly after the publication of the Tribune story. Many of the jokes were in the vein of this barb from user @CrazyMacHarris: "I think Greg Hall was just trying to show them what the AB-owned Goose Island beer is going to taste like."
But the line of the day might come from @Davbak, as BeerNews.org reported: "Am I the only one who saw the irony of someone apologizing for taking his [removed] out by sending a case of 'Big John'?"

Yet to weigh in, surprisingly, is @Goose_Island_PR, the fake Twitter account used to "promote" Anheuser's purchase of the craft beer maker.
Popular in the Community