PHILADELPHIA ― House Speaker Paul Ryan (R-Wis.) and Senate Majority Leader Mitch McConnell (R-Ky.) privately laid out a busy schedule here at the annual GOP retreat, telling members on Wednesday that in the first 200 days they were aiming to repeal Obamacare by April, pass a tax overhaul by August, and approve funding for a border wall at some point in between.
The big news out of Wednesday's meeting, however, was that Ryan and McConnell seemed to be moving ahead with a speedy Obamacare repeal while there's no agreement on a real alternative health care plan ― in contradiction to President Donald Trump's vow that its repeal and replacement would be essentially simultaneous.
According to sources in the room for the private meeting, Ryan told members that Trump agreed with their "Better Way" agenda, but had asked to add an infrastructure bill, which has been hyped by the new administration. Ryan said that bill would focus on public-private partnerships rather than just pushing funding toward individual projects, opening up the possibility that much of the money may come in the form of tax cuts.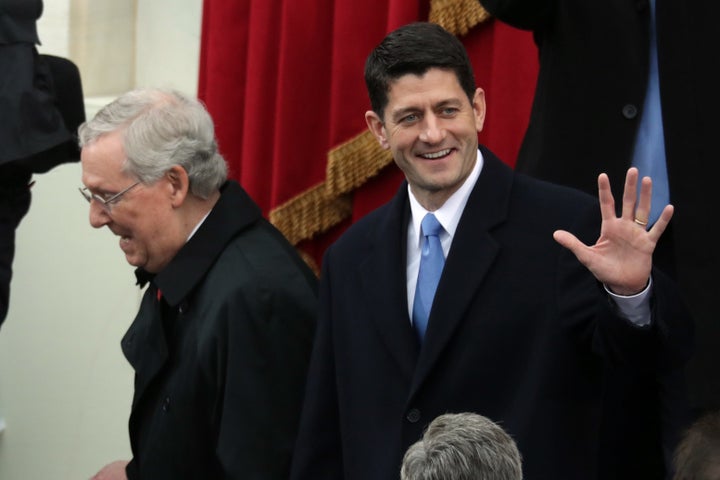 That infrastructure bill may or may not contain funding for a border wall, but Ryan said Congress wouldn't fund that project through the regular appropriations process. Money to keep the government going runs out on April 28, and Congress will need to pass a funding bill before then to avoid a shutdown, but Ryan indicated they wouldn't attach border wall funding to that bill.
Although Ryan and Trump have said an Affordable Care Act replacement would come at the same time as a repeal, they appear to be playing with some loose definitions of "simultaneous." Leaders indicated a replacement would come in three different steps. First, some small portions of an alternative plan would be in the repeal bill. Second, Trump and his secretary of health and human services would establish some replacement steps through executive action and HHS guidance. And lastly, the rest of a replacement would come through regular order, which will require 60 votes in the Senate.
McConnell spoke about the challenges of the 60-vote threshold in the Senate with just 52 Republican lawmakers in that chamber. He emphasized the difficulty of passing anything beyond reconciliation bills, which require only 50 votes. Members suggested that McConnell was trying to temper expectations on the replacement bill with the realities of the Senate filibuster, a practice McConnell doesn't seem apt to blow up, one member said.
Republicans also told The Huffington Post that leaders spoke about the need for year-to-year deficit reduction.
Leadership has emphasized the need for members to use the GOP retreat to get on the same page and emerge with similar ideas on Obamacare. While members still have a two-and-a-half-hour session on an Obamacare replacement, the early agenda doesn't seem to rely on Republicans agreeing to an alternative at this point. Instead, they will push ahead with a repeal and claim that the replacement process is underway ― even if most of the work of regular bills is left to be done.
Calling all HuffPost superfans!
Sign up for membership to become a founding member and help shape HuffPost's next chapter
BEFORE YOU GO
PHOTO GALLERY
2017 Scenes From Congress & Capitol Hill