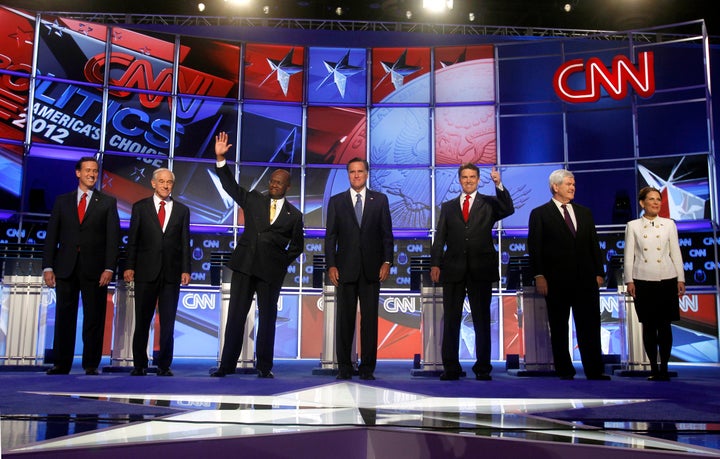 WASHINGTON -- The longstanding theory that the Iowa caucus is won by retail politics has been deeply challenged in this election cycle, as Republican primary candidates who have barely invested in the Hawkeye State remain high up in the polls.
The Johnston, Iowa Patch reports that former Massachusetts Gov. Mitt Romney has visited the state fewer times than Sarah Palin. But despite those four trips (with a scant 15 stops within them), Romney was at the top of the recent all-important Des Moines Register Iowa Poll.
Meanwhile, former House Speaker Newt Gingrich, who some believe will be the next candidate to rise in the polls, has yet to actually open up an office in Iowa. His campaign had promised one by the middle of October. That never happened. Gingrich spokesman R.C. Hammond told the Johnston Patch that there are now plans for five offices spread across the state. So far, though, barely anyone in the field is making a big financial investment in Iowa, save former Sen. Rick Santorum (R-Pa.) and Rep. Michele Bachmann (R-Minn).
The Huffington Post crunched the federal election data on campaign disbursements to analyze just how much (and what percentage of) campaign money was being spent in the Hawkeye State -- whether on vendors, staffers, office space, campaign stops, or anything else. The numbers should reveal who is prioritizing Iowa as part of a larger campaign strategy, with the logic being that candidates will invest in a state they want to win or shower their money on sources whose votes they're hoping to secure. Instead, the data shows a GOP field that isn't yet much committed (at least financially) to the all-important caucus state.
Through September 30 (the end of the third-quarter fundraising period), Bachmann had led the field, sending $506,372 to Iowa recipients. But that was just 7.3 percent of all expenditures her campaign has made.
Santorum, by contrast, has spent $273,940 on Iowa, more than 25 percent of his total campaign expenditures.
Texas Gov. Rick Perry, who is running an Iowa-centric campaign, has sent just $55,202 to Iowa recipients (2.63 percent), though that doesn't take into account the fact that he began his campaign later than the competition and has now begun running ads in the state.
Former Massachusetts Gov. Mitt Romney, who is tied atop the Des Moines Register poll of voters, has sent just under $160,000 to Iowans (0.9 percent of all money his campaign has spent).
Herman Cain, who was tied with Romney atop that Des Moines Register poll, has sent just under $176,000 to recipients in Iowa (4.39 percent of all expenditures made).
Rep. Ron Paul (R-Texas) has sent $182,211 to Iowa recipients (2.02 percent)
Gingrich, whose campaign is in serious debt, has spent $59,643 in Iowa (2.34 percent).
Former Utah Gov. Jon Huntsman, who has written Iowa off, has not spent a single cent in the state.

Calling all HuffPost superfans!
Sign up for membership to become a founding member and help shape HuffPost's next chapter