WASHINGTON -- When House GOP leaders abruptly shelved a bill to fund standard federal transportation and housing programs last Wednesday, one of the legislation's few uncontroversial provisions was a section banning funds for the anti-poverty group ACORN. Had Speaker of the House John Boehner (R-Ohio) been able to pass the bill, it would have marked the 13th time that Republicans have voted to block federal funding for ACORN since the GOP took over the lower chamber in 2011.
Oddly, however, ACORN, or the Association of Community Organizations for Reform Now, does not exist. And it did not exist at any time when the House GOP has held a vote on ACORN's access to government monies -- the group disbanded in the spring of 2010.
Just why, exactly, the House GOP keeps voting to ban funding for an organization that was extinguished more than three years ago remains something of a mystery, and the subject of Democratic ridicule.
"Word is the majority will also prohibit foreign aid to the Ottoman Empire this year," a Democratic congressional aide snarked to HuffPost. (Like ACORN, the Ottoman Empire does not exist.)

"Thirteen votes to defund a program that no longer exists. Forty votes to repeal a health care law that is transforming millions of lives," said Drew Hammill, a spokesman for House Minority Leader Nancy Pelosi (D-Calif.), comparing the anti-ACORN legislation to the House GOP's routine votes to repeal Obamacare. "If their agenda is to do nothing on a timeline of never, they're setting record pace."
A spokesman for House Speaker John Boehner (R-Ohio) declined to comment on the ACORN legislation and directed questions to Jennifer Hing, spokeswoman for the GOP majority on the House Appropriations Committee. Hing has repeatedly told HuffPost that the defunding of ACORN is a "standard provision" that goes into most appropriations bills.
Unlike most anti-poverty groups, ACORN was actually staffed by low-income people. The organization was never popular among conservative political groups. Republican politicians and right-wing activists had targeted the organization for decades, accusing ACORN of broad voter fraud conspiracies without ever turning up anything other than a few isolated, usually accidental, violations.
Before these investigations were completed, however, Congress cut off federal funding for ACORN using broad language that applied to any organization that had been charged with breaking federal or state election laws, lobbying disclosure laws or campaign finance laws or with filing fraudulent paperwork with any federal or state agency. The funding ban also extended to any employees, contractors or others affiliated with any group so charged.
The funding ban passed in the fall of 2009, and in early 2010, an empty-coffered ACORN disbanded. The House GOP has continued to bar the group from receiving federal cash ever since.
Today, the House Appropriations Committee generally includes a provision to bar funding for ACORN in bills that it approves. But not every bill that clears that committee goes out with anti-ACORN language. Legislation to fund energy and water, for instance, which passed the full House on July 10, made no mention of ACORN.
"The [energy and water] appropriations bill has not carried this provision in the past, and therefore did not carry it this year," said Hing.
Several other appropriations bills -- legislative branch funding and Hurricane Sandy relief aid, for instance -- have not included the boilerplate language regarding ACORN.
When asked if there were any rhyme or reason to the ACORN provisions, Hing told HuffPost, "Some of these were added via amendments on the House floor, so it was a fluid process."
How many times ACORN has been defunded is the subject of mild dispute among experts. While the House GOP has cast 12 different votes in favor of legislative language barring federal funds for ACORN, one of those votes, on June 14, 2011, was cast for two separate bills with anti-ACORN provisions. One of those bills, moreover, included two separate provisions barring funds to ACORN.
The anti-ACORN language at times takes different formulations. A recent bill to fund military projects and the Veterans Administration includes the line, "None of the funds made available in this Act may be distributed to the Association of Community Organizations for Reform Now (ACORN) or its subsidiaries."
Last year's version of the same bill adds "or successors" to the boilerplate.
Some anti-ACORN funding provisions even retroactively ban funds previously appropriated to the organization:
"None of the funds made available under this Act or any prior appropriations Act may be provided to the Association of Community Organizations for Reform Now (ACORN), or any of its affiliates, subsidiaries, or allied organizations," reads one 2012 appropriations bill.
Another version from 2011 lists nearly three pages of state and local ACORN chapters -- all defunct -- that are barred from receiving government money.
Democrats have seldom fought the ACORN language, but defunding the group has not always an exclusively partisan proposition.
In the summer of 2010, the GOP successfully pushed two appropriations bills through the House, then led by Speaker Pelosi, that included a ban on funding for ACORN. At the time, the various government investigations into ACORN had not been completed, and many Democrats were wary of appearing sympathetic to the group.
The investigations cleared ACORN, but that did not halt the defunding efforts. When the GOP took control of the House in the November 2010 elections, anti-ACORN language became standard practice in the appropriations committee.
Transportation and housing funding, like the farm bill, were once considered certain to pass in both chambers of Congress. While the political future of basic federal transportation projects remains unclear, whenever House Republicans can find something to agree on, it's a safe bet that an ACORN funding ban will make the cut.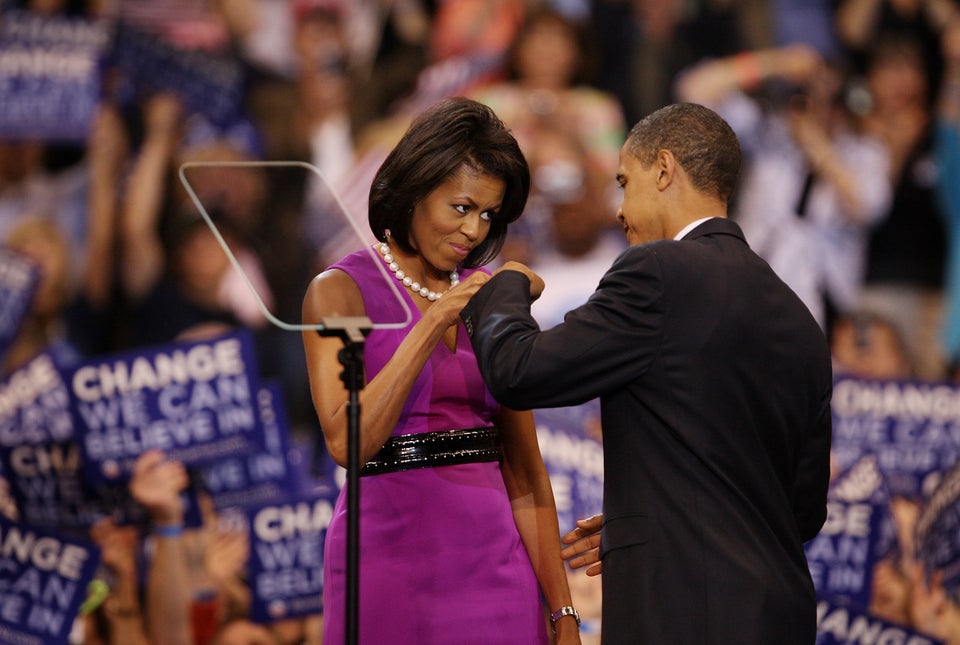 Obama's Fist Bumps
Popular in the Community