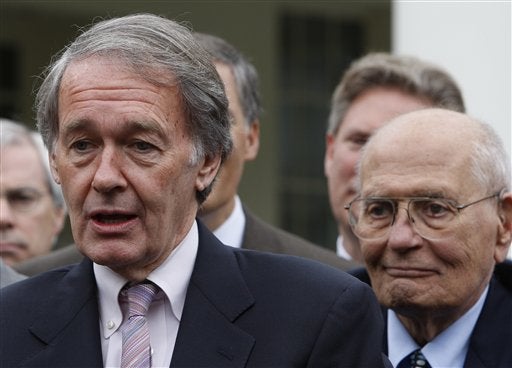 With the House of Representatives barreling toward a Friday vote on the Waxman-Markey climate change bill, Democratic leaders working to swing more "Yea" votes are getting some unintended help from Republicans.
Republican attempts to obstruct business in the House with a barrage of procedural votes are actually helping the Democratic leadership galvanize undecided and opposition Democrats, Rep. Ed Markey (D-Mass.) said Wednesday afternoon.
"We're meeting with everyone," Markey said. "We have a lot of members on our list, and all of these roll calls that have been called are helping us to have the members come out so that we can move one-to-one and have conversations, hear their concerns, and try and reconcile their concerns to the goal of gaining their vote on Friday."
The normal get-out-the-vote process often involves majority leadership staff reaching out to other members' staff, which is more time-consuming and less effective than face-to-face meetings between the representatives on the House floor.
"In the GOP's attempt to stop the agenda they're shooting themselves in the foot," said a Democratic leadership aide. "More votes mean more time for us to whip."
Markey declined to thank Republican leadership for the assistance, but acknowledged that they've helped him bait the hook. "It does help us to be able to have a well-organized fishing hole for us," he said.
The GOP's unintentional assist doesn't even seem to be supported by most of their party. By Wednesday afternoon, Republican motions to adjourn barely garnered 20 votes each, with even Minority Whip Eric Cantor (R-Va.) voting against them.
Calling all HuffPost superfans!
Sign up for membership to become a founding member and help shape HuffPost's next chapter