Gwendolyn Herzig, a transgender pharmacist, went to the Arkansas statehouse last month to testify in support of providing transgender youth with gender-affirming health care.
Herzig hoped lawmakers would take her expert background into consideration as they debated a law that would allow anyone who received gender-affirming care from a doctor as a minor to sue for malpractice for up to 30 years after they turn 18.
Instead, she was met with transphobia.
"You said you're a trans woman," Republican state Rep. Matt McKee said. "Do you have a penis?"
Herzig later told NBC News that the experience "was probably the most publicly humiliating thing I've ever gone through."
The medical malpractice suit is just one of the anti-LGBTQ measures Arkansas has considered recently. In January, Republicans introduced an extreme bill that would have criminalized "adult-oriented performances" — including those where performers "exhibit a gender identity that is different from the performer's gender assigned at birth" — in public where children could view them.
Republican co-sponsors of the bill eventually removed language specifically targeting drag performers after public pushback, and a law criminalizing public adult performances went into effect this week.
Nationwide, there are about 351 anti-LGBTQ bills in state legislatures right now, according to the American Civil Liberties Union. The proposed measures, which are all sponsored by Republicans and come at a time when the GOP has been consumed by anti-LGBTQ hysteria, attempt to criminalize drag performances, bar trans youth from playing sports at school, and ban health care for transgender children and adults.
Some anti-LGBTQ bills have already worked their way through state legislatures — just this week, Mississippi Gov. Tate Reeves (R) signed a law that bans gender-affirming care for trans youth.
"This Republican Party is playing politics with people's lives and they're painting a clear picture of what their priorities are," said Heather Williams, the interim president of the Democratic Legislative Campaign Committee.
An Avalanche Of Bills
Tennessee is poised to become the first state to criminalize drag performances, a move that LGBTQ people and advocates say has the potential to criminalize transgender and nonbinary people as well as limit Pride celebrations.
Republican Gov. Bill Lee has signaled that he'll sign into law HB3/SB9, which would outlaw "adult cabaret performers" — which include topless and exotic dancers, as well as "male or female impersonators" — in public where a minor could see them.
The language is so broad that LGBTQ advocates are worried the law could also be used to arrest transgender people just living their lives.
"Trans and nonbinary people will now have to wonder if they will be accused of being male or female impersonators," Chris Sullivan, the executive director of the Tennessee Equality Project, a nonprofit organization dedicated to LGBTQ rights, told HuffPost. "It makes you think twice about going to the grocery store."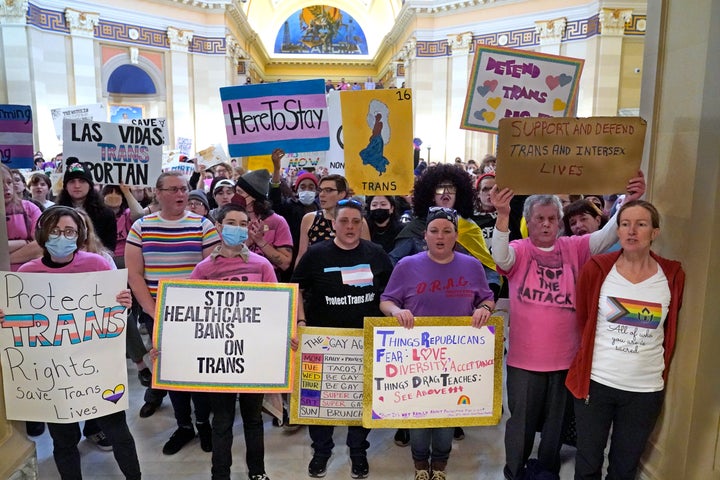 A similar proposal in Missouri, a state that is also seeking to ban gender-affirming health care for minors and incarcerated adults, would make performing in drag in public or where a minor could see it punishable by one year in jail and a $2,000 fine.
Even in Virginia, where the number of Democrats in the state Senate all but guarantees homophobic and transphobic bills can't advance, Republicans have tried to jam through a slew of extreme bills to prove to a blood-red base that they too are trying to restrict the rights of the LGBTQ community.
One such bill would require students to submit identification of their "biological sex" on a form, which requires a doctor's signature, in order to play sports. The proposal is an attempt to ban transgender students from participating in athletics.
"If you think requiring 1.6 million students to have their genitals inspected is good policy, a lot of parents are going to object to that," Democratic Virginia House Del. Danica Roem told HuffPost.
Republicans have kept their sights set on anti-LGBTQ legislation, even though many high-profile candidates pushing a far-right, culture war-led agenda were defeated in the 2022 midterms.
"It's not all partisanship. There are some true believers," Roem said. "But any time they spend worrying about drag queens, that's time they're not worried about transportation infrastructure and overcrowded classrooms."
"It's not about public service, it's about how they can rise in the ranks of the party and get all the attention," Williams said. "And the only way to do that is to be anti-everything and stand for nothing."
Many of the anti-drag bills and other measures targeting the LGBTQ community will likely face legal challenges. But advocates and Democrats say these bills don't have to become law to cause harm.
"They're causing actual, real damage to their constituents," Roem said. "You cannot serve your constituents by attacking them."
Support HuffPost
The Stakes Have Never Been Higher
Popular in the Community