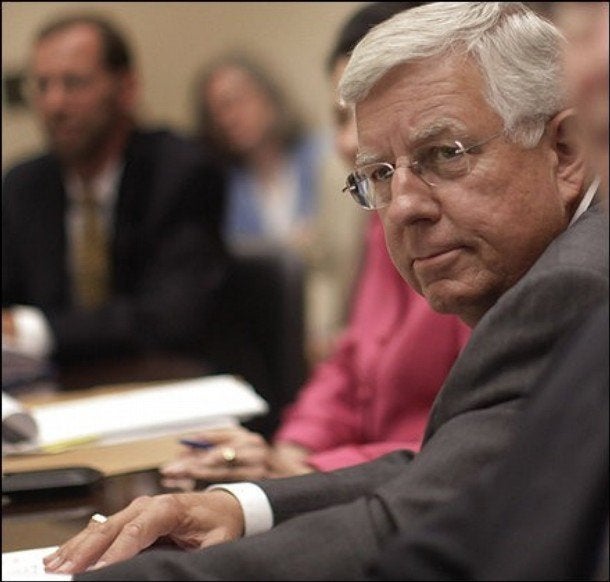 Sen. Dick Durbin (D-Ill.) on Tuesday tried to push a three-month extension of a stimulus bill jobs program that is set to expire on Thursday, jeopardizing tens of thousands of jobs. Sen. Mike Enzi (R-Wyo.) objected.
"The majority has known this program was going to expire at the end of this month all year and has taken no steps to reauthorize this important social safety net program," said Enzi, who blocked Durbin's request for "unanimous consent" for a reauthorization.
Having known about the expiration all year, Democrats first attempted to reauthorize the program back in March, but were blocked by Sen. Judd Gregg (R-N.H.), who objected to the $1.5 billion cost of the measure. The next attempt came last week when Sen. Max Baucus (D-Mont.) included the program in a catchall "tax extenders" bill shot down by Sen. Orrin Hatch (R-Utah).
The program is an "Emergency Fund" created by the stimulus bill to help states subsidize jobs for poor parents via the Temporary Assistance for Needy Families program (formerly known as welfare). The Center on Budget and Policy Priorities has estimated that the TANF Emergency Fund has created more than 240,000 jobs.
"In my state, we call this program Put Illinois to Work. It helps states subsidize the cost of hiring workers in mostly private sector jobs," said Durbin. "This small program has had a huge impact in Illinois... Rather than paying people to do nothing, this program helps private companies hire the employees they need but can't quite afford... I think the only reason there is opposition to this is the fact that it was originally conceived and offered to the Senate in the President's Recovery Act."
A Democratic aide told HuffPost that the Emergency Fund "sounds like it's pretty much dead in the water" after Tuesday's request failed. But at least in Illinois, the program will continue for an additional two months by order of Gov. Pat Quinn, who announced the state will use $75 million of its own funds to preserve the 26,000 jobs created there.
"The best way to make our economy stronger is to put people to work -- that is why we are temporarily continuing this successful program until Congress acts to extend the program," Quinn said.
In his objection to Durbin's request, Enzi noted that the Senate is also expected to pass a reauthorization of the underlying TANF program. "I am not sure the Senator from Illinois is aware that the chairman and ranking member of the Finance Committee have put together a bipartisan 1-year extension of TANF," Enzi said, presumably referring to a provision of a continuing resolution to fund government operations in the absence of a budget. But it was not clear if Enzi meant he expected the Emergency Fund to be included in that resolution. Enzi's office did not immediately respond to a request for comment.
UPDATE 3:30 PM: Enzi's office sent a clarifying statement to HuffPost:
"Senator Enzi does not want money for the ECF to be included in the TANF authorization extension as part of the Continuing Resolution -- and it isn't. The Continuing Resolution includes a TANF authorization extension of current program funding levels. The Continuing Resolution is set to be voted on tonight or tomorrow and will run until December 3, 2010. Yesterday Senator Enzi was objecting to a stand-alone extension of the TANF ECF for one quarter.
"Senator Enzi objects to the continuation of this fund because it undermines key principles of welfare reform by rewarding states that increase welfare spending and when created, the fund was meant to be temporary. The Emergency Contingency Fund is not sound welfare policy, has not been considered by the Senate Finance Committee, is not bipartisan, and is costly, estimated to cost approximately $500 million for a one quarter extension, that is why Senator Enzi objected to its extension."
Popular in the Community