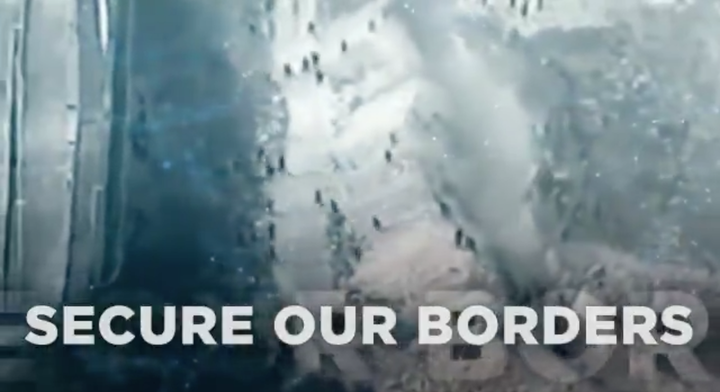 Ohio GOP congressional candidate Christina Hagan is using dramatic video footage of migrants in Morocco hastily climbing a wall to suggest Mexicans at the southern U.S. border in a campaign ad.
The footage, as CNN reporter Andrew Kaczynski pointed out in a tweet Friday, can be traced to a 2014 report on migrants crossing from Morocco into territory occupied by Spain on the African mainland, aired on the Italian television network RepubblicaTV. 
"We must stop the flow of drugs and illegal immigrants into this country," says Hagan in a voiceover as colorless video shows dozens of people streaming over the border. Hagan, an enthusiastic supporter of President Donald Trump, is running to replace a retiring Republican in the congressional race.
It's at least the second time a conservative candidate has used the Morocco footage in an attempt to stir anti-immigrant sentiment. 
Trump himself used it in early 2016 during his presidential run, PolitiFact reported. Halfway through the ad, as the migrant footage plays, a narrator says Trump will "stop illegal immigration by building a wall on our southern border that Mexico will pay for."
A longer version of the clip can be seen here:
Hagan, now a state lawmaker, faces Anthony Gonzalez, a former football player, in the May 8 GOP primary to represent Ohio's 16th Congressional District, which includes areas around Akron and Cleveland.
Her website bills her as an "anti-establishment, pro-Trump" candidate "for the middle class," and outlines vague positions on immigration policy. "Laws passed in accordance with our Constitutional system of government must be enforced," she says on her website.
Clarification: Language in this story and headline has been amended to avoid the suggestion that the migrants in the video in Morocco are themselves Moroccan.
Calling all HuffPost superfans!
Sign up for membership to become a founding member and help shape HuffPost's next chapter