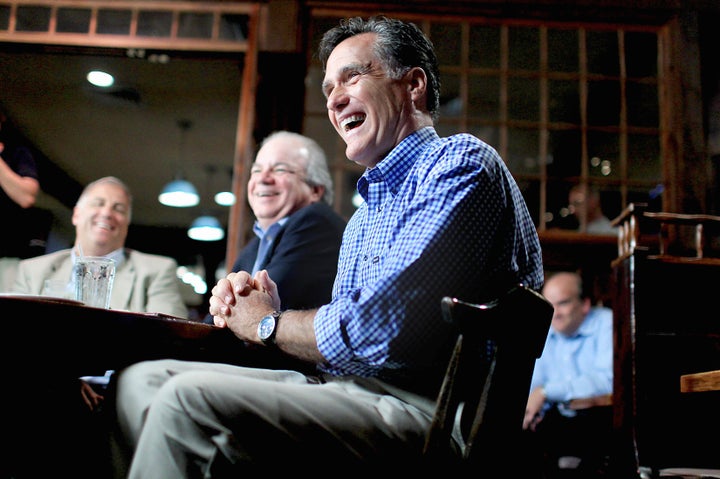 WASHINGTON -- Republican presidential candidates are all refusing to release lists of donors who are bundling contributions to their campaigns, but campaign finance reports filed on Friday show that three candidates have already received financial backing from some of these important donors and, in many cases, the support of their larger wealth networks.
Former Massachusetts Gov. Mitt Romney receives the most support from the bundlers who raised millions of dollars for the campaigns of former President George W. Bush and Sen. John McCain (R-Ariz.), according to the reports. From April to June, 156 GOP bundlers donated a total of $393,500 to Romney's campaign. Their family members chipped in an extra $232,087.
Former Minnesota Gov. Tim Pawlenty pulled in $192,500 from contributions from 43 bundlers and their families, and former Speaker of the House Newt Gingrich received $20,050 in donations from five bundlers and their families.
These bundler donors only represent a small slice of the total number of GOP bundlers out there. There were approximately 1,400 individuals bundling money from 2000 to 2008. That leaves a huge amount of big money for candidates, both in the race and yet to declare, to tap into in the future.
Bundlers are donors who collect checks from coworkers, family members, friends, and other acquaintances to deliver to a campaign. This often increases the clout of the donor within the campaign, providing increased access and a potential for future job placement if the candidate wins. The practice has received increased public scrutiny since President George W. Bush organized bundlers into Ranger and Pioneer categories to determine the amount of access those donors received from the campaign.
"Bundling is the name of the game for presidential runs," explained Sheila Krumholz, the executive director of the Center for Responsive Politics. "This fundraising strategy is enormously important."
Bush and McCain both voluntarily released lists of big money bundlers to the public. But as HuffPost's Sam Stein reported last week, the current crop of Republican candidates will not release the names of their wealthy backers who are raising hundreds of thousands for their campaigns. President Barack Obama released a list of his bundlers on July 15.
See the bundlers donating to 2012 GOP Presidential candidates:
Search the map below to see the Bush and McCain bundlers donating to the current crop of Republican candidates for the GOP presidential nomination. Sort by GOP candidate at the bottom of the map.
Romney's bundler donors include some of the mega-bundlers that raised at least $100,000 for Bush in 2000, at least $200,000 for Bush in 2004, and at least $500,000 for McCain in 2008. Romney received contributions from six of these mega-bundlers. They are lobbyists Wayne Berman, Patrick Durkin and Thomas Fiorentino, Jr., car salesman James Click, president and CEO of the Northern Virginia Technology Council Bobbie Kilberg, and PVS Chemicals CEO James B. Nicholson.
Berman, Durkin, and Fiorentino have already reported bundling over $100,000 each to the Romney campaign. While the Romney has refused to publicly disclose its list of bundlers, breaking with a long-time precedent set by President Bush, campaigns are required by law to disclose registered lobbyists bundling donations for their campaign. Romney reported three more lobbyist bundlers in addition to Berman and Fiorentino; they are David Beightol, Drew Maloney, and Judy Rhines.
Romney also received contributions from one bundler who raised at least $200,000 for Bush in 2004 and $500,000 for McCain, three who raised at least $500,000 for McCain and fifteen who raised at least $200,000 for Bush in 2004.
Romney's dominance in the Wall Street money race is evidenced by the 29 Bush/McCain bundlers from New York (the most from any state) who have donated to his campaign. He also received donations from 10 bundlers residing in Connecticut, the home state of many Wall Street titans.
Romney raised $2.1 million from New York state this year, with large sums from some of Wall Street's biggest firms. Goldman Sachs employees gave $238,250, Credit Suisse employees gave $157,000 and Morgan Stanley employees donated $113,700 to the Romney campaign. Both Goldman Sachs and Credit Suisse have former employees who are both Bush/McCain bundlers and current Romney donors.
Bill Allison, the editorial director of the Sunlight Foundation, a nonpartisan nonprofit supporting transparency in government including information around the bundling of campaign contributions, explained that bundlers often rely on employees and family members for donations. "What bundlers have are networks of people who give a lot of money," he said. "When people in that network are giving, there's a good chance that [the bundler] is involved."
H. Gary Morse, a Romney donor and member of his Florida Finance Team, is the CEO of The Villages, a giant retirement community in Florida, who bundled hundreds of thousands of dollars for both of Bush's campaigns and the 2008 McCain campaign. The Romney campaign reported that employees of The Villages donated $65,000 to the campaign on April 21, around the date of a fundraiser held by Romney in Orlando.
Another Bush and McCain bundler, John W. Marriott, is a big backer of Romney's presidential bid. While he is not listed as a bundler this year, the Romney campaign received $57,087 from employees and family members of the Mormon hotel magnate. Much of that money was delivered in bundles on the same day: $25,500 on June 29 and $14,500 on June 20. Marriott backed Romney's first run for the GOP presidential bid in 2008.
James Quigley, the CEO of Deloitte & Touche, bundled at least $100,000 for George W. Bush in 2004. Employees of the accounting firm, including Quigley, have thus far contributed $22,500 to Romney's 2012 presidential bid.
Pawlenty's campaign received donations from three bundlers who each raised at least $500,000 for McCain's 2008 presidential run. The majority of the bundlers donating to his campaign hail from Texas. None of Pawlenty's bundler donors hailed from New York, another indication of Romney's dominance on Wall Street.
One bundler donating to Pawlenty is Robert Rowling, the CEO of TRT Holdings and a major donor to the Karl Rove-linked Super PAC American Crossroads. Rowling and his wife donated $5,000 each to Pawlenty's campaign. Rowling is the second-biggest donor to American Crossroads, having donated more than $5 million to the conservative political group since it was founded in 2010.
Another American Crossroads bankroller and former bundler, Harold Simmons, the CEO of Contran Corporation, donated to more than one of the Republican candidates. Simmons and his wife gave to Romney, Gingrich and Pawlenty.
A few bundlers copied Simmons and split their donations to GOP primary candidates. Seven bundler donors gave to both Romney and Pawlenty and one gave to both Romney and Gingrich
While the public knows who these bundlers are donating to, there is still no public disclosure provision for big money bundling. The public does not know who the campaign bundlers are if the campaign refuses to voluntarily disclose. Moreover, even if the campaign does release a list of names, there is no information on where the bundled checks come from.
"These are the folks who have better access to the campaign and it's where future ambassadors will come from," said Allison, of the Sunlight Foundation. "Knowing who they're asking for money is more important than knowing they're asking for money."
And that lack of knowledge has an impact not just during the election, but when a candidate takes office as well.
"The impact isn't just during the election season," Krumholz said, "but it goes on when the bundler goes to cash in on their volunteer efforts."
According to a report from iWatch News, nearly 200 individuals who bundled donations for Obama's 2008 presidential run also received appointments from the president.
Calling all HuffPost superfans!
Sign up for membership to become a founding member and help shape HuffPost's next chapter