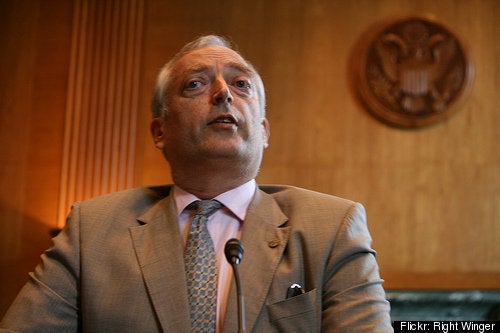 House Republicans have chosen Lord Christopher Monckton, a non-scientist with a penchant for outrageous remarks, as their sole witness at tomorrow's hearing in front of the Select Committee on Energy Independence and Global Warming.
Rep. Ed Markey (D-MA) called the hearing in an effort to further restore public confidence in climate science, and to set the record straight that 'Climategate' was not the scandal climate deniers and the right-wing media tried to portray in the wake of the theft of private emails from scientists at the Climatic Research Unit of the University of East Anglia.
A press release announcing the hearing states that the scientists "will address the claims of deniers head-on."
The explanatory hearing will include testimony from Lisa Graumlich, director of the School of Natural Resources and the Environment at the University of Arizona, who served on the British panel that last month exonerated the CRU scientists of any malpractice.
Rep. Markey has also called three top American climate scientists to explain that climate science remains fundamentally sound and supported by evidence gathered by reputed scientific institutions around the world. The three expert scientist witnesses were involved in the Intergovernmental Panel on Climate Change reports that have been attacked by climate deniers, including Lord Monckton.
Rep. James Sensenbrenner, the Ranking Minority Member of the committee, chose Monckton as the Republican's sole witness at the hearing.
In a 1987 article for the American Spectator titled the The Myth of Heterosexual AIDS, Monckton wrote that:
.... there is only one way to stop AIDS. That is to screen the entire population regularly and to quarantine all carriers of the disease for life. Every member of the population should be blood-tested every month ... all those found to be infected with the virus, even if only as carriers, should be isolated compulsorily, immediately, and permanently.
With such a long record of inflammatory and baseless statements, what could the GOP possibly see in Monckton that would warrant his appearance as an expert witness on a climate science panel otherwise made up of scientists?
Tune in to the hearing tomorrow at 9:30 AM eastern to watch the hearing on the web at globalwarming.house.gov.
WHAT: Select Committee hearing, "The Foundation of Climate Science"
WHEN: Thursday, May 6, 2010, 9:30 AM
WHERE: 2237 Rayburn House Office Building, Washington, DC, and on the web at globalwarming.house.gov
Dr. Lisa Graumlich, Director, School of Natural Resources and the Environment, University of Arizona, and member of the "Oxburgh Inquiry" panel
Dr. Chris Field, Director, Department of Global Ecology, Carnegie Institution of Washington, and co-chair of "Impacts, Adaptation and Vulnerability" portion of new IPCC report due in 2014
Dr. James McCarthy, Professor of Biological Oceanography, Harvard University, past President and Chair of the American Association for the Advancement of Science, co-chair of "Impacts, Adaptation and Vulnerability" portion of IPCC report published in 2001
Dr. James Hurrell, Senior Scientist, National Center for Atmospheric Research, contributor to IPCC reports
Lord Christopher Monckton, Chief Policy Adviser, Science and Public Policy Institute
Related
Popular in the Community