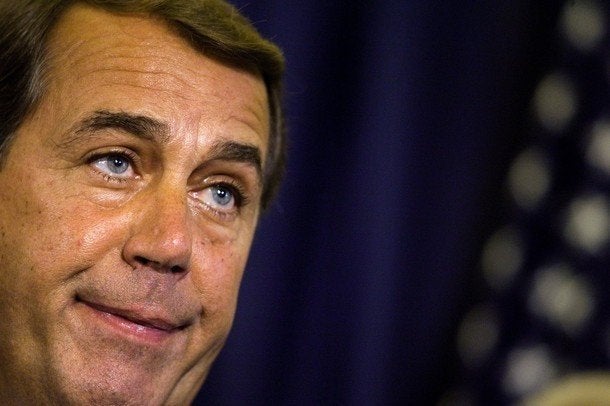 The ACORN defunding bill passed with broad bipartisan support last week before Rep. Jerry Nadler (D-N.Y.) pointed out that is a "bill of attainder," written to punish a specific individual or group, and therefore unconstitutional. CRS, an independent research body, responded to subsequent Congressional inquiries with the judgment that the bill "would appear to meet a per se criteria for specificity."
"Our bill, the Defund ACORN Act, would make sure that taxpayers don't send another penny to this scandal-plagued outfit," Boehner wrote in the fundraising e-mail, which was obtained by the Huffington Post. The bill was written so broadly, however, that it also seems to apply to any government contractor employing even a single person charged with fraud. Rep. Alan Grayson (D-Fla.) is compiling a list of all the contractors who meet that criteria.
House Democrats introduced another bill Friday that targets ACORN more specifically and therefore also seems likely to be deemed a bill of attainder, but Republicans seem to want as much credit as possible for the ensuing legislative debacle. Read the full fundraising e-mail below:
Dear XX,

You've heard from Congressman Joe Wilson. NRCC Chairman Pete Sessions reached out to you as well.

Now I'd like to ask one more time for a generous contribution of $10, $25, or $50 to help us keep fighting the jobs-killing Obama-Pelosi agenda - don't forget every dollar donated between now and midnight tonight will be doubled by my Republican colleagues.

In recent weeks we've launched several new efforts to stop wasteful government spending, and make Congress more transparent and accountable. For example:

* We're going after taxpayer funding for ACORN and calling for a federal investigation of the left wing activist group. Our bill, the Defund ACORN Act, would make sure that taxpayers don't send another penny to this scandal-plagued outfit.
* We're promoting real health care solutions that will lower costs without adding to the deficit or creating a government-run "option." Our plan would rein in junk lawsuits that drive up costs and allow individuals and small businesses to pool together and buy insurance across state lines.
* We're demanding that Speaker Pelosi post all major bills online at least three days before a vote, giving lawmakers and the public time to know what's in them.
* And we're backing a proposal to end the bailouts once and for all, and stop Washington from picking winners and losers in the market.

I was recently asked how some of these new Republican efforts square with GOP management of Congress during our 12 years of control. My answer was simple: "It's time to change a lot of things about how Congress works... whether we are the majority or the minority."

And we're not waiting until we have the Speaker's gavel. We're making sure voters know now what we'd do differently if given the chance.

We only have a couple of hours left before our FEC filing deadline. Help us finish the quarter strong, and show the left and their allies that Americans have had enough of the spending, taxing, and borrowing. I hope I can count on your help!

John Boehner
Republican Leader

P.S. Make no mistake: your support is fueling our fight for freedom and reform, and helping us hold Speaker Pelosi's liberal allies accountable in Washington and in their hometowns. Every dollar you contribute, will be doubled and is being spent to recruit principled candidates who can win and make sure voters know about Democrats' jobs-killing agenda. Thank you again for your generous contribution!
Calling all HuffPost superfans!
Sign up for membership to become a founding member and help shape HuffPost's next chapter