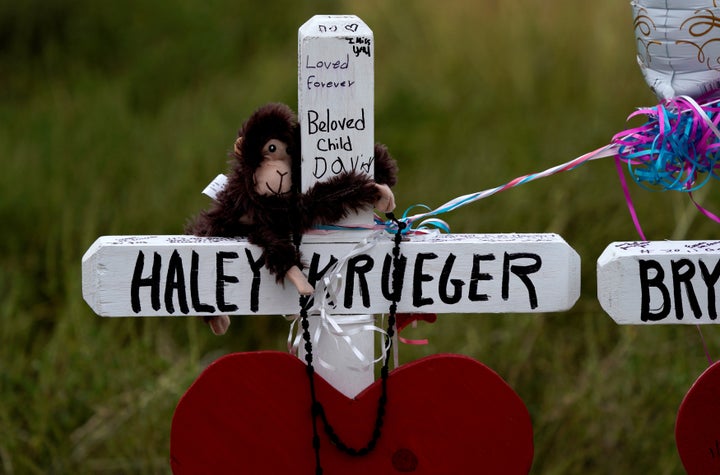 WASHINGTON ― House Republicans are expected to vote as early as Wednesday on legislation to expand the ability of out-of-state visitors to carry concealed guns in places like Times Square or the streets of Los Angeles, effectively overriding strict state and local prohibitions. It is the first gun bill to receive a vote in Congress since a shooter mowed down concert-goers in Las Vegas and another opened fire at a Texas church.
The bill, known as the Concealed Carry Reciprocity Act, would treat concealed carry permits, which allow people to carry a hidden weapon in public, more like driver's licenses. Although many states already have some reciprocity, the measure would force all states to honor permits from other places, including those with much looser restrictions. Someone who gets a gun in Vermont, one of 12 states that allow people to carry concealed weapons without a permit, would be able to also carry it concealed in neighboring New York, a state where it's much more difficult to get a license and where other states' permits aren't currently recognized. (The bill wouldn't interfere with state laws that govern carrying on private or government property but would allow concealed carry in national parks.)
Although Republicans are attaching a modest background check measure to the bill, the package would have the cumulative effect of making it legal for people to carry concealed weapons in more places. And it would "allow states with weak gun laws to endanger people in states with stronger gun laws, against the will of those states," said Lindsay Nichols, federal policy director at Giffords Law Center to Prevent Gun Violence, a group named for former Rep. Gabby Giffords, who was shot in 2011.
Rep. Richard Hudson (R-N.C.), who introduced the bill, said he is a "big states' rights guy" and argued that under the legislation states would still retain the rights to limit the types of firearms and exactly where they can be carried. He said it's important to recognize the Constitution's Full Faith and Credit Clause, which holds that each state must honor every other states' public acts and records. "If I get married in North Carolina, if I move to California, I'm still married," Hudson said. "Same thing with concealed carry. "
Gun control advocates oppose the bill on the grounds that it forces some places to recognize dramatically weaker standards for concealed carry. A state that doesn't issue permits to certain kinds of domestic violence offenders, for example, would have to accept a permit that was issued to an abuser in another state.
A number of states also issue permits to non-residents, Nichols noted, meaning criminals could shop around for the place with the weakest law. And some law enforcement officials argue that the bill doesn't take into account the different public safety challenges their cities face. "This legislation will make New York City less safe and our job as law enforcement significantly harder," New York City Police Commissioner James O'Neill said earlier this year.
The bill's conservative defenders argue that in this case their right to bear arms trumps states' rights concerns. The bill would "end abuses in anti-gun states," said the National Rifle Association, which has championed the legislation as a priority.
"Most of those who don't like this are also the ones who want the U.S. to be this one homogeneous blur from sea to sea," said Gary Marbut, president of the Montana Shooting Sports Association. "It's darned disingenuous for them to be making a states' rights argument only for this subject."
Opponents of the bill who invoked states' rights were "reaching," said Rep. Steve King (R-Iowa), a prominent gun rights advocate. "The Tenth Amendment doesn't trump the Second Amendment." (If the bill passes, it would likely face legal challenges.)
Gun rights advocates claim that it's very rare for concealed carry permit holders to commit crimes and that "a good guy with a gun" shouldn't be contained by state lines. And although the majority of permit holders are law-abiding citizens, at least 29 mass shootings since 2007 involved a perpetrator with a concealed carry license, according to an analysis by the Violence Policy Center, a nonprofit that advocates for gun control. (The Texas church shooter, Devin Kelley, reportedly tried to get a concealed carry permit in Texas but was denied.)
House GOP leaders plan to pair the concealed carry bill with a separate measure that aims to shore up the federal background check system. (Kelley had purchased a firearm even though he had a prior conviction for domestic violence.) Moving the measures at the same time could offer members of both parties some incentive to go along.
"From my standpoint, I didn't want to put those two bills together, but I think the leadership's determined to do that," King told HuffPost on Tuesday.
Even if the measure passes in the House, it would likely be dead on arrival in the Senate, however, where Republicans must convince at least eight Democrats to join them in order to overcome a legislative filibuster. Senate Majority Whip John Cornyn (R-Texas), who is working on bipartisan background check legislation, poured cold water on the idea of pairing the bills last week. "I think it's a mistake," he said, according to The Daily Caller.
Still, it's revealing that in the wake of two of the most horrific mass shootings in recent U.S. history, Republicans are moving forward with legislation to expand gun rights. Some in the gun lobby are trying to sell bills like this one as something that "makes us safer and will reduce mass shootings," said Avery Gardiner, co-president of the Brady Campaign to Prevent Gun Violence. "They're simply wrong."
Calling all HuffPost superfans!
Sign up for membership to become a founding member and help shape HuffPost's next chapter