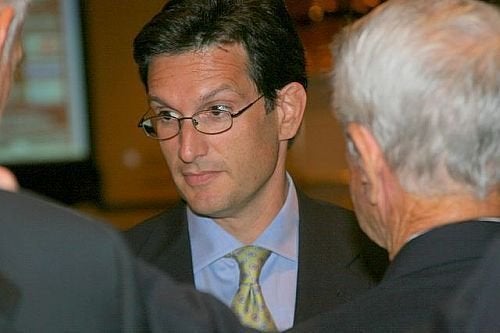 When a powerful Republican congressman's wife is hired by a bank, and the bank gets a federal taxpayer bailout worth hundreds of millions, what does it mean? That will probably shake itself out. The congressman: House Republican Whip Eric Cantor (R-VA). The wife: Diana Cantor, managing director of the Virginia subsidiary of New York Private Bank and Trust.
Still, it is one of those strange quirks in politics that $267 million of the money is going straight to a privately owned bank where Cantor's wife, Diana, is the managing director at a subsidiary. It's a job she apparently started early last year, after years in finance.
Cantor's people maintain that his wife and he did not even know that her employer was applying for a federal taxpayer bailout.
The parent company is called "New York Private Bank and Trust," and it's run by New York real estate tycoon Howard Milstein.
The Treasury Department sent the money to the bank on January 9th, a little more than a week before the Bush administration left office.
Diana Cantor works for a private bank subsidiary that bills itself as a "haven for wealthy individuals and families."
Calling all HuffPost superfans!
Sign up for membership to become a founding member and help shape HuffPost's next chapter