WASHINGTON -- Despite the growing number of states allowing gay marriage, one Republican congressman filed legislation Thursday to limit the federal government's power to recognize gay marriages in states.
Rep. Randy Weber (R-Texas) introduced the "State Marriage Defense Act Of 2014," which would require federal agencies to look into a person's "legal residence" when determining marital status and how federal law would be applied.
The bill would have the effect of reintroducing for gay couples some aspects of the federal Defense of Marriage Act, which defined marriage as between one man and one woman until the Supreme Court declared it unconstitutional in June. The bill also would undercut a Treasury Department decision in August requiring gay married couples in all states to be treated as married for federal tax purposes; Weber's bill would force the federal government to treat such couples differently in states that don't recognize gay marriage. In addition, the Social Security Administration announced in December that it would pay survivor benefits to members of gay marriages.
"The 10th Amendment was established to protect state sovereignty and individual rights from being seized by the Federal Government. For too long, however, the Federal Government has slowly been eroding state's rights by promulgating rules and regulations through federal agencies," said Weber in a statement. "I drafted the 'State Marriage Defense Act of 2014' to help restore the 10th Amendment, affirm the authority of states to define and regulate marriage, as well as, provide clarity to federal agencies seeking to determine who qualifies as a spouse for the purpose of federal law. By requiring that the Federal Government defer to the laws of a person's state of legal residence in determining marital status, we can protect states' constitutionally established powers from the arbitrary overreach of unelected bureaucrats."
Weber said he had 28 co-sponsors for the bill and that it was backed by an array of social conservative groups, including Heritage Action and the Family Research Council.
Weber's announcement, however, contrasts with Republican governors who oppose gay marriage, but decided not to fight it in their states. New Jersey Gov. Chris Christie withdrew an appeal to a court ruling legalizing gay marriage after recognizing that he could not win. New Mexico Gov. Susana Martinez said earlier this week that she wouldn't push for a constitutional amendment to ban gay marriage after the state's Supreme Court ruled to legalize it, calling gay marriage the "law of the land."
Spokesmen for the House majority leader and speaker did not immediately respond to requests for comment on whether the bill would come up for a vote.
There are indications that House Republican leadership may be losing its appetite for the gay marriage fight. In July, the House's Bipartisan Legal Advisory Group stopped defending DOMA after the Supreme Court ruling. In addition, House Speaker John Boehner (R-Ohio) said in December that he supported two openly gay House Republican candidates running for office in the wake of a Politico report that Rep. Randy Forbes (R-Va.) wanted to deny money to gay candidates.
Before You Go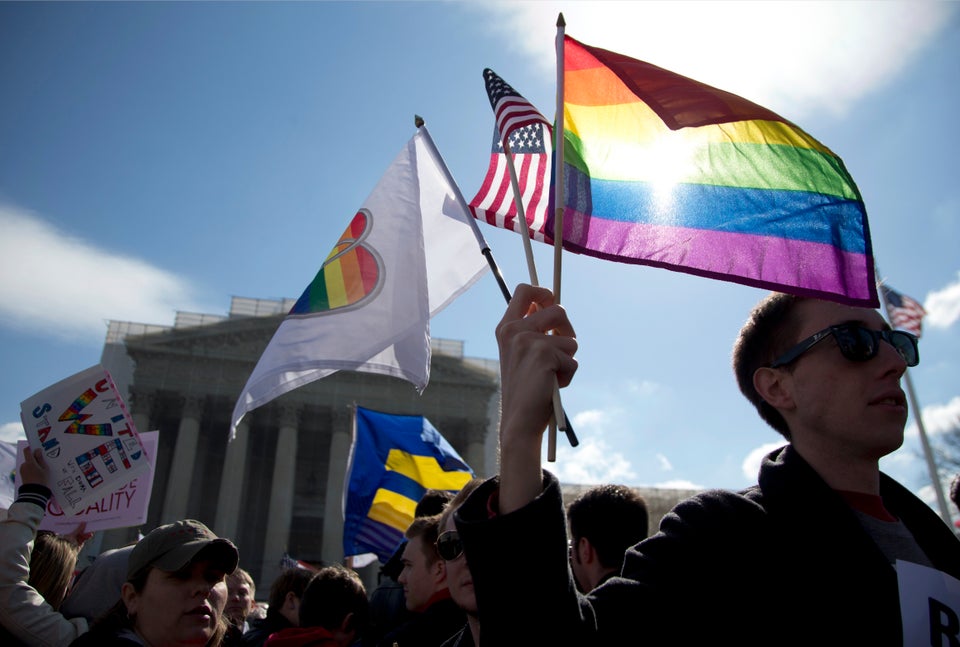 Supreme Court Proposition 8 Case
Popular in the Community