TAMPA, Fla. -- The campaign for GOP presidential hopeful Mitt Romney has held up the success of retailer Staples as evidence of the nominee's credentials as a job creator, a fact voters were reminded of when Staples founder Thomas Stemberg stumped for Romney at the Republican National Convention on Thursday.

Bain Capital, the private equity firm that Romney helped found, was one of the early investors in Staples, and the former Massachusetts governor remained on the retailer's board for more than a decade. In claiming he helped create some 100,000 jobs in the private sector over the years, the Romney campaign has leaned heavily on the success of the office supplier, citing roughly 90,000 Staples jobs in their math.

"He never looked at Staples as merely a financial investment. He saw the engine of prosperity it could become," Stemberg said of Romney, a long-time friend, at the RNC. "Today Staples employs nearly 90,000 people. It has over 2,000 stores, over 50 distribution centers, and it is part of a competitive industry that helps entrepreneurs and small businesses get started on their own."

"You have to ask yourself," Stemberg added, taking a dig at President Barack Obama, "why would an administration that can't create any jobs demonize someone who did?"

The Staples story is undoubtedly one of business success, and many small businesses have come to appreciate the convenience and low prices of the big-box office supplier. But on the "job creator" front, Staples is a more complicated story.

For starters, like other big retail chains, Staples employs most of its workers in low-wage positions. Although workers in salaried positions can take home middle-class earnings, most of the customer-service and sales force working in Staples stores makes around $8 or $9 per hour, according to surveys on the career site Glassdoor.com. The low hourly rate would leave many workers below the federal poverty line.

It also stands to reason that the arrival of large Staples stores in certain communities pulled business and ultimately jobs away from smaller office suppliers, likely negating some of the Staples jobs that were added.

In a recent report advocating for a higher minimum wage, the liberal National Employment Law Project Action Fund listed Staples as one of the largest low-wage employers in the nation, alongside companies like Walmart, KFC and Pizza Hut. In a news release addressing Stemberg's speech, the group called Staples "one of the largest employers of workers earning under $10 per hour in the country."

Staples CEO pay, on the other hand, was $8.9 million last year.

Staples isn't the only successful Bain investment touted by the Romney campaign that tends to pay low wages. Rounding out the remaining 100,000 jobs, the campaign also cited job growth at pizza giant Domino's and sporting goods retailer Sports Authority.

Listing other Bain success stories, such as Bright Horizon Day Care and Steel Dynamics, Stemberg argued that the Obama administration's harsh words for private equity proved it didn't understand job creation, though he said nothing of job quality.
"You can imagine my dismay when I see this White House and their campaign demonizing Mitt Romney, demonizing Bain Capital, demonizing the private equity industry that created so many new jobs," Stemberg said. "I think when it comes to jobs, new businesses, and economic growth, they just don't get it."
Before You Go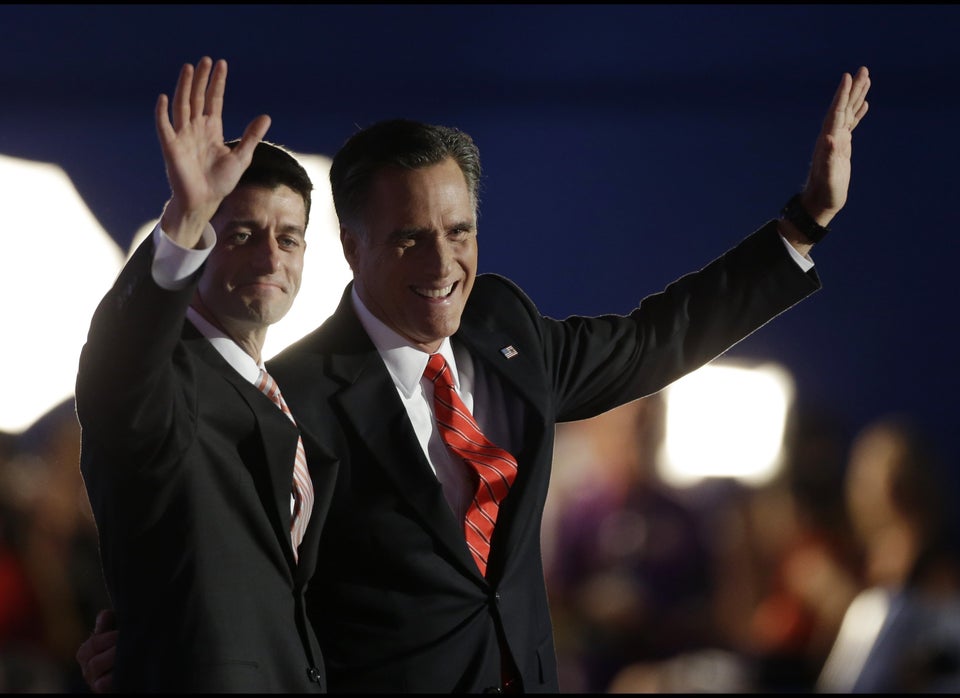 Republican National Convention 2012
Popular in the Community