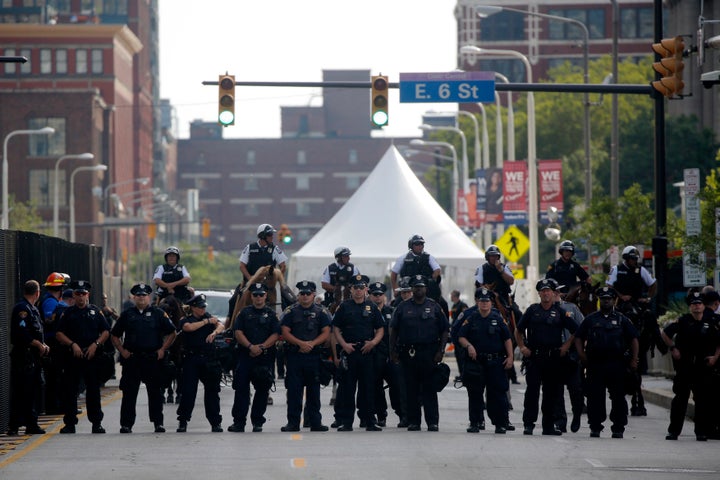 CLEVELAND ― News organizations have been preparing for the possibility of their employees covering political unrest during the Republican National Convention, with some offering training and equipment typically reserved for war correspondents. Yet even a body armor-clad reporter or photographer could miss the action if arrested. 
The National Press Photographers Association recently conducted a series of trainings with Cleveland police to help minimize the chances that journalists will spend a few hours, or a night, in jail. Mickey Osterreicher, general counsel for the NPPA, described preventing the arrest of journalists as a "triple win."
"Officers and departments wouldn't get sued for violating people's constitutional rights," he told HuffPost. "Citizens and journalists would be able to exercise those rights. And ultimately the public would be informed as to what's going on."
Osterreicher held those hour-and-a-half training sessions with police last month in Cleveland ― and more recently in Philadelphia, site of next week's Democratic National Convention. The NPPA received a grant from the Sigma Delta Chi Foundation of the Society of Professional Journalists for the trainings. 
"We greatly appreciate those departments' willingness to help avoid unnecessary and improper interference, harassment and arrests of those doing nothing more than exercising a constitutional right," the Society of Professional Journalists said in a statement Sunday. 
Sgt. Jennifer Ciaccia, public information officer for the Cleveland police, acknowledged holding media-specific trainings, though she did not elaborate at length. "We had trained our officers relative to the rights of members of the media as well as the general public in terms of filming, first amendment, etc," she wrote in an email to HuffPost. 
Osterreicher said both cities already have laws on the books for dealing with media at protests, so the sessions largely offered an opportunity to reiterate established policies. One notable change was made to Cleveland's plan for the Republican convention as a result of the training, he said. The city originally maintained that someone recording police activity needed to be at least 30 feet back, Osterreicher said, but after discussions, it revised the guidelines so there is no specific distance.
"Setting arbitrary distances is difficult," Osterreicher said. "I think it's more important for officers to be able to exercise their discretion, whereas 3 feet might be fine in one situation and 300 feet when you have an active shooter isn't far enough."
Nearly two dozen journalists were arrested during the 2008 Republican convention in Minneapolis-St. Paul, Minnesota, which prompted Osterreicher and some other free speech advocates to conduct sessions with police prior to the 2012 gatherings in Tampa, Florida, and Charlotte, North Carolina.
"We didn't have any journalists arrested and I'm hoping to have a repeat of that in 2016," he said. "And quite frankly so are the police departments. I mean, none of them want to have a bad image."
The press doesn't have any greater right than the public, but they certainly don't have any less rights, either.

Mickey Osterreicher of the National Press Photographers Association
But the mass protests since the last political conventions and the incidents of violence and angry rhetoric aimed at journalists during Donald Trump's rallies have raised concerns about journalists getting swept up by police.  
Dozens of journalists were arrested covering the 2014 protests over the police killing of black teenager Michael Brown in Ferguson, Missouri. More recently, several members of the media were arrested while covering demonstrations over the police killing of Alton Sterling in Baton Rouge, Louisiana.
"The events of recent weeks involving police and protesters, as well as the politically charged atmosphere generally have left many concerned that reporters and photographers may face additional confrontations covering the nominating conventions this year," Bruce D. Brown, executive director of the Reporters Committee for Freedom of the Press, said in a statement. "Media attorneys have talked with police and city officials in both Cleveland and Philadelphia to help ensure that journalists are not impeded in their job to inform the public. If that is not the case, however, we stand ready to help."
The Reporters Committee, as it's done for more than four decades, has set up hotlines for journalists arrested or facing unwarranted interference while reporting on the conventions. 
Beyond getting arrested, there are other obstacles that could prevent journalists from fully bearing witness. 
On Sunday, the Society of Professional Journalists, the NPPA and the Radio Television Digital News Association expressed concern that restrictions in the designated "event zone" near the Republican convention could "hinder journalists' jobs and safety." Specifically, the groups criticized the banning of gas masks, which some journalists carry in case of protests involving tear gas, and the prohibiting of bags large enough to carry broadcast equipment. 
Another concern that's arisen at mass demonstrations, Osterreicher said, is law enforcement denying journalists the same rights as the public. During a Ferguson protest, for example, police ordered journalists into a press pen while the public was allowed to stand on the street ― and record the demonstration if they wanted to. 
"One of the things I always talk about is that the press doesn't have any greater right than the public," Osterreicher said, "but they certainly don't have any less rights, either."
Calling all HuffPost superfans!
Sign up for membership to become a founding member and help shape HuffPost's next chapter
BEFORE YOU GO