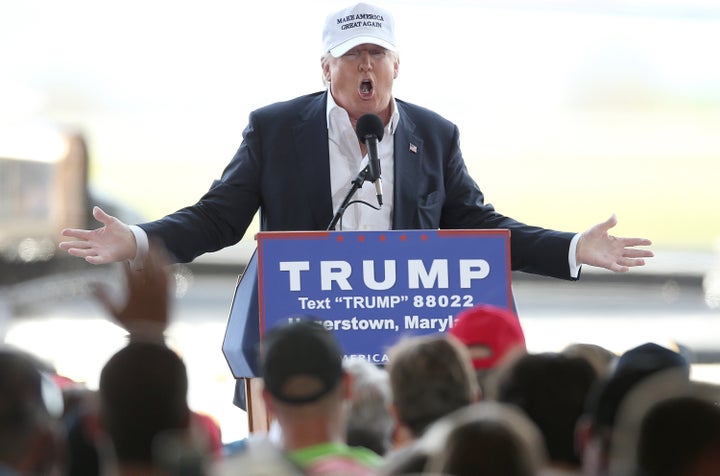 Good news for Ohio Gov. John Kasich, Speaker of the House Paul Ryan, and the Republican moderates staring at 2016 with existential dread: Even if the GOP doesn't mount a coup at the convention's rules committee in July, someone who is not named Donald Trump or Ted Cruz could still secure the presidential nomination.
That was the message late last week out of the Republican National Committee's spring meeting in Hollywood, Florida, and it's further proof of the golden rule in politics: He who has the gold makes the rules.
Of course, the conventional wisdom coming into the spring meeting was that Trump and Cruz, the two candidates with the most delegates, would pack the convention rules committee with their own people to ensure that certain stipulations from the 2012 convention remain in place -- particularly rule 40(b), which requires a candidate for the nomination to have the support of a majority of delegates in at least eight states. (Kasich has met that threshold in exactly zero states.)
But even if the rules committee keeps that statute before the convention, it wouldn't theoretically prevent an establishment white knight from eventually riding into Cleveland.
"You don't have to have your name put in nomination," Kasich strategist Mike Biundo told reporters outside of an RNC meeting last week. "All that means is you don't get the speech and the pomp and circumstance."
Kasich is banking on multiple rounds of balloting during the nomination process, as rule 40(b) would indeed prevent the Ohio governor's votes from being registered on the first ballot. If 40(b) remains in place, delegates could cast votes for him, but the secretary wouldn't officially recognize or record them.
But Kasich's bound delegates -- and the delegates of former candidate Marco Rubio, for that matter -- are only bound to support him on the first ballot, regardless of whether the vote will actually count. After the initial ballot, Kasich can pull in newly freed delegates to compete for a nomination.
"In other words, candidates who did not qualify under rule 40 for the first vote could qualify thereafter," said University of Georgia political science lecturer Josh Putnam. A candidate can become a threat to reach the magic number of 1,237 delegates if his bound delegates stay with him, Putnam explained, and if he's able to pull in enough support from other delegates that become unbound after the inconclusive first vote.
But the possibility of Kasich or another party savior flying in to save the day depends on two things: delegate loyalty and the rules committee.
Trump is having a very difficult time -- trying to ensure that the people who are selected by the state party apparatus are really true-blue Trump people.

Harold Ickes, former White House chief of staff
For the most part, the delegates are pledged to vote for the two front-runners. The party could bring in candidates by way of more liberal rules, but the campaigns with the most delegates make those rules. As Putnam puts it, Trump and Cruz have a "vested interest" in keeping the rules similar to the 2012 bylaws.
If there's any possibility, however remote, for a rule change, local delegates will be a crucial factor. State and local Republican establishments are generally responsible for selecting delegates, and those delegates are essentially bound to vote for the candidate that wins the state. As a result, Trump has gained delegates who may be willing to vote against him if given the opportunity.
"And that's where Trump is having a very difficult time -- trying to ensure that the people who are selected by the state party apparatus are really true-blue Trump people, and many of them aren't," said former White House chief of staff Harold Ickes.
Cruz has a much better operation at the state and local level, Ickes said, "and so Cruz delegates are going to be more likely to stick with him on a second ballot."
But all of this, of course, depends on preventing Trump from reaching 1,237 delegates on the first ballot. Cruz and Kasich's recent effort to team up may help that effort. But if Trump is able to secure the necessary delegates before the start of the convention, attempts to circumvent his nomination will end at the rules committee. 
Still, there are ways to change the rules even if Trump gets to 1,237 delegates before the convention. And though there's been little indication that GOP leaders are willing to make drastic changes, someone like Kasich could issue a so-called "minority report" to propose an alternative rules package that would need at least 28 members of the 112-member rules committee to get to the floor for a vote.
It's another long shot, but there's a chance nonetheless.
Matt Fuller contributed to this report.
Calling all HuffPost superfans!
Sign up for membership to become a founding member and help shape HuffPost's next chapter
BEFORE YOU GO
PHOTO GALLERY
Ted Cruz Smiling