WHAT A DAY Thursday was an amazing day for the Reboot Illinois crew. It started in the morning in downtown Springfield, where we joined with the Citizens Club of Springfield for a forum on whether a progressive income tax system might be the answer to Illinois' well documented financial troubles. Then we headed to the Illinois State Fair, where the four candidates competing to become the 2014 Republican nominee for governor made their cases to supporters and party leadership at the fair's annual Republican Day. As we'll note below, our forum and this week's activity by Democratic and Republican gubernatorial hopefuls are closely related. Let's get to it!
________________________________________
THE CANDIDATES With Illinois a financial basket case, Democratic legislative leaders now suing the Democratic governor for canceling their pay and the incumbent governor facing a serious primary challenge, Republicans this year are giddy about their chances for retaking the governorship for the first time since Rod Blagojevich's victory in 2002. Then again, they were even more giddy in 2010 and their candidate ended up losing the election by less than 1 percent. Here are highlights of what the four GOP contenders had to say Thursday at Republican Day in Springfield:
• Bill Brady lost the 2010 election by a mere 30,000 votes, but his margin of loss in Cook County was a staggering 500,000 votes. He does not see this as a negative. He says he's got a 1.8-million-vote head start on the other three candidates and can pick up those 30,000 votes this time around.
• Kirk Dillard lost the 2010 Republican primary to Brady by a mere 193 votes, largely because the seven-way race severely split the suburban vote. Many believe Dillard would easily have won the governorship had he been the candidate, and Dillard is among those believers. He says his combination of suburban background, legislative experience and downstate connections make him the best candidate this time.
• Treasurer Dan Rutherford says the fact that he is the only candidate who has won statewide election and seen proven success among Cook County voters makes him the GOP's best choice. He tells supporters that the Republican candidate for governor must win 20 percent of the Cook County/Chicago vote to win.
• The wild card in the Republican primary race is Chicago venture capitalist Bruce Rauner. He's never run for public office before and has a vast personal fortune that could allow him to put tens of millions of dollars into his campaign (though his fundraising thus far has been so strong that he may not have to do that). He has blamed public employee unions and the entrenched political establishment on both sides of aisle for the problems in state government, and he emphasized that message at the fairgrounds.
________________________________________
KIRK RETURNS Personal aside: The last time U.S. Sen. Mark Kirk was in Springfield was in January 2012, when he visited the editorial board of The State Journal-Register, which I was editorial page editor. After that meeting, several of us commented on how sharp and relaxed Kirk seemed. Two days later, he suffered a debilitating stroke that kept him out of the public eye until his return to work a year later. Kirk's recovery has been inspiring and it was great to see him out greeting supporters at the state fair on Thursday. I managed to get a completely self-serving video clip from Kirk just as he was zipping out of a reception co-hosted by Comptroller Judy Baar Topinka. Please indulge me by clicking here!
________________________________________
SURPRISE! JUDY TALKS! A good rule of thumb is if you have a recording device and Illinois Comptroller Judy Baar Topinka is in the vicinity, hit record and point it her way. I followed that rule on Thursday.
________________________________________
EDGAR FOR DILLARD Kirk Dillard served as chief of staff to Gov. Jim Edgar, and Edgar rallied Dillard's troops in Springfield on Thursday. Here are highlights from Edgar's pep talk.
________________________________________
FAIR FUN It wasn't all business for the Reboot Illinois crew at the state fair on Thursday. Here's a photo scrapbook from our busy day.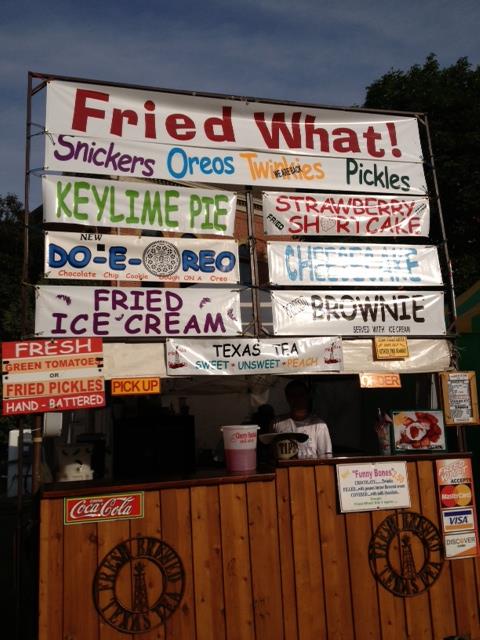 ________________________________________
DEATH AND TAXES AND 2015 Before our trip to the fair, we hosted a terrific forum on whether Illinois should change its constitution to allow a progressive income tax system. Special thanks to our co-host, the Citizens Club of Springfield. Ralph Martire of the Center for Tax and Budget Accountability and Ted Dabrowski of the Illinois Policy Institute both made passionate and informed arguments on the pros and cons, respectively, of changing from a flat-rate tax system to a graduated-rate system. Here's a report on the forum and links to some news coverage of it.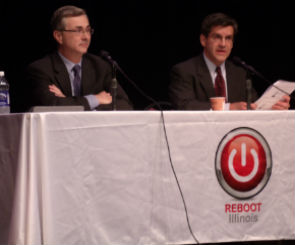 ________________________________________
CRUEL AND UNUSUAL PUNISHMENT? We're not sure the U.S. Constitution would allow the government to assign Jesse Jackson Jr. the cellmate Chicago Tribune cartoonist Scott Stantis suggests. What do you think?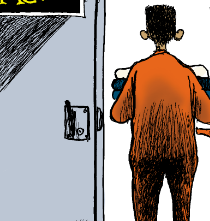 ________________________________________
TOP 7 Here are links to 7 key Illinois news and opinion items you should check out today. You'll find links to and summaries of many more in the Daily Tip-Off section of our website.
• 7. U.S. Sen. Mark Kirk made his first trip to Springfield since his stroke in early 2012. (State Journal-Register)
6. Thursday was Republican Day at the Illinois State Fair and they used it to stress the need for change in Illinois. (State Journal-Register)
5. Opinion: One temporary solution to the Metra problem would be to place interim members on the board. (Chicago Tribune)
4. For the second consecutive month, Illinois' unemployment rate rose slightly. (Crain's Chicago Business)
3. An ex-Chicago comptroller has been charged by the Feds with public corruption crimes in Ohio. (Chicago Sun-Times)
2. Gov. Quinn appointed former U.S. Attorney Patrick Fitzgerald to a newly created transit reform task force. (Chicago Sun-Times)
1. A judge ruled in favor of the Chicago Public Schools, allowing CPS to continue with the school closings as planned. (Chicago Tribune)
Calling all HuffPost superfans!
Sign up for membership to become a founding member and help shape HuffPost's next chapter