The Republican debate on Thursday night was calm, civil and respectful. It was also shot through with a depth of extremism that would have shocked the nation as recently as 2012.
After weeks of penis jokes, vicious personal attacks, and general histrionics resembling a wild circus act, the candidates decided to play nice at the University of Miami at Coral Gables, Florida. The tone even surprised front-runner Donald Trump, who at one point noted his surprise.
"We're all in this together," Trump remarked. "So far, I cannot believe how civil it's been up here."
Tenor aside, the candidates still stuck to many of the same extreme positions they have advocated for during the primary season. Trump's controversial proposals, in particular, created some of the night's most notable exchanges.
Trump politely stuck by his position that Islam itself hates America. "I'll stick with what I told Anderson Cooper," he said. Marco Rubio, pressed on whether this universal hatred exists, said that the real problem with Trump's hate speech was that it was fueling anti-American sentiment that was putting Christian missionaries at risk.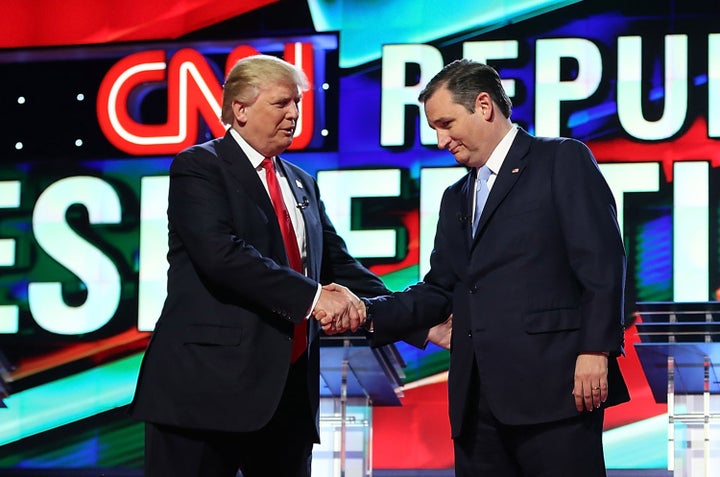 The brash reality television star further said that U.S. and international rules on torture are too strict, and that he would work to broaden them to allow harsher treatment if he becomes president.
"We better expand our laws or we're being a bunch of suckers and they are laughing at us," he said. "They are laughing at us. Believe me."
Marco Rubio calmly suggested raising the Social Security retirement age and suggested people could get vouchers equal to the amount of their former Medicare benefit and go out and buy a plan in the private marketplace.
Later, a civil John Kasich suggested indefinite occupation will be the status quo in Israel for Palestinians."I don't believe there is any permanent peace solution," he said. Rubio more moderately suggested only 30 years needed to pass first.
The civil nature of the conversation and the violent nature of the subject matter clashed the greatest when Trump was asked about a white man at a rally of his who sucker-punched a black man who was being escorted out. (He's been referred to in the press as a protester, but he may only have been escorted out for being suspected of being one.)
Trump did say he disapproved of the attack, but spent the rest of his time explaining how angry people are about trade deals and how disruptive and unruly some protesters are.
"They have anger that is unbelievable. Unbelievable. They love this country," said Trump. "I see it. There is some anger. There is also some great love for the country."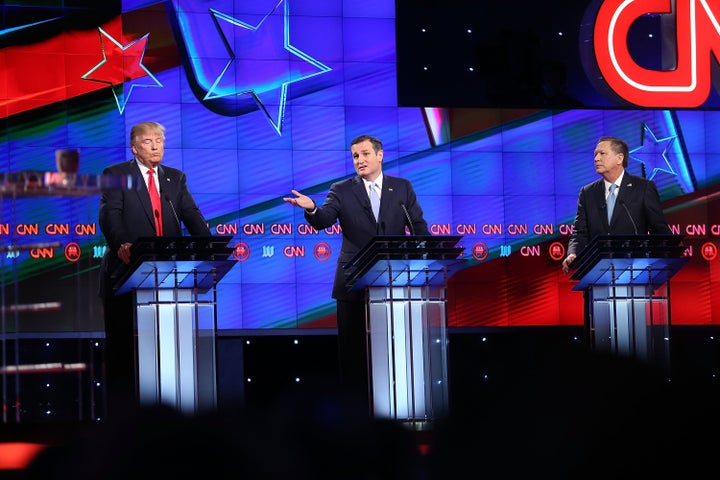 And then he went on to say that some of the violence could, in fact, be justified. "We have some protestors who are bad dudes. They had done bad things. They are swinging. They are really dangerous," said Trump. "We had a couple big strong powerful guys, doing damage to people. And if they're going to be taken out, I'll be honest. We have to run something."
Rubio also denied the overwhelming scientific consensus on climate change being caused by humans, an issue of particular urgency to the shores of his home state of Florida. "America is not a planet. It's a country," he said. "People want Washington to pass a law to change the weather."
Ted Cruz politely promised to fire some unnamed federal workers. "I know who they are," Cruz said. "I will find them and I will fire them.
While Trump's rivals politely challenged his positions with respect to trade and foreign policy, they failed to exact substantial damage to his runaway candidacy just days away from the crucial Florida and Ohio primaries, where he leads according to recent polling.
It was an advantage the businessman pressed during the debate on Thursday night, saying he believes whoever has the most amount of delegates at the end of the race ought to become the party's nominee. Under current rules, a candidate needs 1,237 delegates to win the nomination. If they do not secure enough delegates, the race could result in a contested convention.
"I think whoever gets to that top position, I think whoever gets the most delegates should win the nomination," he said.
REAL LIFE. REAL NEWS. REAL VOICES.
Help us tell more of the stories that matter from voices that too often remain unheard.
BEFORE YOU GO
PHOTO GALLERY
Donald Trump On The Campaign Trail