New Jersey Gov. Chris Christie and former Arkansas Gov. Mike Huckabee have been relegated to the undercard group for the GOP debate on Nov. 10, but pollsters and poll watchers say that basing candidates' debate opportunities on just four recent surveys is a bad idea and not nearly scientific enough.
Fox Business Network averaged four national polls to decide which Republican presidential candidates to include in the Tuesday debates. But unlike other networks that have hosted debates this year, Fox Business used stricter criteria and only the last four polls of its choosing. In addition to moving Christie and Huckabee to the "kids' table" of underperforming candidates, that strategy also ended up kicking Sen. Lindsey Graham (S.C.), former New York Gov. George Pataki and former Gov. Jim Gilmore (Va.) off the debate stage altogether.
According to the Fox Business rules, candidates needed an average of 2.5 percent in the four most recent national polls to be included in the primetime debate. Christie and Huckabee barely missed -- each had an average of 2.25 percent across the four polls used. To participate in the undercard debate, which occurs before the main one, candidates needed to get at least 1 percent support in one of the four polls. Graham, Pataki and Gilmore failed to reach that threshold.
Polling experts have argued that polls aren't precise enough for these decisions, and they're right -- with an average sample size of 445 respondents across the four polls used, there is only a 60 percent chance that Sen. Rand Paul actually leads Huckabee and Christie, with his average right on the 2.5 percent threshold to their 2.25 percent. Under any other circumstances that distinction would be too close to call, but in this case it's the difference between debate opportunities.
To decide which candidates would participate on Tuesday, Fox Business selected the most recent Fox News, Quinnipiac University, NBC/Wall Street Journal and Investor's Business Daily/TIPP polls. These were the four most recent live-interviewer polls -- meaning that an actual person administered the survey to respondents who were reached by landline and mobile phone.
But change the polls that were used, and you get a different debate setup. Removing the rule that the poll has to be "live interviewer" replaces NBC/WSJ and IBD/TIPP with Ipsos/Reuters and Morning Consult. Christie's average would jump to 3 percent and Huckabee's to 2.75 percent, qualifying both for the primetime debate. Pataki would qualify for the undercard debate with 1 percent in the Morning Consult poll.
No debate has used Internet polls for its averages, so excluding Ipsos/Reuters and Morning Consult was expected. However, some thought Fox Business would use a slightly earlier CBS/New York Times poll rather than the IBD/TIPP poll. In that scenario, Christie still wouldn't have made the top debate, but Huckabee would have. Graham would have qualified for the earlier debate with 1 percent in the CBS/NYT poll, and Louisiana Gov. Bobby Jindal would have been knocked out.
The IBD/TIPP poll is the lesser-known of the group. But it does fit the methodology requirements set out by Fox Business, and was among the top most accurate pollsters in 2012. Some might have written off the poll because its full results aren't available online. HuffPost confirmed that the pollster's policy is to only provide complete poll results upon request.
Including the NBC/WSJ poll in the group is also somewhat controversial because of the way it asked about candidate support. In this poll, the interviewer lists the top 10 candidates, then "or one of the other candidates." Jindal, former Sen. Rick Santorum (Pa.), Pataki, Graham and Gilmore are omitted from the question wording. Not surprisingly, none of those candidates received any support in the poll. Fox News didn't use an NBC/WSJ poll in forming its debate lineup in August because of this wording.
Instead of focusing on polls, some have suggested setting up debates pickup-basketball style, with two debates that each receive equal time. But in the case of Tuesday's matchup, using just four recent surveys makes the candidate selection essentially arbitrary, and demands a level of precision in primary polls that simply isn't there.
CORRECTION: This article initially referred to Jim Gilmore as "former Sen." He is a former Governor of Virginia, not Senator.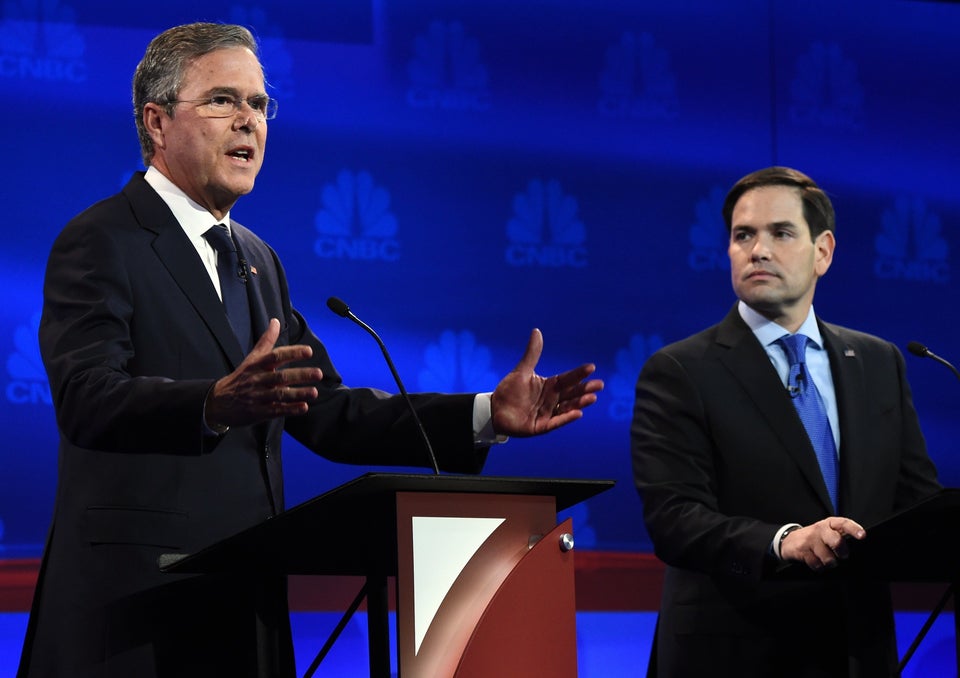 Moments From The CNBC Republican Debate
Popular in the Community