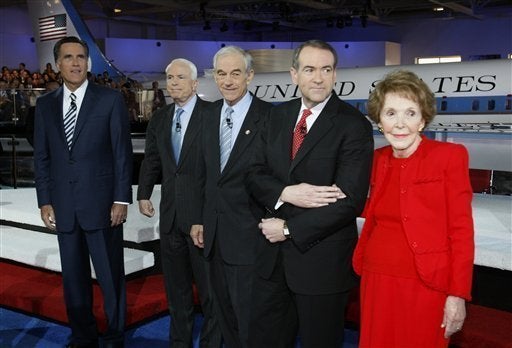 Simi Valley, California - During the final Republican presidential debate before next Tuesday's virtual national primary election, frontrunners John McCain and Mitt Romney verbally pummeled each other, repeatedly questioning the rival candidate's conservative credentials and arguing bitterly over the war in Iraq.
Romney said he found it "offensive" that his support for the war in Iraq has been questioned by the McCain campaign. McCain's criticism of Romney's position on the war; alleging that the former Massachusetts Governor supported a timetable for U.S. troop withdrawal "sort of falls into the dirty tricks that Ronald Reagan would have found reprehensible," Romney said. McCain's tactics, he said, were "Washington- style old politics; lay a charge out there, put it out there... there isn't a single media source that said that it wasn't reprehensible. It's simply wrong and the Senator knows it." Romney insisted that he would steadfastly support current policy. "Let me make it absolutely clear tonight: I will not pull our troops out until we have success in Iraq," Romney said.
McCain heatedly fired back, saying that Romney "could spend it all" on negative ads but nothing would change the fact that Romney had not vigorously enough supported the war and this past year's surge of troops. McCain lauded himself for supporting the troop surge when it was highly unpopular and when Romney said, as a governor, he would not "weigh in" on some national issues like the war.
"How is that you're the expert on my position when my position is very clear?" a bristling Romney said, interrupting McCain. The Arizona Senator then cut off Romney in mid-sentence saying: "I'm the expert. I know the situation in Iraq and I am proud to have supported the surge."
Earlier in the evening, both leading candidates tangled with each other over who was the better conservative.
"He's a good Republican," said Romney referring to opponent McCain. "But there are a number of pieces of legislation where his views are outside of the mainstream of Republican conservative thought," he said. Romney then slammed McCain for opposing expanded oil drilling in the Alaska wilderness, and for supporting bi-partisan immigration and campaign finance reform. "I'd also note that if you are endorsed by The New York Times you are hardly a conservative," Romney said referring to the paper's recent backing of the Arizona Republican.
McCain answered back that Romney had "gone against the principles of Ronald Reagan" by raising taxes as Governor and that it should be noted that the two major newspapers in Boston had endorsed him over Romney. "I'm proud of my record and I'm proud of reaching across the aisle to get things done, that's what America wants," McCain said. He also cited the support he has garnered from conservative figures including Phil Gramm and Jack Kemp as proof of his own rock-solid Republican credentials.
The verbal punching took place during the CNN/Los Angeles Times/Politico televised national debate held at the Ronald Reagan Library just outside of Los Angeles Wednesday evening. Former Arkansas Governor Mike Huckabee and Texas Congressman Ron Paul also participated in the debate but all eyes were cast on McCain and Romney who are now locked in a two-man battle for the Republican nomination.
The two top candidates also clashed over the hot-button issue of immigration with Romney accusing McCain of supporting amnesty for illegal aliens and emphasizing his own call for massive deportation of the millions of undocumented currently living in America. "For those who are here illegally and have been here illegally, no amnesty," said Romney. There should be "no special pathway," Romney said, for the undocumented wishing to legalize their status. "That's what I found so offensive in the Z visa that I found in the McCain-Kennedy [immigration] bill," he said, taking another swipe at his rival

We have to "do it in a humane and compassionate way," Romney said of his call to deport all illegals. But [we have to say] to those illegally here you must go home and get in line."
McCain brushed off the attack, by briskly trying to cut the debate short on this issue saying, "Look we're all in agreement. The American people want the border secured first...and we will do that." He said he would no longer support the version of his own comprehensive immigration bill that was rejected twice by the U.S. Senate.
While three of the four candidates claimed that they would certainly be the choice of Ronald Reagan whose tomb rests just a few hundred yards from the debate stage, they all took strenuous pains to dodge too close an association with the Bush administration. Huckabee said it would be "incredibly presumptuous" to guess who Reagan would endorse but he emphatically endorsed the ideas of Reagan. When it came to the legacy of the Bush administration, both Romney and McCain dodged and weaved as moderator Anderson Cooper pressed them on whether or not Americans were better off now than they were eight years ago. Romney answered by emphasizing that his former constituents in Massachusetts were, indeed, better off if Americans in general might not be. "I'm not running on George W Bush's record," he said. "I'm running on my record... Washington is broken."
McCain offered up a similarly ambiguous answer saying: "I think you can argue that Americans over all are better off... a lot of good things have happened," McCain said. "But let's have some straight talk: things are tough right now." McCain also said, referring to the current housing and credit crisis, that "there are some greedy people on Wall Street who ought to be punished."
Candidates Huckabee and Paul were more straightforward in answering if Americans are better off now. "I don't think we are," said Huckabee.
"We're worse off," said Paul.
McCain also sided against the Bush administration when he said he supported California Governor Arnold Schwarzenegger in his current dispute with the White House over efforts by the Golden State to enforce more stringent standards on global warming. "With some physical danger," McCain said with a laugh looking at Schwarzenegger who was sitting in the front of the live audience, " I have to agree with the Governor... I'm a federalist and I think states should have the right to decide...I applaud the governor."
The L.A. Times reports that on Thursday Schwarzenegger will endorse McCain.

Popular in the Community