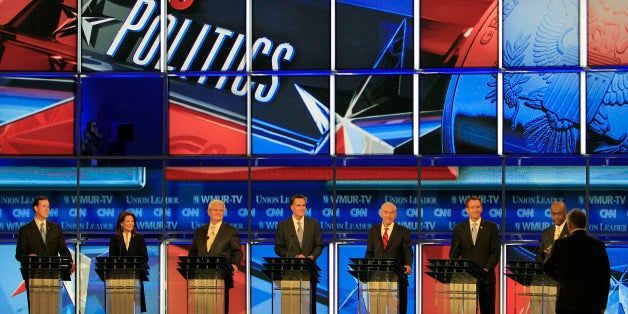 As you may have heard, the first Republican debate is scheduled for Aug. 6, 2015, in Cleveland, Ohio. And everyone who's had some hand in organizing this first primary debate has been forced to face the same problem: There are too many candidates. Way too many! By the time August rolls around and the Centers For Disease Control and Prevention struggles to contain what's sure to be an outbreak of Pataki-mentum, there could be as many as 18 candidates.
Well, the news on Wednesday is that the solution has arrived, courtesy of the Fox News Channel, which will be the first debate's media host. That's good news for some candidates, but a number of contenders are going to end up unhappy. Which candidates are going to left on the outside looking in? As is typically the case, it all comes down to polling numbers. The Washington Post's Matea Gold has the story:
The criteria set by Fox News is similar to the standards it has set for past debates. To qualify for the event, candidates must place in the top 10 of an average of the five most recent national polls by August 4th at 5 p.m. ET. Such polling must be conducted by major, nationally recognized organizations that use standard methodological techniques and recognized by Fox News.

Debate participants must also meet all U.S. constitutional requirements to run for president, must have announced their campaign and filed the necessary paperwork with the Federal Election Commission and must have paid all required federal and state filing fees.
The burgeoning size of the GOP field and how to squeeze all the candidates into a debate has been a hot topic of late. Over at Daily Intelligencer, Chas Danner runs down practically everybody who's stepped up to offer a way to fix this problem.
And this is by no means a trivial matter. The Republican National Committee, in developing a strategy for this primary debate, specifically wanted to limit the number of candidates who, in 2012, proved to be flashes in the pan -- burning brightly but briefly, and making trouble for the eventual nominee. But there's a double-edged sword to this as well. As Danner points out, "one of the big risks" of leaving people out of the debates based on polling is that it "could highlight the GOP's demographic issues if non-white male candidates like Ben Carson, Carly Fiorina, or Bobby Jindal don't make the cut."
According to HuffPost Pollster's numbers, if the debate were held this week, using this sorting criteria (and with the assumption that everyone who pollsters have included were an announced, Federal Election Commission-blessed candidate), the debate roster would look something like this: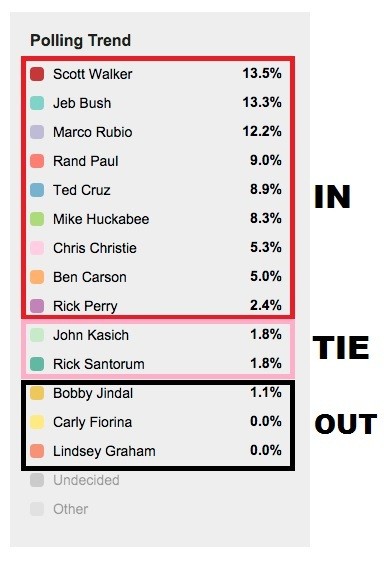 That puts Carson in, Jindal and Fiorina out, and I guess someone will have to decide what becomes of the tie between John Kasich and Rick Santorum. This is by no means the worrisome demographic worst-case scenario noted by Danner, but it's not exactly ideal, either.
Speaking of, what becomes of those excluded in this situation? That's a matter of some concern as well. Over at The Daily Caller, Matt K. Lewis suggests that excluding a candidate from a debate may as well be a mortal injury to their hopes:
On the other hand, the power to exclude is the power to destroy. If someone is included in the debates, they are granted a certain imprimatur. If someone is excluded from the debates, they are assumed to be politically dead. And, in a way, this is a self-fulfilling prophesy. It's is a Catch-22: You can't get into the debates unless you're polling at a certain threshold … but you can't increase your poll numbers unless you get into the debates… Would Mike Huckabee have caught fire in 2008 had he been excluded from early debates?
To that end, Fox News is apparently floating a sop to those who poll beneath the threshold for inclusion. According to Gold, "The cable news channel plans to provide additional coverage and air time on Aug. 6 to the candidates who do not place in the top 10." It's not yet known what sort of "additional coverage" will be available, or whether it will be of sufficient quality to remain competitive. Maybe the first debate's outsiders will get a chance to answer questions immediately before or after the main event. Maybe they'll be guests on that night's edition of Red Eye (which could be amazing, actually).
Obviously, the remaining media hosts scheduled to stage debates are not bound to Fox News' criteria, and will be able to set the rules for their contests as they see fit. To be honest, Fox News isn't all that bound to its own criteria, either: Past experience watching debate organizers solve the "Who's in/Who's out" problem has demonstrated that the people who ultimately have the responsibility tend to reserve the right to move around their own goalposts. But this system of inclusion and exclusion has always more or less been the standard, and its likely to persist as such. For many GOP candidates, the need to gain a foothold in the polls is dire.
Must it be this way? On the next edition of Trail To The Chief, we'll be discussing this problem and taking inventory of possible solutions. Do you have a suggestion on how a debate field should be winnowed down? Let us know. All ideas, serious or not, shall be considered, so feel free to get creative.
Before You Go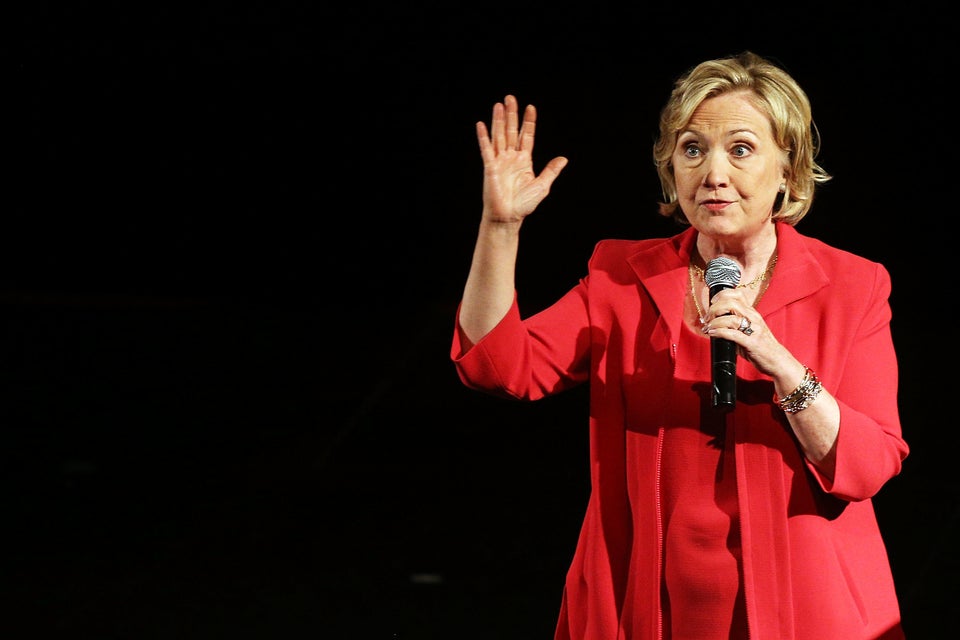 Potential 2016 Presidential Contenders
Popular in the Community