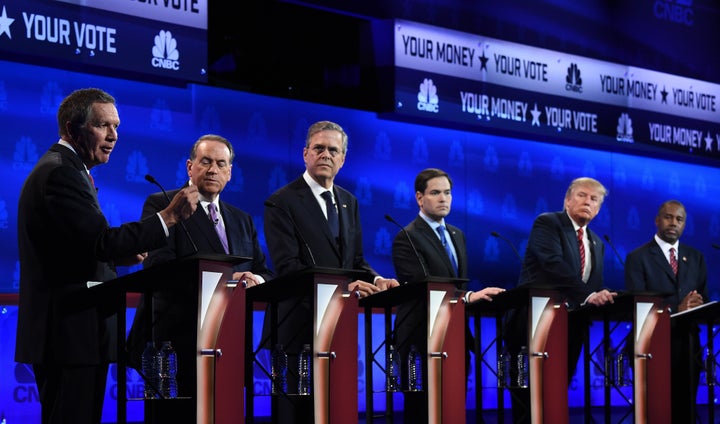 WASHINGTON -- Women were missing from the GOP debate on Wednesday evening, except for candidate Carly Fiorina and CNBC moderator Becky Quick. But one group did get attention: wives of the male candidates, who made appearances as nags, mothers, and people who don't understand banking.
Here are some notable wife references -- along with their professional accomplishments -- from Wednesday's debate, as well from the Republican debate last month, taken from transcripts published by The Washington Post.
Sen. Marco Rubio (R-Fla.): "I tried ... explaining to my wife why someone named Sallie Mae was taking $1,000 out of our bank account every month." (Jeanette Rubio once worked as a bank teller, according to the Tampa Bay Times. She earned $54,000 advising her husband's top political donor, Norman Braman, on his philanthropic giving in 2013. The charity gave out $250 that year, and spent $149,237 on miscellaneous travel, some of which paid for her to fly to the Holy Land with her husband on official business.)
Louisiana Gov. Bobby Jindal: "I still have a BlackBerry in my pocket. And I basically use it for scheduling. I use it to keep up when my wife is here and my three kids at home." (Supriya Jolly Jindal studied chemical engineering, graduated magna cum laude, and has finished coursework toward a Ph.D.)
Former Arkansas Gov. Mike Huckabee, responding to a question asking him to name his greatest weakness: "My wife is down here in the front, and I'm sure, if you'd like to talk to her later, she can give you more than you'll ever be able to take care of." (Janet Huckabee ran for secretary of state in Arkansas.)
Donald Trump: "My greatest weakness is that I trust people too much. I am too trusting. And when they let me down, if they let me down, I never forgive. I find it very very hard to forgive people that deceived me. So I don't know if you would call that a weakness, but my wife said let up." (Melania Trump is a former model from Slovenia.)
Sen. Rand Paul (R-Ky.): Good evening, everyone. I'm an eye surgeon from Bowling Green, Kentucky. My wife, Kelley, and I have been married for nearly 25 years, and I spend my days defending the Constitution and the Bill of Rights. (Kelley Paul previously worked for a GOP consulting firm.)
Paul, talking about George Washington's wife: "But people came in by the droves. George Washington wouldn't let his wife visit until she got vaccinated. So I'm all for vaccines. But I'm also for freedom."
Rubio: "My wife Jeanette and I are the proud -- we've been married 17 years, and we're the proud parents of four children, two of whom were able to join us here this evening."
Ohio Gov. John Kasich, on Secret Service code names: "Well, I have one now -- they call me, 'Unit One.' My wife says, 'You'll never be Unit One, I'm Unit One. You're Unit Two.'" (Karen Kasich was a vice president of GSW Worldwide, a health care advertising agency.)
Trump, speaking about former Florida Gov. Jeb Bush's wife: "Well, I have to tell you, I hear phenomenal things. I hear your wife is a lovely woman …"
Former Florida Gov. Jeb Bush: "She is. She's fantastic." Later, Bush said, "She loves this country as much as anybody in this room, and she wants a secure border. But she wants to embrace the traditional American values that make us special and make us unique." (Columba Bush has worked with the Florida Coalition Against Domestic Violence, the Center on Addiction and Substance Abuse, and Arts for Life, according to the Atlantic.)
New Jersey Gov. Chris Christie appeared to be the only candidate who referred to his wife's job: "I was named U.S. attorney by President Bush on Sept. 10th, 2001. And that next day my wife Mary Pat did what she did every day, she traveled through the World Trade Center and went to her office two blocks from the World Trade Center." (Mary Pat Christie previously worked as managing director at the specialty investment firm Angelo, Gordon & Co., according to Politico.)
For the latest updates on tonight's debate, visit our liveblog.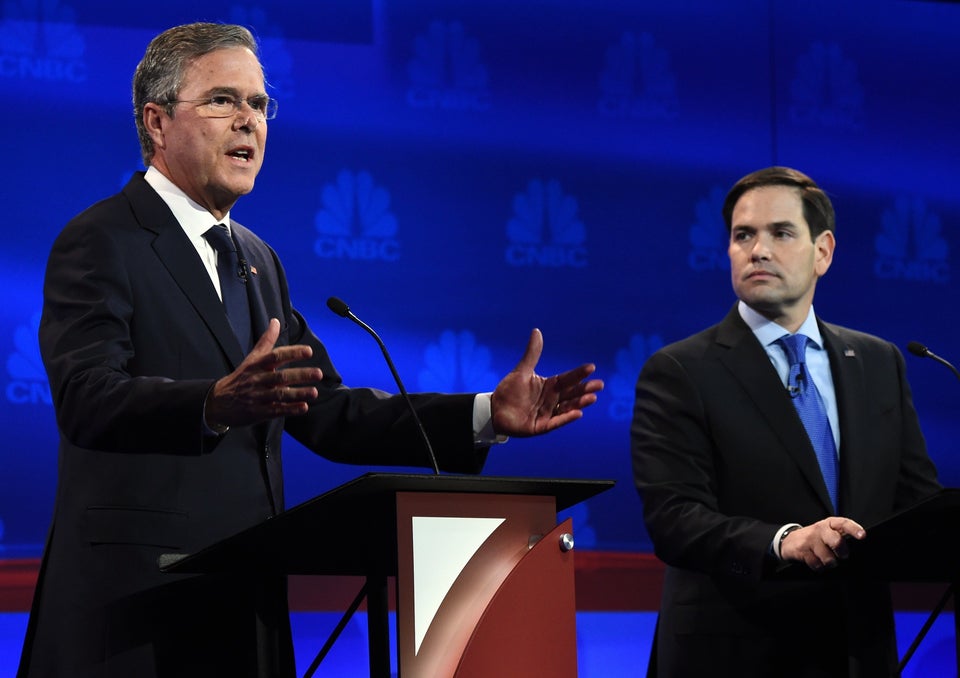 Moments From The CNBC Republican Debate
Popular in the Community