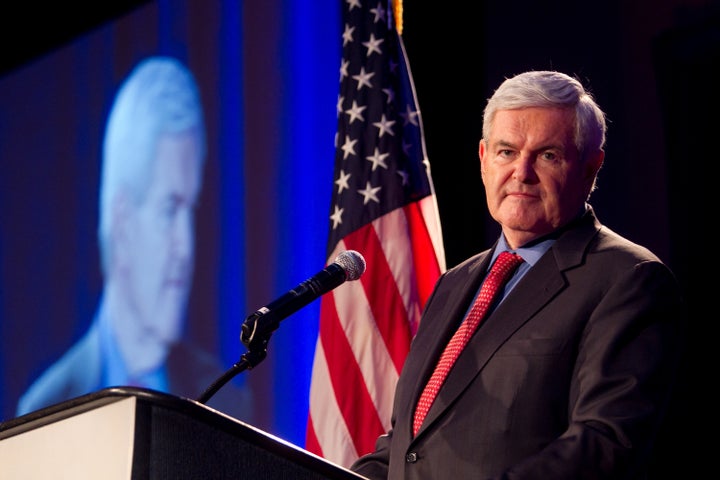 WASHINGTON -- Newt Gingrich's catastrophic first week as an official Republican primary candidate may knock him out of the race before it even gets started. And if he stays in, fundraising will now be much more difficult, and that could hasten his exit, Republican sources said.
The former House Speaker from Georgia's once biggest advantage over other long shot candidates -- an established fundraising network -- is withering before his eyes.
"The last 48 hours have called into question if Newt can even make it to July 4, because his fundraising is going to dry up," said one veteran Republican strategist. "No serious finance bundler is now going to step forward in such an organized campaign and take a leadership role."
Another Republican operative said he had spoken with an old friend of Gingrich's in the South who had been planning a fundraiser for the campaign. There were 18 co-chairs for the event until Gingrich's appearance on "Meet the Press" Sunday, where he labeled Rep. Paul Ryan's (R-Wisc.) proposed budget "radical" and "right-wing social engineering."
"He said like 13 of them dropped off within 24 hours of 'Meet the Press,'" the GOP source told The Huffington Post.
The full impact on Gingrich's fundraising will not be clear until mid-July, when second-quarter reports are due to be filed with the Federal Election Commission. A disappointing haul could be a knockout blow.
Gingrich aides declined to comment on their candidate's ability to raise money going forward, and Gingrich's finance chairwoman Gay Gaines did not respond to a request for comment. Gingrich's advisers have said in the past that they hope to pull in $30 million for the primaries. Just last year, Gingrich's 527 group, American Solutions, raised $28 million.
"Clearly if somebody was on the fence about whether they wanted to donate $100 or $50, the last four days they would have said, 'Maybe I'll just hold on to it,'" Rich Galen, a former Gingrich adviser, told The Huffington Post.
It began with Gingrich's charged comments about the Ryan plan, which have prompted an outpouring of criticism from conservative leaders as varied as House Majority Leader Eric Cantor (R-Va.) and talk show host Rush Limbaugh. Gingrich apologized to Ryan and went on Fox News to say, "I made a mistake."
But Gingrich's troubles compounded when Politico reported Tuesday that he had owed Tiffany's between $250,000 and $500,000 for jewelry. The same day, a gay rights activist added insult to injury by dumping glitter on Gingrich at a Minnesota book signing to protest the former Speaker's views on gay marriage.
Video footage also surfaced of a conservative Republican in Iowa, Russell Fuhrman, confronting Gingrich in a hotel lobby on Monday.
"What you just did to Paul Ryan is unforgivable," Fuhrman said. When Gingrich protested -- "I didn't do anything" -- Fuhrman savaged Gingrich while continuing to shake his hand.
"You're an embarrassment to our party. Why don't you get out before you make a bigger fool of yourself?" Furhman said as Gingrich slinked away.
Wednesday brought more ridicule. Gingrich's spokesman's bizarre comment to HuffPost, blaming media "literati" and the "political elite" of trying to sideline Gingrich, went viral and became instant political comedy fodder. The Wall Street Journal speculated that the lengthy and overly dramatic statement from Gingrich spokesman Rick Tyler might have been written by the candidate himself, but Tyler claimed the words as his own.
The calls for Gingrich to step aside grew louder Wednesday.
"It's time for Newt to disappear into the background. His moment has passed, and this tailspin has been decades in the making," wrote conservative blogger Tabitha Hale on the popular blog RedState.com.
Longtime Republican ad-maker and political consultant Alex Castellanos also called on the GOP to discard Gingrich in order to "release the past and inherit the future," in an op-ed published by The Daily Caller, a conservative news site.
"The opponent Obama needs to run against, the only one he can beat, is the old, uncaring Republican," Castellanos wrote. "It is not a caricature he needs to create. It lives, it walks, it breathes. It's the Gingrich."
Support HuffPost
The Stakes Have Never Been Higher
Popular in the Community