 WASHINGTON -- The Republican Party's internecine conflict has sparked a surge in independent spending in GOP congressional primaries as establishment elements defend incumbents against tea party-linked challengers.
Total spending by independent groups (excluding those known for supporting Democrats) in contested Republican congressional primaries soared to $46 million by the end of June, according to a review of Federal Election Commission records by The Huffington Post. That tops the $33 million spent in GOP congressional primaries during the full 2012 election calendar.
The spending surge came after the GOP establishment blamed the party's failure to capture control of the Senate on undisciplined tea party-backed candidates, who won primaries with the support of insurgent independent groups, then lost the general election to Democrats. Spending by corporate business groups, including the U.S. Chamber of Commerce and wealthy establishment donors, is a reversal from recent elections that featured tea party groups as the largest source of independent spending in primaries.


Scott Reed, the senior political strategist at the chamber, which did not respond to a request for comment, told Bloomberg in October, "The need is now more than ever to elect people who understand the free market and not silliness."
The Chamber of Commerce emerged this election cycle as the biggest spender in GOP primaries, dropping $6.9 million on contested races. Nearly all of this spending was in contests where tea party-backed candidates challenged incumbents or where incumbents wanted to scare off potential challenges. It's the first time the chamber has spent significant sums in primary elections.
The epicenter of the mainstream GOP spending surge was Mississippi, where Sen. Thad Cochran won a primary runoff last month against tea party-backed state Sen. Chris McDaniel. The chamber was the second-biggest pro-Cochran force, spending $1.2 million and contributing $100,000 to the Mississippi Conservatives super PAC that spent $1.8 million in support of the incumbent.
Late in the three-week runoff campaign, the chamber crafted a key advertisement featuring former NFL quarterback Brett Favre, a Gulfport, Mississippi, native, endorsing Cochran for securing funds that helped the state recover from Hurricane Katrina.
The business group also spent big on Senate races in Kentucky and North Carolina, and House races in Idaho, Ohio and North Carolina. All involved internal GOP clashes. The Chamber backed business-friendly Rep. Jack Kingston in the open Georgia Senate race, where he faces the similarly pro-business David Purdue in a runoff, and spent money in less contentious Senate primaries in Iowa and Alaska.
Other corporate trade associations supported establishment incumbents, mostly in the same races as the chamber. These groups, including the American Hospital Association and the National Association of Realtors, spent nearly $3.2 million on primary races in the 2014 midterms.
A number of groups tied to establishment Republican operatives and donors also intervened in primary elections.
Ending Spending Action Fund, the super PAC founded by TD Ameritrade founder and Chicago Cubs owner Joe Ricketts and run by his son, Todd, has been active in opposing tea party-linked candidates. The group spent $1.2 million in the Georgia Senate race against Rep. Phil Gingrey, who was criticized as a potential liability if he won the nomination.
The super PAC also poured money into a failed effort to defeat Rep. Walter Jones (R-N.C.), a populist conservative who attracted enmity for bucking party leadership with his hardline anti-government spending, anti-war and anti-Wall Street stances. Ending Spending Action Fund spent more than $700,000 to defeat Jones after receiving equivalent contributions from hedge fund billionaire Paul Singer, a leading Jones opponent.
For years, Singer has been an insider party donor, supporting candidates who back Israel and aggressive neoconservative foreign policy positions. Since the Supreme Court's Citizens United decision and the deaths of top party donors Bob Perry and Harold Simmons, Singer has cemented himself as a leading funder of the party establishment.
Beyond opposing Jones in North Carolina, Singer's American Unity PAC spent more than $660,000 to promote Rep. Richard Hanna (R-N.Y.), in the incumbent's challenge from anti-gay marriage Assemblywoman Claudia Tenney. Singer supports same-sex marriage and founded American Unity PAC to back candidates like Hanna, who are marriage equality supporters.
Another super PAC funded by Singer, New York 2014, spent more than $370,000 to support former Bush administration staffer Elise Stefanik's winning primary campaign for an open seat in New York's 21st Congressional District. Singer donated $100,000 to the group and was joined by other billionaire donors, including Ken Griffin and Cliff Asness.
Stefanik's campaign also was backed by American Crossroads, the super PAC founded by Karl Rove and the central node in the GOP establishment's independent network.
Prior to 2014, American Crossroads stayed out of Republican primary campaigns. But after Senate election losses in 2010 and 2012 that it ascribed to tea party-backed candidates' incendiary comments on rape and race, the group sought to fight back. An announcement early last year of this plan, dubbed the Conservative Victory Project, created a furor among hard-right conservatives, and ultimately failed to raise money.
American Crossroads did, however, intervene in contested Senate primaries in Mississippi and North Carolina, and to support Stefanik in New York. In Mississippi and North Carolina, the group contributed funds to locally based super PACs supporting Cochran and North Carolina Assembly leader Thom Tillis, who won a primary race against a candidate supported by Sen. Rand Paul (R-Ky.).
Despite the defense mounted by the business lobbies and the GOP establishment, Republican policy positions do not appear to be softening. The Chamber of Commerce's support for immigration reform and the renewal of the Export-Import Bank have gained no traction with party leaders.
In fact, Republicans have moved closer to the tea party insurgent groups on both immigration and the Export-Import Bank this year. House Speaker John Boehner (R-Ohio) ended all hope for a vote on immigration reform this week, and renewal of the bank depends on whether Boehner will allow a vote with only minority support from House Republicans.
The top-spending insurgent groups -- Club for Growth, Senate Conservatives Fund, FreedomWorks and Tea Party Patriots -- pumped $11 million into Republican primaries and helped candidates win nominations in open primary contests, even though they lost high-profile races. Some key races remain where their contributions may protect incumbents they helped elect in the past two cycles or may help elect like-minded lawmakers in open-seat races.
Support from these insurgent groups, though, wasn't a factor in the biggest primary upset of 2014. The shocking loss of House Majority Leader Eric Cantor (R-Va.) to college professor David Brat came without big financial support from tea party groups. The only incumbent to lose an election to an opponent backed by GOP insurgent groups was Rep. Ralph Hall (R-Texas), 91, the oldest member of Congress.
In spite of the GOP divisions, the Republican establishment and the GOP insurgents backed the same candidates in some races. In Alaska, Senate candidate Dan Sullivan is supported by American Crossroads, the chamber and Club for Growth. In Iowa, Joni Ernst won the Republican Senate nomination with backing from the chamber and Senate Conservatives Fund.
Before You Go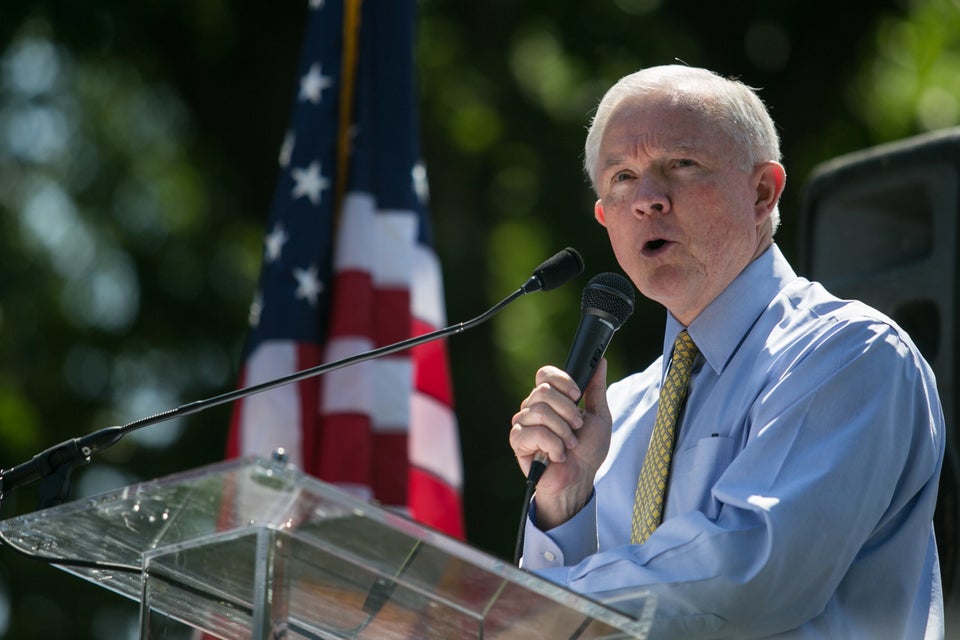 Senate Seats Up For Grabs In 2014
Popular in the Community