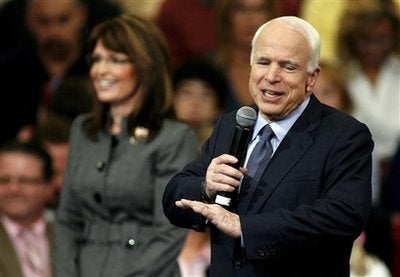 How seriously are Republican members of Congress treating John McCain's new $300 billion proposal for the government to buy up troubled mortgages?
On Thursday afternoon, the Huffington Post reached out to roughly two dozen press offices for Republican members of the Senate Banking and House Financial Services committees, not one of which was ready to talk about the GOP presidential candidate's proposal in even the broadest terms.
"I don't think he's worked his way through it at this point," said a spokesperson for Texas Rep. Jeb Hensarling. It proved to be a common theme.
Sen. Judd Gregg "hasn't weighed in on that yet," his spokeswoman acknowledged, offering to provide a response later.
"I have not heard him say anything about it [McCain's plan]," said a press officer for New Jersey Rep. Scott Garrett, who sits on the Subcommittee on Housing and Community Opportunity.
Of course, it's easy to see why members of Congress might approach the plan with caution. Unveiled in somewhat surprising fashion during Tuesday night's presidential debate, McCain's announcement quickly set some conservative pundits on edge -- including the editors of the National Review, who called the plan "a full bailout for lenders."
Since then, while McCain operatives have attempted to cement the specifics of the plan, it's still not clear whether the plan is even legal. On ABC News Thursday night, McCain admitted his plan might require "new money" outside of the $700 billion provided by the recent economic rescue package.
Meanwhile, Barack Obama and Hillary Clinton have both railed against the specifics of McCain's proposal, which had been compared to past initiatives from both Democratic figures. Calling the comparison "offensive," a Clinton staffer echoed the National Review by saying McCain's plan would "[bail] out and rewarding irresponsible bank and mortgage lenders, while sticking taxpayers with the bill."
Several GOP offices said they would pass along their boss's view on McCain's plan later. We'll update this story with their their responses if we receive them.
Popular in the Community