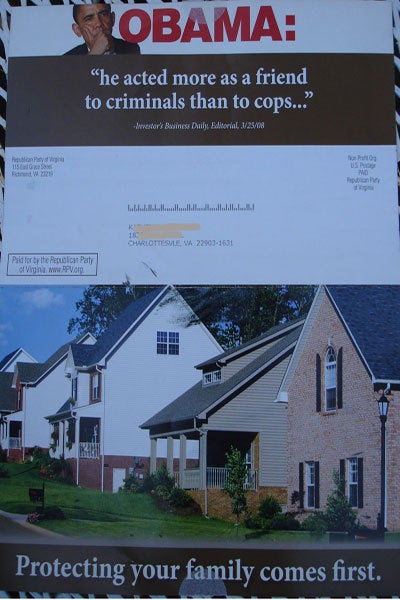 The Virginia Republican Party is sending out a harsh anti-Obama mailer that accuses the Democratic nominee of acting "more as a friend to criminals than to cops..."
The pamphlet, flagged by a recipient in the state and a new version of one previously reported in several other states, includes a photo of a quiet suburban neighborhood and young children playing on in a classroom - the implicit message being, Obama will make you and your family less safe.
"Protecting your family comes first," reads the front.
"A record of being soft on crime," reads the back. "Barack Obama has consistently opposed tougher penalties for criminals - including major offenses - allowing criminals to remain on the streets."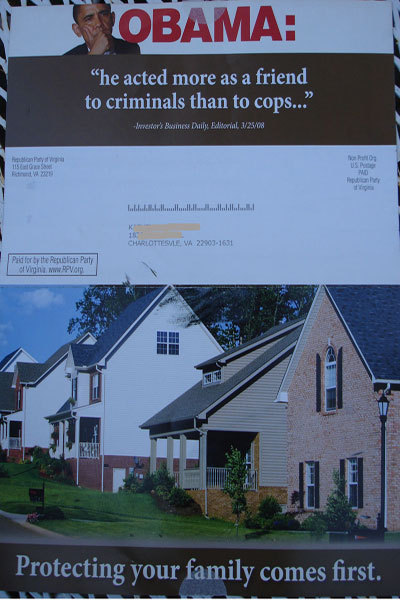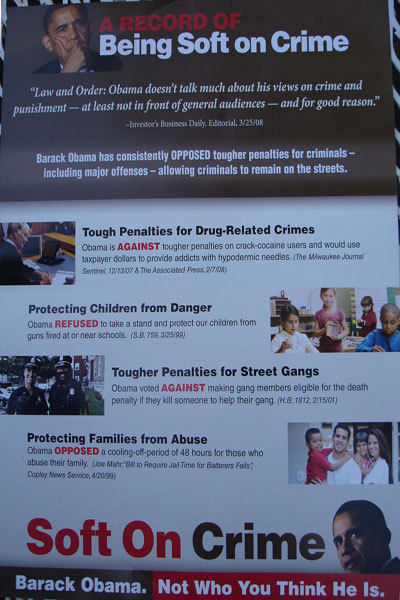 Much of the material is taken from an Investment Business Daily editorial that accuses the Illinois Democrat of, among other things, voting against making gang members eligible for the death penalty, curbing the death penalty system, and pushing a measure to expunge criminal records of ex-cons.
Obama, who has actually pushed to get more cops on the street as an urban-policy initiative, has said he would "immediately review sentences to see where we can be smarter on crime and reduce the ineffective warehousing of nonviolent drug offenders." The later policy has been backed up by several studies of criminal behavior.
All of this, of course, is a measure to soften Obama's support among suburban voters. And, for some, the message could be interpreted as having a racial component as well. It should be added that various aides to the Hillary Clinton campaign said they were surprised that McCain and the RNC hadn't played the soft-on-crime card earlier in the primary.
Calling all HuffPost superfans!
Sign up for membership to become a founding member and help shape HuffPost's next chapter