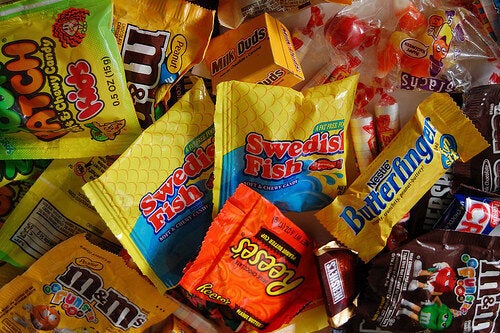 Federal guidelines that would help support healthy foods for kids are under attack.
Voluntary guidelines proposed by the FTC, USDA, FDA and other agencies last April will, if companies follow them, ensure that foods marketed to kids contain real food ingredients including fruits, vegetables, and whole grains. They'll also limit harmful nutrients such as sodium, added sugars and saturated fats. Though voluntary, these guidelines will help move our food system in a direction that ensures foods available and promoted to kids are whole and minimally processed--fruits, vegetables and whole grains. It's what our kids deserve.
Comments on the standards are still being gathered, but Industry has been working overtime to de-rail them, making shameful claims in their attempts to stop even these voluntary recommendations.
Unhealthy eating is damaging our kids, our economy and our future. From Coca-Cola to Pepsi, Burger King to McDonalds, Kellogg to Nestle, big food companies say they want to be part of the solution. If that's the case, why are so many crying wolf instead of embracing a consistent set of fair, reasonable guidelines that will do a better job protecting our kids than they have? We cannot let them backtrack, especially when we have such a common sense solution on the table. We can't let them encourage their congressional buddies to scuttle or delay such a critical step for children's health.
Every parent wants their child to grow up healthy and strong, but food companies have stacked the deck against them. The food industry spends $2 billion a year marketing foods to kids. An average eleven year old sees 4,700 food ads a year--and that's just on tv. Our kids are also seeing junk food promoted in school, in movies, on toys, in video games, sports events and virtually every part of their lives. Worse, almost 100% of the ads they're seeing are for foods that are high in fat, sugar or sodium.
Today a coalition made up of PepsiCo, General Mills, Kellogg's, the American Association of Advertising Agencies and Time Warner complained that the standards would cost them $28.3 billion in revenue. If that's 28.3 billion dollars' worth of junk food that kids won't be eating in a year, it seems like one of the most effective tools we have for really getting to the roots of our chronic disease epidemic. And the fact is, until food manufacturers start promoting healthy foods, something's got to give--should it be food industry profits or our children's health?
It's simply not fair. Food companies use animated characters to manipulate children's affections, and sponsorships and advertising in schools to win new customers. The current system of food marketing is unrelenting, and puts all the responsibility on parents to protect their kids--but parents can't be everywhere their kids are, or even see the foods they choose at school and at friends' houses. Parents shouldn't have to play defense in a world designed to make their kids consume unhealthy food, just so companies can make bigger profits. The proposed standards are an important step in shifting the power back towards children and families.
Food companies that care about the health of our children, and not just their bottom line, will see the value and the benefit in these voluntary guidelines. For those food companies who really do want to be part of the solution, it's time to walk the walk.
We encourage those who would like to make a comment in support of the guidelines to the federal Interagency Working Group to do so, here.
Popular in the Community