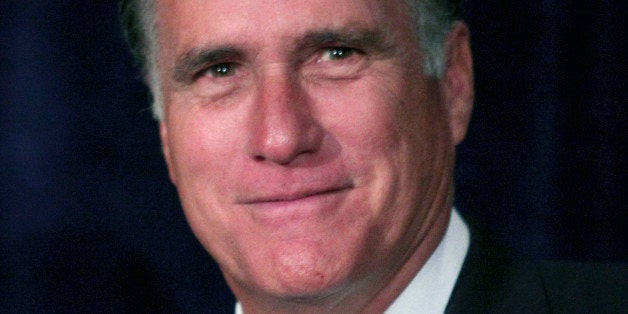 It's tough being a Republican presidential hopeful these days. The GOP's hard-core conservative base vociferously opposes same-sex marriage, but American voters overall support it. More than one-third think they'd be less likely to vote for a candidate who opposed gay marriage, according to a new poll.
Last week, independent polling firm Zogby Analytics conducted a national survey for The Huffington Post examining how likely voters would respond if a GOP candidate signed a statement that he or she opposed same-sex marriage. Almost 35 percent said they would be somewhat or much less likely to vote for the candidate. Over 31 percent said they'd be somewhat or much more likely to support the candidate, and about 34 percent said it would make no difference or they weren't sure.
The differences are not huge, but senior analyst John Zogby suggested they could influence the outcome of the election. With the Republican Party struggling to pick up votes from African-Americans, Hispanics and young people, a GOP presidential candidate can ill afford to stake out a position at odds with a growing majority of the American people.
Republicans are hearing "a demographic death knell, so they have to appeal to a wider base," said Zogby. Taking a stance against gay marriage, he said, "may position you as a conservative in the primary, but it could be fatal in the general."
Some Republican strategists have been pointing this out for years now. In May 2012, after President Barack Obama announced that he supported same-sex marriage, Republican pollster Jan van Lohuizen put out a memo warning that support for gay marriage, among all partisan groups, has been growing at "an accelerated rate with no sign of slowing down." He suggested that Republicans back "basic legal protections" for gays and lesbians.
Nevertheless, in the lead-up to the 2012 presidential race, nearly every Republican candidate signed a pledge authored by the National Organization for Marriage, a leader in the fight against same-sex marriage. From Mitt Romney to Rick Perry, they all promised, among other measures, to support a federal constitutional amendment defining marriage as between a man and a woman only, and to appoint federal judges who agree.
Last week, the Supreme Court announced that it will hear a case directly addressing the constitutionality of states' not licensing same-sex marriage this year. According to The New York Times, some Republican leaders think a definitive decision by June, even one in favor of marriage equality, could help their party.
"If the Supreme Court makes a final determination -- and goodness knows, nobody can guess what the Supremes are going to do -- then it's off the table," Shawn Steel, the Republican national committeeman for California, told the Times.
A few of the party's potential 2016 presidential candidates have been trying to strike a delicate balance, stressing their respect for the laws of the United States while stopping short of voicing support for same-sex marriage. Wisconsin Gov. Scott Walker said, "It's over in Wisconsin." Former Florida Gov. Jeb Bush said, "We live in a democracy, and regardless of our disagreements, we have to respect the rule of law." (Federal courts have struck down gay marriage bans in both states.)
As Jay H. Leve of the independent polling firm SurveyUSA put it, "The issue is a loser for Republicans in primary states such as New Hampshire and a sure loser for Republicans in the general election."
However, anti-gay activists in the United States have no intention of giving up the fight. A spokesperson for the National Organization for Marriage said the group fully intends to urge 2016 presidential candidates to sign a marriage pledge similar to the last one.
"Let me be as clear as I can," Brian S. Brown, president of the National Organization for Marriage, wrote in a fundraising plea this week. "We at NOM will never give up on marriage."
Zogby Analytics surveyed 890 likely voters online from Jan. 16 to 18.
Popular in the Community