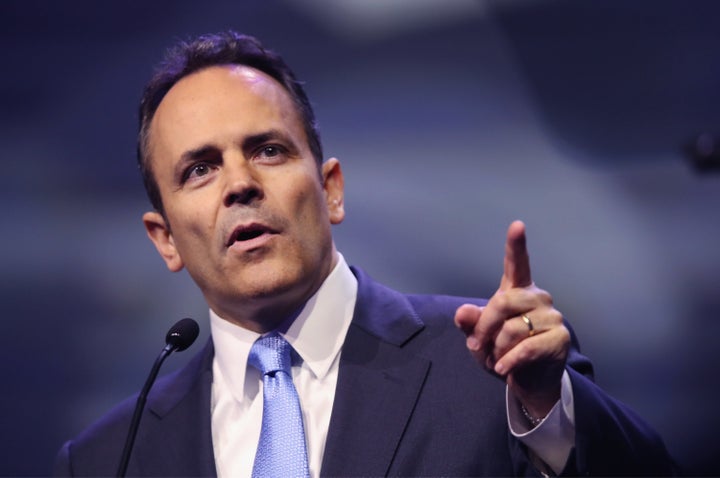 WASHINGTON -- Kentucky Gov. Matt Bevin (R) wants to enact a major overhaul of the state's Medicaid program -- and vows to let the Obamacare expansion that covers hundreds of thousands of poor residents disappear if federal authorities don't agree to his plan.
At a news conference in Lexington Wednesday, Bevin outlined an ambitious proposal to convert 1.2 million current Medicaid enrollees into a new program called Kentucky HEALTH, which would make them pay monthly premiums and require them to do community service, job training or other activities to retain coverage. Changes of this magnitude must be approved by the federal Centers for Medicare and Medicaid Services.
Bevin has come a long way from his gubernatorial campaign and Senate bid in 2014, when he positioned himself as a major antagonist of the Affordable Care Act and then-Gov. Steve Beshear (D), who embraced Obamacare by creating a health insurance exchange called Kynect and broadening Medicaid eligibility to include more poor adults. Those changes led to a dramatic drop in the state's uninsured rate.
"The intent is to make this as available to everybody as it has been, to make the program more successful by making it more accountable, by restoring a sense of dignity that comes with people having some stake in their own health outcomes," Bevin said.
"We want people in Kentucky to be healthier. We want to give them the access. We want to give them the dignity. We want to give them the ownership. We want to make it sustainable. The net result of those things will make it more affordable for everybody," he said.
But Bevin also made clear that the continuation of the Medicaid expansion in Kentucky is contingent on President Barack Obama's administration, specifically the Centers for Medicare and Medicaid Services, which is part of the Department of Health and Human Services.
"If they do not approve this, there will not be expanded Medicaid in the state of Kentucky," Bevin said.
The department didn't exactly endorse Bevin's plan, however. "We are hopeful that Kentucky will ultimately choose to build on its historic improvements in health coverage and health care, rather than go backwards," HHS spokesman Ben Wakana wrote in an e-mail. "Kentucky is only beginning the Medicaid waiver process and has not yet submitted a waiver to CMS. When it does, we will evaluate the waiver based on our longstanding principles of access to coverage and affordability of care, principles that we have repeatedly shared with the state. As in other states, we are prepared to continue our dialogue for as long as it takes to find a solution that continues progress for the people of Kentucky."
Since the Supreme Court ruled in 2012 that expanding Medicaid was optional for states -- contrary to the original intent of Congress -- 31 states and the District of Columbia have expanded the program to anyone earning up to 133 percent of poverty, which is about $15,700 a year for a single person. The most recent to expand was Louisiana, and states including South Dakota are actively debating the possibility.
"If they do not approve this, there will not be expanded Medicaid in the state of Kentucky."
Bevin downplayed the possibility of the administration rejecting his plan, however, telling reporters he and his staff have held numerous meetings with federal officials since he announced his Medicaid reform effort last December, and that he spoke on the phone with HHS Secretary Sylvia Burwell Tuesday.
"There's nothing in this that is going to be a surprise to them. There's nothing that we have not talked to them about," Bevin said. "This has been a good, open dialogue. It's been in good faith. I'm encouraged by that. This is the kind of thing that makes me confident that they will, in fact, support the waiver that we are requesting."
But it also includes unique features that the federal government has never before approved, and Kentucky has less political leverage than states like Indiana did because its Medicaid expansion is already in place.
One of the unprecedented reforms in Bevin's plan would make community service and similar activities mandatory for working-age adults without disabilities after the first year of coverage. The commitment would range from five hours a week after three months to 20 hours a week. Pregnant women, people who are medically frail and those who are a primary caregiver in their homes don't have to fulfill this requirement.
The reform plan overall would apply to able-bodied adults and would exempt frail elderly beneficiaries and people with disabilities. Children would retain their current coverage, unless their parents are subject to the new system. Bevin said payment reductions to health insurance companies that administer Medicaid in Kentucky would save the federal government $1.9 billion and the state $300 million over five years.
Kentucky HEALTH would consist of two parts. The first would be a program offering a choice of private insurance plans for people whose employers don't offer health coverage; the second would give financial assistance to people who have access to job-based benefits.
In both cases, the benefits package is based on the state employees' health insurance plan. That means it doesn't include dental or vision coverage. Kentucky HEALTH, however, would retain the current Medicaid program's level of coverage for mental health and substance-use treatment, which exceeds the employees' plan.
Kentucky HEALTH enrollees earning between 34 percent and 138 percent of the federal poverty level -- about $4,000 to $16,000 a year for a single person -- would pay monthly premiums ranging from $1 to $15 and would not face copayments when they receive services. Premiums rise for people above poverty for every year they're on the program, up to $37.50 after five years. The insurance plan carries a $1,000 deductible, but Kentucky will provide that same amount of money in an account.
Failure to pay premiums would result in people with incomes above poverty owing a penalty and losing their benefits for six months, although they can re-enroll sooner by making back payments and taking a health or financial literacy course. Those below poverty who don't pay premiums can't be kicked off, but will be subject to cost-sharing payments when they receive health care services and products.
Similar to Indiana's use of a health-savings-account-like mechanism in its Medicaid expansion, Kentucky HEALTH would create a "My Rewards Account" that beneficiaries would use to pay for things not included in their benefits, like dental and vision care or over-the-counter drugs. Enrollees wouldn't make cash deposits. Instead, they would accrue bonuses ranging from $10 to $150 through activities like taking a health-risk assessment, performing community service or taking job training courses.
Kentucky HEALTH enrollees with jobs that offer health benefits would be allowed to enroll in the state-run program up to for one year, but afterwards would be required to sign up for their company plan. Kentucky would reimburse workers for the cost of buying their company's coverage, less the standard Kentucky HEALTH premium. The state also would cover any benefits the state employees' plan covers that aren't part of a beneficiary's job-based insurance.
Both the volunteer work and monthly premiums may run afoul of federal Medicaid law, however, an HHS official told The Huffington Post on background. The administration has rejected requests from Indiana and other states to require Medicaid enrollees to be employed or actively seeking work and requests for greater cost-sharing, which could portend badly for Bevin's plan.
This article has been updated with statements from the Department of Health and Human Services.
Popular in the Community