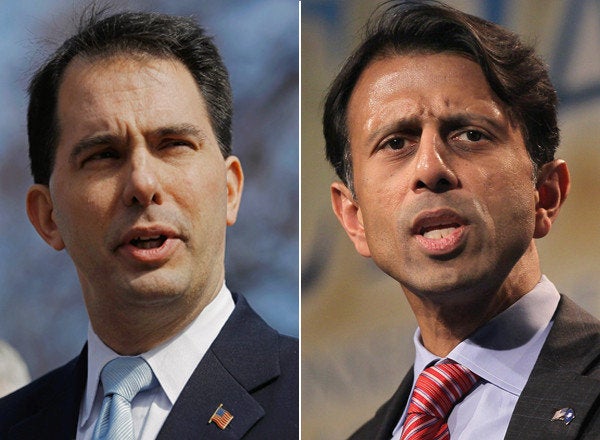 WASHINGTON -- Just because the Supreme Court affirmed that the Affordable Care Act is the law of the land, doesn't mean that Republican governors are rushing to follow it.
"We're not going to start implementing Obamacare. We're committed to working to elect Governor Romney to repeal Obamacare," said Louisiana Gov. Bobby Jindal (R) Friday morning on a call with reporters hosted by the Republican National Committee.
The Affordable Care Act requires states to set up health care benefits exchanges to help Americans buy insurance. If a state fails to act, the federal government will operate that state's exchange program.
States have until Jan. 1, 2013, to demonstrate to the Department of Health and Human Services that it has a plan in place for the exchanges, which are required to be up and running by Jan. 1, 2014.
"On the exchanges, we've continued not to implement the exchanges in Louisiana. We're going to work very hard to get Governor Romney elected so this law will be repealed long before the effective dates," Jindal added.
Virginia Gov. Bob McDonnell (R) did not go as far as Jindal on the call, although he made clear that his state is not jumping to comply just yet.
"We don't even know exactly what that federal exchange would look like," he said. "So there's still some uncertainty at this point as to what the right course is. And over the next days and weeks we're going to be evaluating the case as well as the options for Virginia."
On Thursday, another leading Republican governor -- Wisconsin's Scott Walker -- similarly said, "Wisconsin will not take any action to implement Obamacare. I am hopeful that political changes in Washington, D.C., later this year ultimately end the implementation of this law at the federal level."
While Obama's health care mandate was upheld by the Supreme Court, there was a bit of good news for anti-Obama Republican governors in the ruling. Part of the Affordable Care Act sought to dramatically expand Medicaid to cover more uninsured Americans. On Thursday, the Supreme Court decided that states that refuse to comply will not lose all existing Medicaid funds. Instead, they simply will not receive new funds going forward.
The federal government has promised to pick up the full cost of the Medicaid expansion for the first three years, and reimburse 90 percent of the cost for states after that.
House Minority Leader Nancy Pelosi (D-Calif.) held a call with reporters and bloggers on Thursday afternoon and said she believes that states will find the Medicaid funds hard to resist.
"A big expansion of Medicaid is part of this bill, as you know, and in order to make it saleable and tactical, we have 300 percent of the benefits described in this bill paid for in Medicaid to the states those first three years of the bill. I don't think the governors will turn that down," she said. "First of all, the people will have the need; the urgency is there. They don't have to have any matching funds."
"I believe that once this bill is rolling and states experience the benefits of it, it will be very hard for a state to say, 'I'm not taking 100 percent of the coverage that Medicaid would provide for these people.' That's our thinking on the subject," she added.
Neither Jindal nor McDonnell said whether they would accept the Medicaid funds.
"Here in Louisiana, we've not applied for the grants, we've not accepted many of these dollars," Jindal said. "We're not implementing the exchanges. We don't think it makes any sense to implement Obamacare in Lousiana. The next opportunity we have to get rid of this law is to get Governor Romney elected, and I absolutely believe that he will be elected in November, and one of his first actions will be to repeal and replace this law."
Calling all HuffPost superfans!
Sign up for membership to become a founding member and help shape HuffPost's next chapter
BEFORE YOU GO
PHOTO GALLERY
Political Reaction To Health Care Ruling