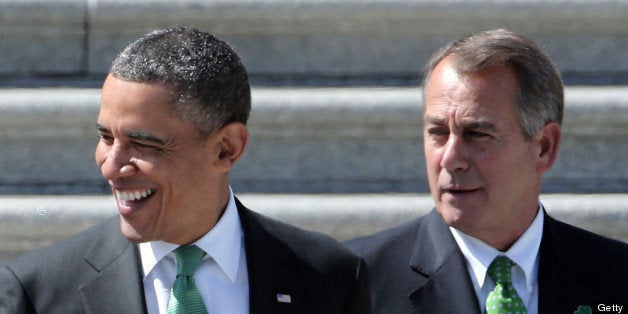 Half of American voters think congressional Republicans are causing gridlock by refusing to support presidential initiatives, but there's plenty of blame to go around for both parties, according to a poll released Friday by Quinnipiac University.
A 51 percent majority said that Washington's gridlock was mainly because "Republicans in Congress are determined to block any President Obama initiative," while 35 percent attributed it to "President Obama [lacking] the personal skills to convince leaders of Congress to work together."
But 64 percent said both Democrats and Republicans were at fault, while 23 percent specifically blamed the Republicans, and 10 percent the Democrats.
Voters also wanted to see the president and congressional Republicans come to a compromise. Fifty-three percent said Obama was doing too little to work with Congress on important issues, while 68 percent said GOP legislators were compromising too little with Obama.
"Voters think the Democrats and Obama aren't playing nice, but they think the Republicans are worse," Peter A. Brown, the assistant director of polling for Quinnipiac, said in the poll's release.
Neither party's legislators are especially popular today. Republicans in Congress are tying record-low ratings, with 71 percent of voters, including 49 percent of GOP voters, disapproving of their job performance. Democrats in Congress have a 62 percent disapproval rating but are far more popular among their constituents, with 60 percent of Democratic voters giving them positive marks.
If the 2014 midterm elections were held today, 39 percent would vote for the Democratic candidate in their district, while 34 percent would vote for the Republican. That number has fluctuated in recent months: In early April, the Democrats had an 8-point lead, according to Quinnipiac, while in late May the two parties were evenly matched.
In the year leading up to the 2010 midterms, when Republicans retook the House, Republicans and Democrats traded the advantage several times, with a clear Republican edge emerging only in the summer before the election.
The Quinnipiac poll also tested several 2016 presidential matchups and candidates. It found that former Secretary of State Hillary Clinton leads New Jersey Gov. Chris Christie (R) 46 percent to 40 percent, and Sen. Rand Paul (R-Ky.) 50 percent to 38 percent. Vice President Joe Biden trailed Christie, 35 percent to 46 percent, and was tied with Paul at 42 percent.
Clinton's favorability rating was at 55 percent, down from 61 percent in January, but still above her mid-40s numbers during the 2008 election.
The poll was conducting using live telephone interviews to survey 2,014 registered voters between June 28 and July 8.
Calling all HuffPost superfans!
Sign up for membership to become a founding member and help shape HuffPost's next chapter
BEFORE YOU GO
PHOTO GALLERY
Conservatives Pointing Fingers