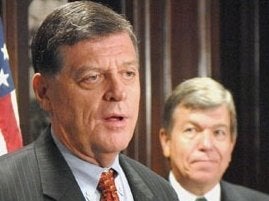 The former treasurer for the National Republican Congressional Committee diverted hundreds of thousands of dollars -- and possibly as much as $1 million -- of the organization's funds into his personal accounts, GOP officials said yesterday, describing an alleged scheme that could become one of the largest political frauds in recent history.
For at least four years, Christopher J. Ward, who is under investigation by the FBI, allegedly used wire transfers to funnel money out of NRCC coffers and into other political committee accounts he controlled as treasurer, NRCC leaders and lawyers said in their first public statement since they turned the matter over to the FBI six weeks ago.
"The evidence we have today indicated we have been deceived and betrayed for a number of years by a highly respected and trusted individual," said Rep. Tom Cole (R-Okla.), the NRCC chairman.[...]
The magnitude of the alleged fraud staggered Republicans, who are bracing for the final accounting from the forensic audit in six to eight weeks. Many said they expect a total far greater than the minimum cited yesterday.
Popular in the Community