The Republican proposal to replace the Affordable Care Act has done more than generate a negative reaction. It has also boosted worries about health care to the point where it may soon rival jobs and the economy as the issue Americans select as most important.
The bill that would effectively repeal the health insurance law also known as "Obamacare" has gained a high profile in the days following its unveiling by Republican congressional leaders and endorsement by President Trump. Four out of five Americans say they have been following news about the proposal either very (38 percent) or somewhat closely (41 percent), and a 55 to 42 percent majority of Americans say they oppose the bill.
As a result, general concerns about health care are on the rise. On the very first question asked on SurveyMonkey's regular national tracking survey, 23 percent of Americans now select health care as the issue that matters most, a three percentage point increase (from 20 percent) over the past week, and a gain of six points (from 17 percent) since late February.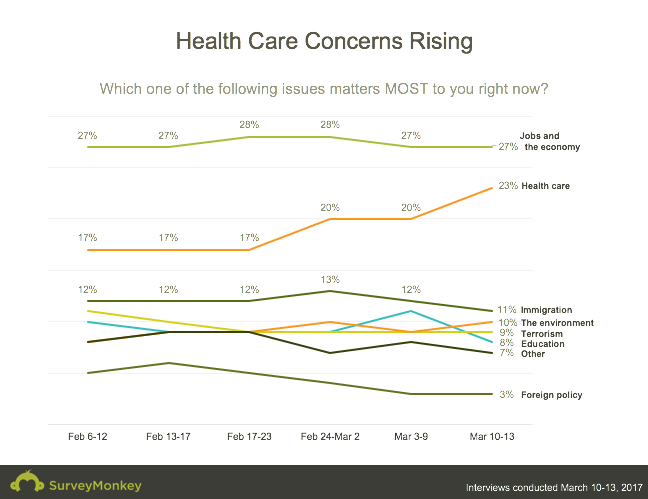 While health care has been the second ranking issue among Americans throughout the first two months of the new Trump administration, it now trails "jobs and the economy" (at 27 percent) by just four percentage points.
Democrats are typically more concerned than Republicans about the health care issue, but distance has increased from a gap of 7 to 8 percentage points in early February to 17 points on this survey, with the sharp rise in concerns about health care in the past week coming mostly from Democrats. Currently 32 percent of Democrats select health care as the most important issue, compared to just 15 percent of Republicans and 22 percent of independents.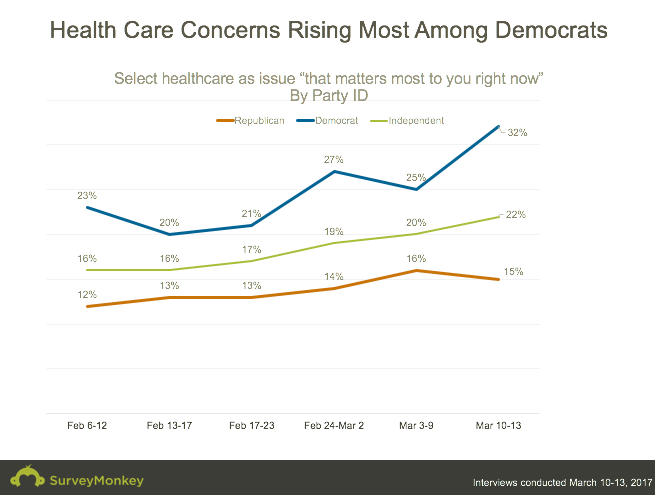 Again, owing in part to criticism from across the political spectrum, the Republican replacement bill starts out under water, with far more opposition (55 percent) than support (42 percent), and with twice as many Americans saying they are strongly opposed (38 percent) than strongly supportive (18 percent).
Partisan polarization on this issue is unsurprising, given the explicit Republican sponsorship of a bill to repeal and replace the highest profile achievement of the outgoing Democratic president. Nearly nine out of ten Democrats (88 percent) say they oppose the Republican replacement plan, and nearly as many Republicans (84 percent) favor it.
Yet those with less partisan attachment have largely turned against the bill. Americans who initially identify as independent oppose the Republican health care bill by a large margin (40 percent support, 59 percent oppose). Independents who who lean to neither party are against it by an even larger margin (32 percent support, 61 percent oppose).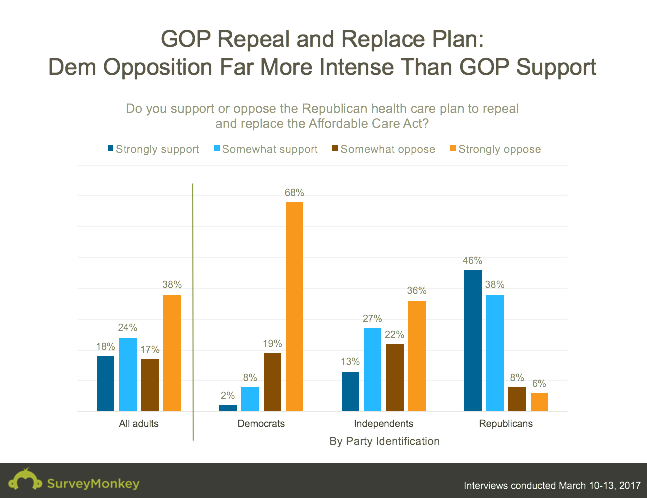 The usual partisan polarization fades, however, when it comes to strength of opinion, as the share of Democrats who say they strongly oppose the bill (68 percent) far exceeds the proportion of Republicans who strongly support it (46 percent). Put simply, the Republican plan has done more than draw opposition from Democrats (and independents), it has enraged and energized the Democratic base. Meanwhile the Republicans who say they support the bill are relatively lukewarm about it.
The contrast in intensity of opinion leads to result that may seem a little backwards: Democrats report following news about the *Republican health care plan more closely than Republican identifiers. Far more Democrats (50 percent) say they have been following news about the bill "very closely" than Republicans (32 percent) or independents (34 percent).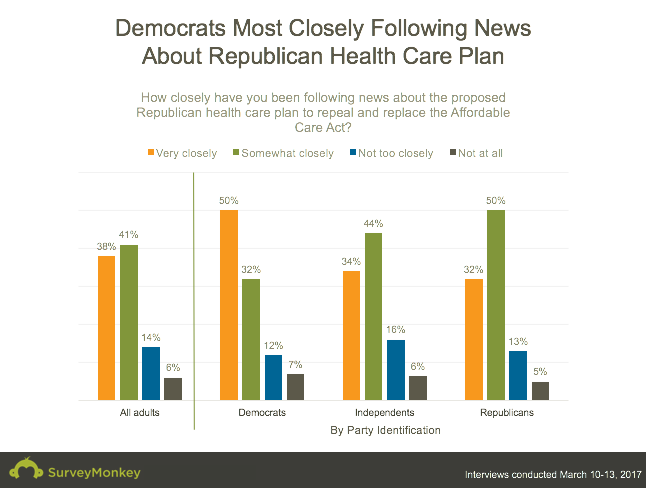 As a result, the voters who say they are following news about the Republican bill most closely oppose it by a two-to-one margin (33 percent favor, 67 percent oppose).
The unveiling of the Republican health plan has not altered opinions about the Affordable Care Act ("Obamacare") it aims to replace. Nearly two-thirds of Americans prefer to let the ACA stand (17 percent) or "change it so it does more" (47 percent), while just a third prefer to repeal it completely (27 percent) or "change it so it does less" (6 percent).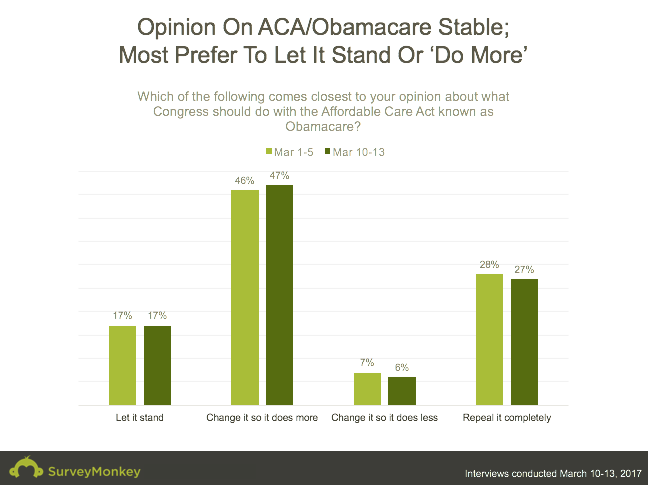 Most of the interviews for this survey were conducted before the release on Monday afternoon of a Congressional Budget Office analysis projecting that the Republican bill would "cause 24 million people to lose health insurance within a decade," and the interviews done after did not make a significant difference in support for the bill. 
However, about a third (32 percent) of those who currently support the Republican bill also say they prefer to change the ACA so that it "does more." Most of these voters identify or lean to the Republicans, so while we can only speculate about how they will resolve their dissonant views, but at very least, the latest news puts support for the Republican health care replacement plan under more duress.
Methodology: This SurveyMonkey Tracking poll was conducted online March 10-13, 2017 among a national sample of 2,423 adults ages 18 and up. Respondents for this survey were selected from the nearly 3 million people who take surveys on the SurveyMonkey platform each day. Data for this week have been weighted for age, race, sex, education, and geography using the Census Bureau's American Community Survey to reflect the demographic composition of the United States. Full topline results and detailed demographic breakdowns can be viewed here. This article is cross-posted to the SurveyMonkey Election Tracking blog.
REAL LIFE. REAL NEWS. REAL VOICES.
Help us tell more of the stories that matter from voices that too often remain unheard.
BEFORE YOU GO