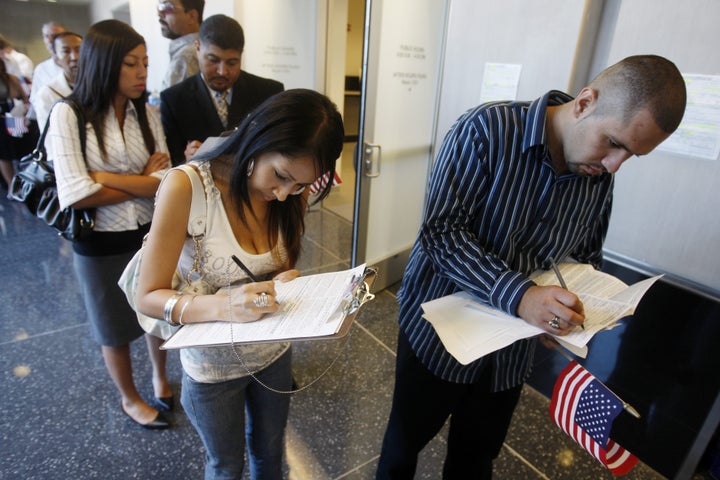 Top-ranking Republican strategists who specialize in Hispanic outreach say they are outraged, disturbed and concerned by the type of reception Barack Obama's pick for the Supreme Court has received from conservative activists.
In the days since the nomination of Judge Sonia Sotomayor to the Supreme Court, several prominent conservative voices have leveled unusually blunt attacks at her resume. Former House Speaker Newt Gingrich and radio host Rush Limbaugh both insisted that the court of appeals judge was a racist for saying that her Hispanic background allowed her to come to better judicial decisions. Former Congressman Tom Tancredo, on Friday, called Sotomayor a member of the "Latino KKK."
The rhetoric has been enough to make Republican strategists in heavily Latino states cringe -- concerned that such slights could cement Democrats advantages among a growing and increasingly influential political constituency.
"Of course this disturbs me," said Lionel Sosa, one of the more influential Hispanic media advisers in the GOP. "I'm not surprised at Rush Limbaugh but I'm very surprised at Speaker Gingrich because he is one of the key people who knows the importance of the Latino vote to the Republican Party. He must realize how his rhetoric, if it does influence any Hispanics, how damaging it could be. This [confirmation] is something that is going to happen anyway. For a senator to have strong opposition to her, they are either not aware of the impact Latinos will have on the next election or they don't care."
Sosa certainly knows what makes the Hispanic voter tick. He has helped with or worked on seven Republican presidential campaigns since 1980, including John McCain's and both of George W. Bush's. He was joined in his lament by several other Hispanic strategists who spoke to the Huffington Post. Even those Republican Hispanics who have served in government said they were deeply worried about the Sotomayor pushback, though they cautioned that it was coming almost entirely from outside the party establishment.
"In the real world, absolutely this rhetoric matters," said former Rep. Henry Bonilla of Texas. "And that's why I think, thus far, the key leadership in Washington has been very cautious and thoughtful in their responses, and I hope that will continue... At the end of the day, people will see [these remarks] for what they are. And realize that this is nothing new coming from various opinionated people on the conservative side. It is nothing different than what comes from the liberal side."
As for Tancredo specifically, Bonilla called his remarks "outrageous." Perhaps, he added, it was a good thing because "credibility goes down the drain when you hear something like that."
Certainly, both he and Sosa acknowledge, taking on the first Hispanic Supreme Court nominee by calling her a racist was not helpful for the GOP's already frayed roots within that community. And while the confirmation battle will likely cool down in the weeks ahead, some GOP advisers who specialize on the Hispanic vote said the blowback from the early salvos could continue to be felt for elections to come.
"I think this is going to have a long-term effect," said Frank Guerra, a GOP strategist who has worked on Rick Perry's gubernatorial campaign in Texas and Jeb Bush's in Florida - both heavily Hispanic states. "For the most part in politics, what gets said meets the immediate need but doesn't address the long-term issues. And some of this dialogue is going to really hurt Republicans in their efforts to attract and keep Hispanic voters... This absolutely matters to the community. This is a watershed moment. It is a first. A Hispanic woman on the Court."
Arguing that about a quarter of the Hispanic vote usually remains undecided going into an election, Guerra concluded that the remarks of Gingrich, Limbaugh and others would help push a portion of that percentage more firmly Democratic.
Democrats gleefully agreed, noting in part that the issue would be exacerbated by a Hispanic media that tends to cover political news in larger chunks than its American counterpart.
"This is the worst of all worlds because these are the kind of comments and quotes that rip through popular culture," said prominent Democratic pollster Celinda Lake. "And people don't realize that media outlets like Telemundo still have a lot more news content then some of the networks like CNN. And so they have longer forums where these things are commented on by pundits and observers. It will be repeated even more because Sotomayor is obviously a huge news item in Latino press. So I think these kinds of comments that people think are isolated and embarrassing actually could have a real impact culturally. And I always think pop culture has a greater impact that policy or politics."
Popular in the Community