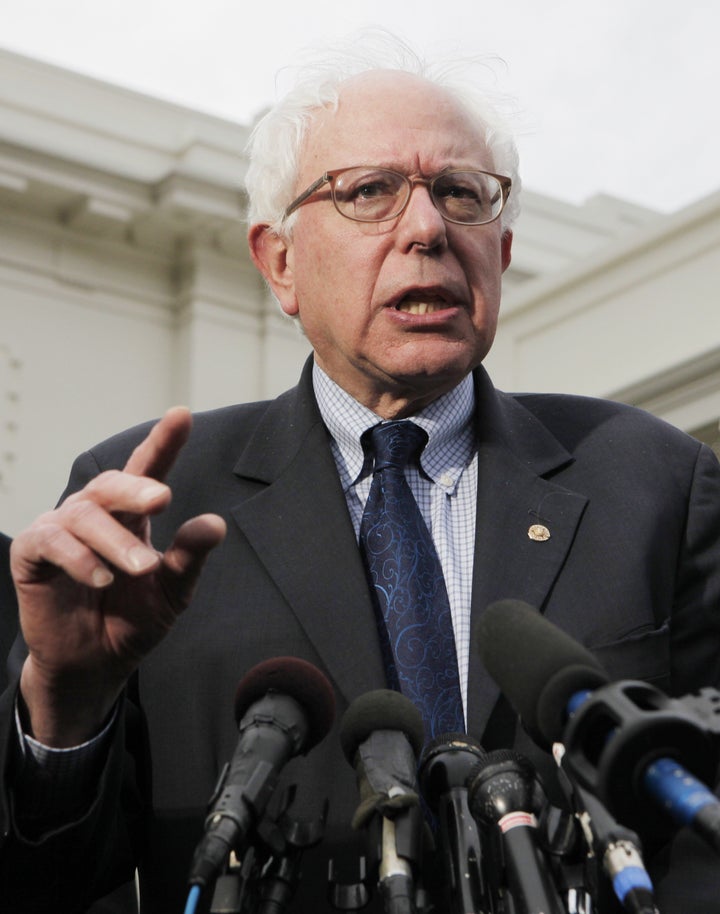 WASHINGTON -- Sen. Bernie Sanders (I-Vt.) met with labor unions, seniors organizations, and liberal members of Congress Thursday afternoon to develop an alternative proposal to the deficit commission's draft report released last week.
The meeting included Sen. Sheldon Whitehouse (D-R.I.), and Reps. Jan Schakowsky (D-Ill.) and Lynne Woolsey (D-Calif.), as well as groups such as the AFL-CIO, Campaign For America's Future and Social Security Works.
The Vermont Independent hopes to eliminate Bush-era tax breaks for the wealthy, tax credits for big oil companies, and Cold War-era Pentagon programs, among other things.
Jan Schakowsky, herself a member of President Obama's deficit commission, announced her own proposal to cut nearly $430 billion from the deficit by reducing various corporate tax breaks and sharply cutting defense spending.
Sanders said he thinks Schakowsky is moving in "exactly the right direction" but suggested that consensus on an alternative progressive plan remains elusive.
"There may be a little bit of disagreement here and there among the groups that we met with today," said Sanders, noting that three for four different groups are working on separate proposals. "But the important point now is to mobilize ordinary people... I think the vast majority of the American people agree with what we're trying to do in that room."
Fourteen of the deficit commission's 18 members must agree on a proposal by Dec 1 before it can proceed to Congress for a vote, something that looks increasingly unlikely to happen.
Sanders went on to say that it's incongruous for deficit hawks backing the Simpson-Bowles proposal to also support the Bush tax cuts for the wealthiest Americans.
"The idea that any honest person would be talking about deficit reduction and at the same time fighting to give $700 billion a year more in tax breaks to the top 2 percent -- that's totally hypocritical," Sanders told a handful of reporters on Capitol Hill Thursday.
Sanders's slight is the second hypocrisy charge to be leveled at Republicans this week. (On Wednesday a handful of House Democrats used a particularly embarrassing moment for Republicans to spotlight the hypocrisy of GOP talk of repealing "Obamacare.")
Sanders said the Simpson-Bowles proposal to raise the retirement age for Social Security, when the entitlement program is solvent until 2037 and contributes nothing to the national debt, seems to be something of a non sequitur.
"It is totally absurd that some of the richest people in this country have an effective tax rate lower than a policeman or a fireman," he told reporters. "I'm afraid some of my right-wing friends would not agree with that assertion and they will try to make a regressive tax system even more regressive."
Someone will have to pay, and Sanders insists it should not be middle-class Americans.
"The question at the end of the day," said Sanders, "is who is going to end up being asked to pay more in taxes? Is it going to be the middle class and working families through increases in regressive taxes? Or are we going to move toward a progressive income tax and progressive corporate taxes?"
Popular in the Community