WASHINGTON -- Support for comprehensive immigration reform is much broader in Congress than Republican leaders are letting on. To gauge which way the wind is blowing in Washington, watch which direction the money is flowing, and, more importantly, who's directing the money.
The top two Republicans in the Senate, Mitch McConnell of Kentucky and John Cornyn of Texas, might not be working for immigration reform in the upper chamber, but their allies off Capitol Hill are leading the advocacy efforts. Two of the most well-funded groups working on behalf of reform are being run by senior aides in McConnell and Cornyn's circle. One, American Crossroads, is run by close McConnell ally Steven Law, and is pledging to spend seven figures to press Republicans to approve reform. Law has said that reelecting McConnell, his longtime mentor, is the group's top electoral priority.
FWD.us, the tech-funded group pushing for immigration reform, has tens of millions of dollars pledged to the fight. Rob Jesmer runs FWD's D.C. operations as its campaign manager. He was executive director of the National Republican Senatorial Committee for the 2012 cycle, meaning he was in charge of electing and reelecting Senate Republicans, reporting to both Cornyn and McConnell. He ran Cornyn's 2008 campaign and is now a partner with FP1 Strategies, which represents Cornyn. Brian Walsh, the former spokesman for the NRSC, is also closely working with FWD. Jesmer and Walsh are both known in Washington as part of John Cornyn's circle, having both worked under him at the NRSC. Cornyn is now the No. 2 Republican in the Senate and has been speaking out against immigration reform amid his reelection bid in Texas. An amendment he pushed to include was considered by reform backers as an attempt to kill the legislation, and its defeat gave the process a boost of momentum.
And immigration reform backer the Chamber of Commerce is as closely allied with GOP leaders as any organization in Washington.
But Don Stewart, a spokesman for McConnell, said there is little connection between the senator and those he used to work with. "The Leader is not directing those efforts by former staffers, so I don't see how you can draw any inferences."
The outside advocacy amounts to a classic Washington two-step, where politicians up for reelection tell the base one thing, while hoping for a different outcome.
It's a sleight-of-hand that grassroots conservatives are starting to react against. On Monday, the Senate Conservative Fund accused McConnell of playing both sides, arguing that he was "quietly allowing" immigration reform to ease its way through the Senate. The Fund is allied with former Sen. Jim DeMint (R-S.C.). "I feel like [McConnell] could block the sunset if he wanted to, yet somehow can't stop immigration reform. They're just pandering to the far right," said a Senate Democratic operative, concurring with the Conservative Fund's assessment.
On Monday, 67 senators cast a key vote in favor of immigration reform, signaling that the legislation will move through the chamber and head to the House. Cornyn was not among them. He told HuffPost after the vote that there shouldn't be any conclusions drawn from the advocacy of those in his circle.
"It shows how they're free agents," Cornyn said, laughing. "They're available to be retained to represent clients." Asked if he was in touch with them, he said: "Not about this."
Mark Krikorian of Center for Immigration Studies, which opposes the reform bill, called McConnell an "establishment guy."
"So it would appear what's happened is that he's told his big donors that he has to be against the bill, to prevent conservative attacks from being able to gain traction, but won't use his leadership position to fight the bill, allowing others in the GOP caucus to vote the way the Chamber and its ilk demand," Krikorian said in a statement.
Sen. Jeff Flake of Arizona, a member of the gang of eight negotiating the Senate's immigration compromise, said he hadn't noticed that Cornyn and McConnell's teams were allied with him, even as the leaders themselves aren't. "I hadn't looked at it that way," he said. "We're glad to get support wherever we can. I'm glad to have it."
One GOP operative working for immigration reform said that it's widely understood that getting reform done will be a boon for the party in general. "Every major donor meeting they go into, they're told, 'We're getting our ass kicked with Hispanics,' and they want that to go away," he said of GOP leaders in Washington. "Most of the bread-and-butter groups in our party are for this, for the same reason leadership is -- they're just sick and tired of hearing about this."
The Chamber and Crossroads are spending conservative donors' money on the project to pass immigration reform. When it comes to FWD, it's being done with Silicon Valley money, most of it ponied up by Facebook founder Mark Zuckerberg.
Joe Green, the founder and president of FWD.us, the tech-funded group pushing for immigration reform, has reportedly referred to its tactics as "Machiavellian." Green said the organization will refrain from running ads against opponents of immigration reform, according to a source who was briefed by Green on the tactic. Jesmer joined the GOP consulting firm FP1 Strategies in December, following the elections. The firm, meanwhile, has worked with GOP clients who are opposed to immigration reform, including Sen. Ted Cruz (R-Texas), who pleaded with Congress to oppose reform in the name of "our humanity". Running pro-immigration ads against Cornyn, McConnell or Cruz, however, would likely do them no harm, and might even help them.
But in states where immigration is unpopular, FWD hasn't stayed away. Instead, it has run ads on entirely unrelated issues. Its ad backing immigration proponent Sen. Lindsey Graham (R-S.C.) slams Obamacare and its namesake, for instance.
FWD has been running ads praising Mark Begich, an Alaska Democrat, for pushing to open the Alaska National Wildlife Refuge to drilling.
Similar ads praised backers of the Keystone XL pipeline. (Several backers of the group, including SolarCity and Tesla's Elon Musk, pulled their funding after learning their money was paying for ads that ran counter to their own positions.)

"I simply don't understand what they're doing," said one Democratic member of Congress involved in the closed-door House negotiations, declining to speak publicly so as not to alienate the group's donors.

Begich told HuffPost it was unclear whether the ads would help or hurt him, and that nobody from the group had lobbied him on immigration reform. He voted for the key amendment on Monday. He also noted that much of the money was wasted because the weather is lovely in Alaska this time of year, and most people are outdoors, making radio ads much more effective.
"It's their money, their choice," Begich shrugged.
Aaron Bycoffe contributed reporting
UPDATE: This is story was updated to include a comment from McConnell's office.
CORRECTION: An earlier version of the story misstated Jesmer's work with Cornyn.
Before You Go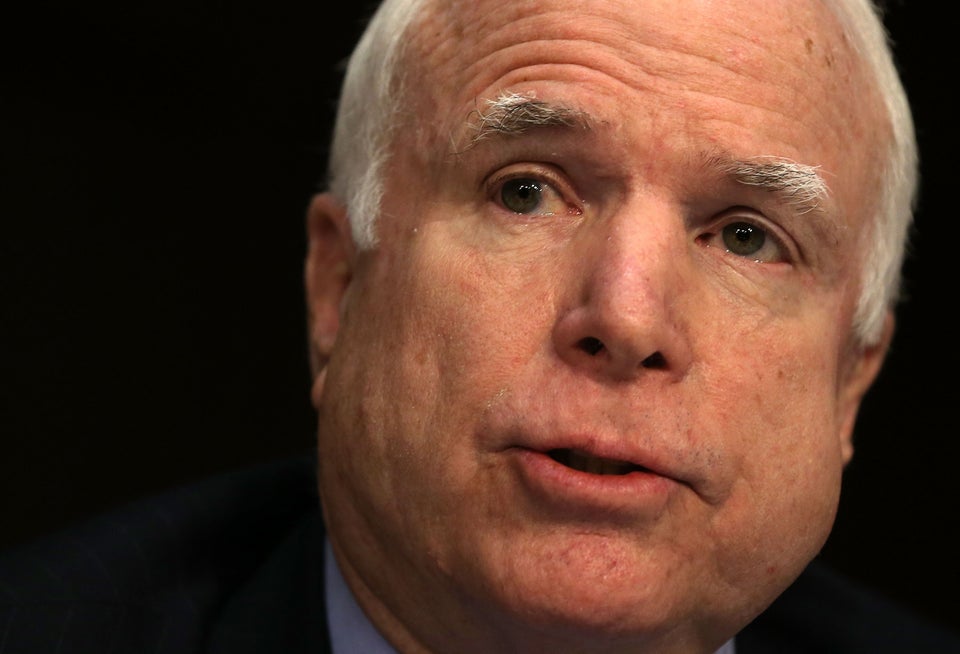 Bipartisan Immigration Plan's Key Provisions
Popular in the Community