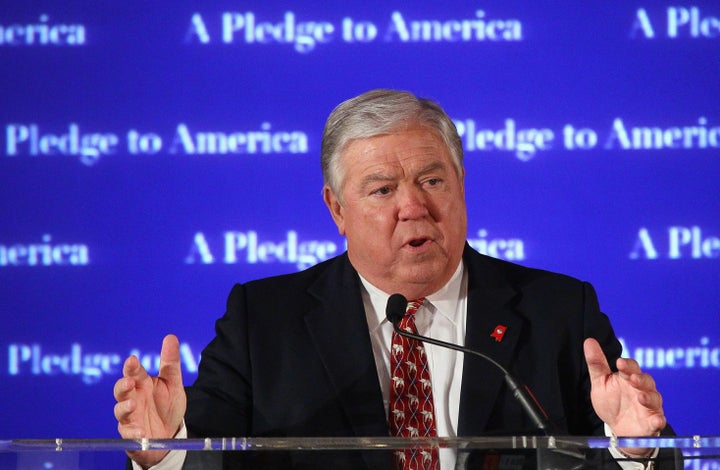 DES MOINES - GOP presidential hopefuls Haley Barbour, Newt Gingrich, Michele Bachmann, John Bolton and Herman Cain spoke on Saturday at an event organized by Rep. Steve King, a Republican from western Iowa.
The day-long meeting for Iowa conservative activists and caucus-goers also included panel discussions on family values and repealing President Obama's health care law.
Barbour was scheduled to speak first, at 9 a.m. local/10 a.m. eastern. Gingrich was expected to speak about an hour later, and Bachmann around 1:30 p.m. local. King also hosted a dinner last night headlined by Sen. Jim DeMint, South Carolina Republican.
King said in an interview Friday night that his role at the meeting is to "facilitate" and not to play king maker, for the moment at least. He did acknowledge that he and Bachmann, a congresswoman from Minnesota, have a "tight friendship" and that she "will be able to compete in this state, along with Haley Barbour and everybody else that's in this line up."
"My plan is not secret. I want to promote the caucus, the debate. I want to help shape the planks and the platform of the next president of the United States," he said.
King said that criticism of social conservatives from Libertarian conservatives and others who say the GOP's focus should stay on economic issues is misplaced.
"I'm not having any problem with my party. I think we're--I wouldn't quite say universal, but it is a very strong, broad position that the full spectrum conservative stance is the right place to be. And that is the fiscal and social conservatism that comes in the same package," he said.
"And we trust here in this state that if you get the answers right to the issues of life, and marriage and culture and society, you understand those values and you understand the Constitution itself, then the rest of those decisions will come along and those folks will get the answer right."
Popular in the Community