How quickly things change.
The House Ways and Means Committee voted this week to add $310 billion to the U.S. deficit by making permanent six tax credits for businesses. The measures are completely unpaid for -- they would grow the deficit by $310 billion. And next week House Republicans plan to begin to bring these bills to the floor for a vote.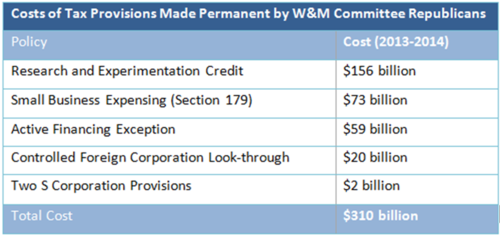 To put their fiscal irresponsibility into context, $310 billion represents half of the entire federal deficit this year -- which is the lowest it has been since President Obama took office.
It's also almost two-thirds of all non-defense domestic discretionary spending; more than three times what we spend annually on education, job training and social services; and five times more than we spend on medical research and public health. And it is five times more than we spend on veterans.
To say that this Republican effort is hypocritical is a serious understatement.
Moments before Republicans on the Ways and Means Committee voted to add $310 billion to the deficit, they objected to a provision offered by Committee Member Lloyd Doggett (D-TX) that would have helped abused foster children find work -- and would have cost only $1 million a year.
On top of that, four months ago, Republicans let emergency unemployment insurance expire for more than 1.3 million Americans (now 2.6 million) by arguing that an adequate offset had yet to be proposed. So in April, the Senate reached a bipartisan agreement on an offset after months of painstaking negotiations.
The unemployment insurance bill would help people like Genesis from Patterson, California, who wrote to me yesterday that she and her family have been evicted from their home. She's fighting to keep food in her fridge and pay her utility bills, all while trying to hide her stress from her 2-year-old son.
It would help Natalie of Tucson, Arizona, who told me that unemployment insurance was the only way she was able to pay for housing and for transportation to get to job interviews.
Yet House Republicans still refuse to act.
I support extending many of the tax provisions that expired last year. But not in the manner Republicans have proposed. Making them permanent at a cost of $310 billion is fiscally irresponsible and fundamentally hypocritical.
Fiscal responsibility should not simply be a slogan.
Calling all HuffPost superfans!
Sign up for membership to become a founding member and help shape HuffPost's next chapter