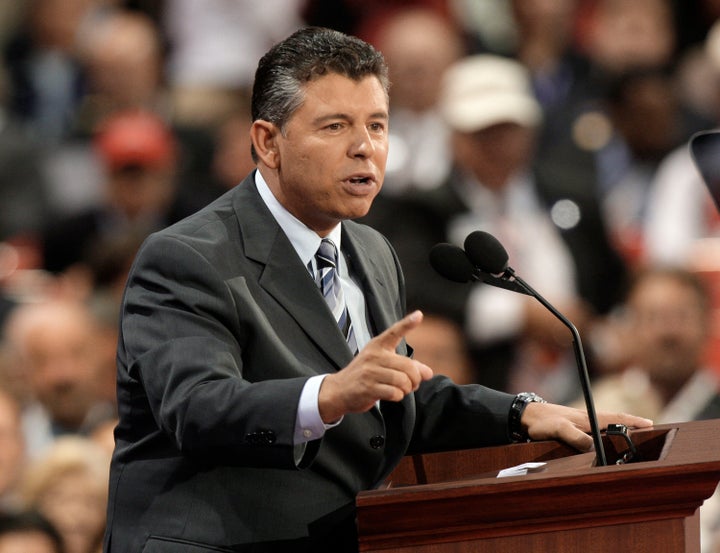 WASHINGTON -- The Republican Party is coming face to face with what could, for it, be a demographic calamity. Currently, just 12 percent of Latino registered voters believe the GOP serves them best, compared with 45 percent who prefer the Democratic party, according to a December 2011 poll by the nonpartisan Pew Hispanic Center. With Latinos expected to make up nearly 30 percent of the U.S. population by 2050, electoral reality is setting in: the party's future will be in jeopardy if it doesn't fare better with Latino voters.
To turn around the current trends, the GOP is undertaking a variety of initiatives. The Republican National Committee has hired its first director of Hispanic Outreach, the Republican presidential candidates have cut ads in Spanish, and state parties have launched campaigns to bring in Latino voters and recruit Latino candidates. In California, where Latinos make up 38 percent of the population, according to the 2010 Census, the state Republican Party hosts town halls for Latinos and gives media training to candidates. In Texas, meanwhile, the Republican Party is visiting Latino-heavy districts and contacting potential supporters directly.
"We're trying to start something, we want to start an engagement with the Hispanic community," David Zapata, outreach director for the Texas Republican Party, said. "If it hadn't been done in the past, I don't care, we want to get it started."
One of the most ambitious efforts, however, has been to find Hispanic candidates who will run under the GOP banner. The National Republican Congressional Committee has a recruitment team that looks at an area's demographics, resources and community involvement to identify districts where a Latino candidate could be successful. Having more representatives in Congress with diverse backgrounds "betters legislative efforts" by bringing in more viewpoints, said Andrea Bozek, a spokeswoman for the NRCC.
These efforts are working, the NRCC insists. As evidence, the committee produced a list of 27 non-incumbent Latino candidates running for office in 2012.
There's just one issue: Some of the candidates on the list aren't actually Latino -- or even registered Republicans.
The Huffington Post contacted each of the 27 reportedly Latino candidates touted by the NRCC, and spoke to more than half. Most of them said they hadn't heard from the NRCC before they announced their run -- and many still haven't. In addition, two of the candidates told the Huffington Post they were married to Latinos, but were not Latino themselves.
Told of that issue, a spokesperson for the NRCC said the list was meant to be of people with "personal or familial relationships to the Hispanic community."
The problems with the list don't end there. One candidate listed is no longer registered as a Republican for the purposes of his campaign, meaning that there are technically 24 Latino Republican non-incumbent candidates this cycle. Factoring in the fact that six of the candidates are running in three districts, the highest number of new Latino Republicans who could end up in the House next year is 21.
The GOP doesn't officially endorse before the primaries, but it's throwing weight behind a few of the candidates. Four -- David Valadao and Abel Maldonado of California, Ozzie deFaria of Florida and Dianne Costa of Texas -- are among the 67 GOP "Young Guns," a group of candidates the NRCC believes are "contenders" or "on the radar" to pad Republican numbers in the House. By comparison, the Democratic Congressional Campaign Committee has seven Latino non-incumbent candidates on its 36-person list of top-priority races alone.
Those four GOP candidates are doing well in fundraising, as are a few of the other Latino Republicans running for Congress this year, but the majority of them have only minimally more -- or far less -- cash on hand than their opponents. Some are going up against higher-profile Democrats, including Democratic National Committee Chairwoman and Rep. Debbie Wasserman Schultz (D-Fla.), who has two Latino GOP would-be challengers. Wasserman Schultz was outraising deFaria, the frontrunner and top-funded candidate in the GOP primary, by more than a million dollars as of the new year.
Still, the Republican party is making inroads. The six Latinos elected into Congress in 2010 were all Republicans, including Sen. Marco Rubio (R-Fla.), a rising star in the party and oft-cited as a potential vice presidential candidate, despite his insistence he will not accept the nomination. There are currently 29 Latino members of the House of Representatives, 21 of whom are Democrats. In the Senate, one of the two Latinos is a Republican.
Some of this year's crop of Latino Republican candidates said they formerly identified as Democrats, many because their parents had passed down the affiliation. But they said that as they grew older, their values changed and aligned more closely with the Republican Party.
"Most Hispanics are conservative, we just don't know it," said Adela Garza, a former field representative for Rep. Blake Farenthold (R-Texas) who is running in an open district in Texas. Garza, who came to the U.S. legally as a child, said Catholic beliefs and entrepreneurship are both Latino and Republican values.
In a November 2011 Univision-Latino Decisions poll, 30 percent of Latino voters said the Republican Party seems openly hostile to them, and 42 percent said the GOP doesn't seem to care about reaching out. But on several issues, Latinos align closer to the GOP platform. A plurality of Latino voters believe abortion should only be performed if the woman's life is at risk, and about the same percentage -- around 35 percent -- think same-sex couples should receive no legal recognition, the poll found.
Some of the Latino Republicans said they had found that other Latinos seemed more willing to give them a chance based on a shared culture, even if they usually preferred the other party. Julius Melendez, an Iraq war veteran who is running in an open district in Florida, said he doesn't necessarily use his heritage as a selling point. But he suspects it helps open the door to some voters who would otherwise brush him off.
"When people see I'm Hispanic, it's like a bonus," he said. "I don't run because I'm Hispanic, I run because I'm an American who cares about the future of our nation. But what it does is it opens the dialogue. ... When people look at me, they say, OK, he's a Republican, but it allows an Independent or a Democrat to give me an opportunity to present my case."
Several of the Latino Republicans and their campaigns also said that they expect to be aided by the fact that approval of President Barack Obama among Hispanics is dropping. Although Obama still beats would-be Republican challengers in polling match-ups, his approval rating among Hispanic voters dropped from 58 percent in 2010 to 49 percent in 2011.
A number of factors are contributing to a dip in Latino support for Obama, including higher than average unemployment in the Latino community. But one major factor appears to be unfulfilled promises. The president disappointed many Latinos when he promised immigration reform in his first year in office and now, three years later, has still failed to deliver.
"Obama hasn't really done a whole lot for Hispanics," said Mike Rodrigues, who is running for an open seat in Nevada and whose family came from Spain. "It's my understanding that there have been more undocumented immigrants who have been rounded up, arrested and deported under the Obama administration than in any previous administration. We need to create a process where we give people the opportunity to come forward and work with them to become citizens."
Democrats may also be getting a little cocky about their hold on Latino voters, said Costa, the Republican "Young Gun" running for an open seat in Texas.
As mayor of Highland Village, Texas, she attended a 2009 event hosted by Vice President Joe Biden to celebrate National Hispanic Heritage Week. They played mariachi music and served salsa, she said, which she found somewhat offensive.
"Hell yeah," Costa said when asked whether she thinks Democrats take the Latino vote for granted. "I don't feel like the Democratic party -- they don't understand that we don't all look and act the same."