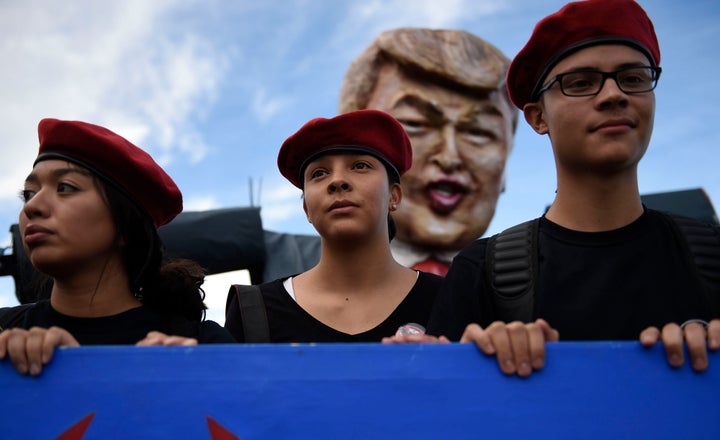 BOULDER, Colo. -- Minutes before presidential candidates took the stage at Wednesday's Republican primary debate, an evangelical pastor stepped to a microphone and told of being brought into the U.S. illegally by her mother, and how she didn't deserve to be vilified by politicians who neither understand nor care for her struggle for a better life.
"My mom and I were taken to a deportation facility,"said the Rev. Vanessa Guzman, also a real estate agent from Lakewood, a nearby Denver suburb. "For a week I stayed there, with enough clothes that could fill a trash bag. And we were sent back to Mexico. But my mom es una luchadora. And she went back to the United States and she knew that this is the place she called home." 
Guzman, now pursuing a masters of divinity degree at Denver Seminary, explained that she had a higher calling.
"This is where God lands," Guzman told The Huffington Post following her speech. "God is with the people that are being oppressed. Right now, these are the people. I'm sure you've heard the comments. This is the civil movement of our time. That's why I'm here."
Guzman was one of several speakers at a rally of Latinos on the University of Colorado Boulder campus, which hosted the GOP debate. The event was organized by Federico Pena, a former Denver mayor, U.S. secretary of transportation, and secretary of energy, and was billed as a response to anti-immigrant rhetoric on the 2016 campaign trail. Approximately 500 students and activists turned out to protest candidates, including Donald Trump and Sen. Ted Cruz (R-Texas), carrying signs that read "Stop The Hate" and "End Racism" as the two candidates, along with their rivals for the GOP nomination, jockeyed on stage a quarter-mile away.
While immigration reform was on the lips of those at the rally, the issue barely registered in CNBC's "Your Money, Your Vote" debate. In more than two hours, immigration was mentioned just six times -- mostly references to H1B visas for highly trained workers. A moderator's reference to Sen. Marco Rubio's (R-Fla.) previous support for a pathway to citizenship was ignored by the candidate.
The lack of attention to immigration was odd, because Latino voters play a particularly important electoral role in Colorado, which in recent years has become a key presidential swing state. (Nearly as odd was the choice of venue for the debate, an overwhelmingly liberal campus in an overwhelmingly Democratic town.) According to a 2011 Pew survey, 21 percent of Colorado residents are Hispanic, a statistic that weighs heavily on the minds of Republicans and Democrats as they prepare for the 2016 election.
In 2014, Colorado Republicans beat conventional wisdom -- and Democratic caricatures -- by electing Cory Gardner to the Senate. Gardner, an upbeat and charismatic candidate, softened his rhetoric on immigration and ably parried attacks over his record on women's health issues to oust incumbent Sen. Mark Udall (D-Colo.). In Colorado's 6th Congressional District, an historically safe Republican enclave that has recently turned more favorable for Democrats due to an influx of Latino voters, Rep. Mike Coffman won a fourth term by making overtures to the Hispanic community. He moderated rhetoric on immigration reform and even learned Spanish.
Republicans say they hope to repeat that model in 2016. The difference, however, is Donald Trump. The real estate mogul, who has maintained a lead in the polls for the last five months, has antagonized many Hispanics with his loud and brash rhetoric. He vows to deport all undocumented immigrants and build a wall on the U.S.-Mexico border. He also wants to revoke birthright citizenship and put limits on legal immigration. More than anything, however, Trump's antics risk harming the image of the Republican Party and its relationship with Latino voters.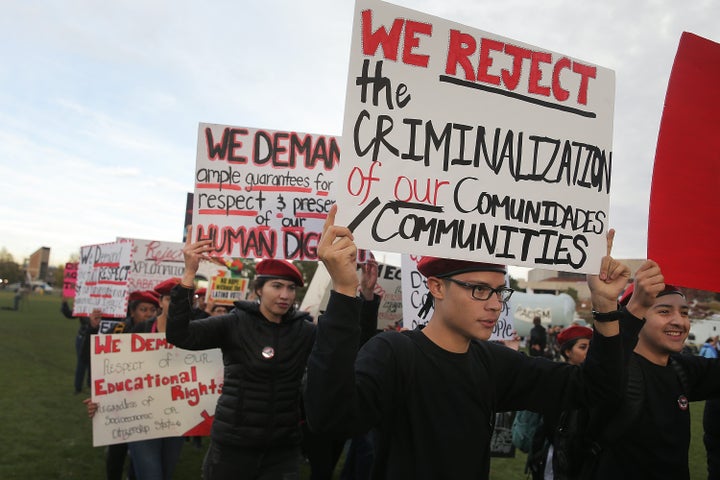 GOP officials across Colorado are putting on a brave face. They say Hispanic voters aren't a monolithic demographic. Like any voting bloc, party leaders add, Latinos in the U.S. are motivated by more than one issue. For the GOP, that means making inroads on education and the economy, two areas where they see an opportunity to connect with voters. It also means making a legitimate effort to engage with voters in their communities.
Education "is more amplified with Hispanics than it is with any other group," said Steve House, chair of the Colorado GOP, noting that the group with the lowest graduation rate in Colorado is Hispanic males.
Paulo Sibaja, a former RNC official who is running for commissioner in Arapahoe County, ticked off jobs and livable wages as big opportunities -- issues where Republicans say they are uniquely positioned to earn confidence of Latino voters.
"You have to prove to voters that we care," Sibaja told The Huffington Post. "Prove you care by advocating policies that lift every single one of them up."
Sibaja added: "Show respect for one another. Elevate American politics more than anything else. Make it about ideas, not about dividing people."
Tyler Sandberg, a former Coffman campaign official, said the key was to "show up."
"People want their votes to be fought for. You make a lot of ground up when people see you fighting for their support," Sandberg said.
Sue Moore, chair of the Denver Republican Party, said the job of engaging Latino voters was less about pandering and more about having a positive message. "The narrative gets less incendiary if everyone starts talking about how to help each other," she added.
Republicans have ramped up their outreach toward Latinos. Instead of parachuting in six months before an election, as they used to do, party officials have invested in a more permanent operation on the ground, hiring staff and opening offices in parts of the country that they had previously written off as unwinnable. They maintain an office in Colorado's Pueblo County, for example, a Democratic stronghold that boasts a large population of Latinos.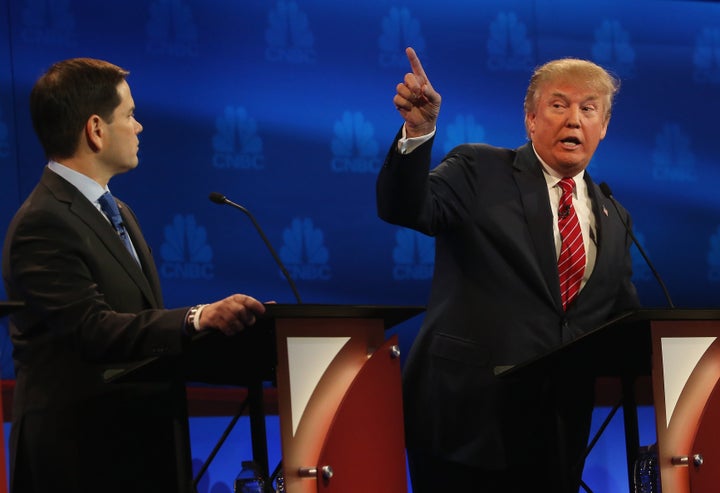 A bruising presidential primary, in which nearly every candidate has drifted further to the right on immigration, would likely spoil those efforts.
"If Republicans cannot be constructive on the issue of immigration, Latino voters will not listen to our candidates when they address other issues," said Alfonso Aguilar, head of the American Principles Project's Latino Partnership, a conservative Hispanic grassroots organization. "Ironically, Republicans have many positions with which Latinos can identify with. But this issue of immigration impedes, it's an obstacle for our candidates to engage the Latino community."
Aguilar called immigration a "gateway" issue, that, if Republicans aren't careful, may sour Hispanics in 2016.
On Tuesday, the eve of the GOP debate, Aguilar organized an unprecedented meeting of two dozen top conservative Hispanic groups in Boulder. Attendees included leaders from other grassroots groups, including the Latino Coalition, Hispanic Leadership Fund and the National Hispanic Christian Leadership Conference -- key groups Republicans rely on each election to build support among the Latino community.
At the end of the meeting, the group leaders made clear it was time to dump Trump. Furthermore, the activists issued a stern warning to all presidential candidates: Refrain from engaging in incendiary rhetoric on the campaign trail or we'll refuse to support you.
"Heed our warning," said Rosario Marin, former U.S. treasurer under President George W. Bush. "Don't expect us to come to your side during the general election. You are not with us now, we will not be with you then. You don't need our vote now, you won't have it then. You insult us now, we will be deaf to you then. You take us for granted now, we will not recognize you then."
Democrats, of course, are well aware of the GOP playbook. They argue that winning Latino voters comes down to more than just paying lip service to their needs or opening additional offices in Hispanic districts. They're more than happy to use Trump as a foil for all Republicans -- highlighting how the rest of the GOP presidential field also opposes a pathway to citizenship for undocumented immigrants, or how they would undo President Barack Obama's executive actions providing deportation relief.
"The rhetoric has alienated Latino voters in Colorado," said Rep. Jared Polis (D-Colo.). "Trump has injected a very anti-immigration stance, and other candidates have adopted that rhetoric. In the past, GOP candidates sought common ground on moving forward toward immigration reform. Now, they're distancing themselves from that effort."
Of course, Democrats made similar arguments in 2014, yet Colorado voters still elected Coffman and Gardner -- who both favored granting undocumented immigrants legal status. What's different in 2016? Democrats and Hispanic activists argue the state's demographics -- with increasingly younger and more diverse voters from urban areas -- will offer a key advantage.
"They're going to have an uphill battle as they move towards the general election," Polis said of the GOP.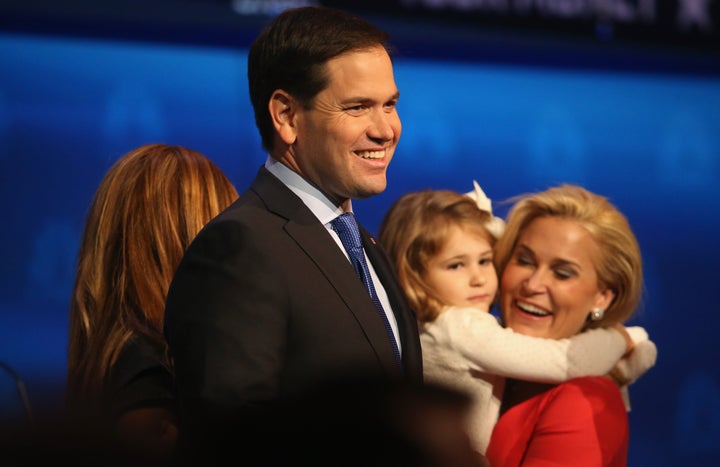 Democratic fortunes would likely increase, should the party nominate Hillary Clinton next year. The former secretary of state remains highly popular with Democratic Hispanics -- 73 percent said they would support her in a July poll conducted by Univision, topping Republican challengers.
That's not to say Colorado Democrats aren't worried, with a certain young, charismatic Hispanic candidate making headlines in the GOP race. Their anxiety was on display Thursday, after Rubio's strong performance at the Boulder debate, when Senate Minority Leader Harry Reid (D-Nev.) singled him out, telling The Huffington Post's Sam Stein that Rubio should resign if he dislikes his job so much.
There is evidence that, in Colorado at least, frustration was boiling over with both parties.
Laura Soto, from Longmont, Colorado, accused Republicans and Democrats of making hay out of the issue of immigration for partisan gain.
"Our number one message is that they shouldn't play politics with people's lives," Soto told The Huffington Post as she rallied against anti-immigrant rhetoric outside the GOP debate in Boulder. "It's been too many years that both Democrats and Republicans have been playing games with people's lives." 
Of Trump, Soto said he was "using his own power against him. He's setting a perfect example of what we do not want. He's making our choice very easy as a community of what we would not like to see happen."
PHOTO GALLERY
9 Outrageous Things Donald Trump Has Said About Latinos
Calling all HuffPost superfans!
Sign up for membership to become a founding member and help shape HuffPost's next chapter