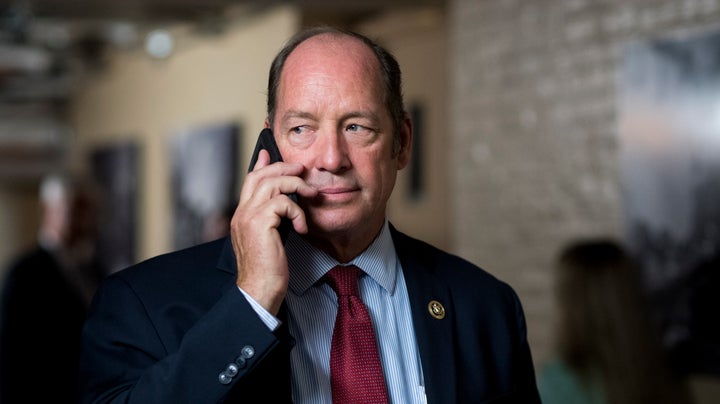 WASHINGTON ― Rep. Ted Yoho (R-Fla.) loves the idea of bringing a gun to work.
He can't do it right now. Congressional lawmakers and others who can carry concealed guns elsewhere still have to apply for a D.C.-specific permit if they want to be armed in the city, and only law enforcement officers are allowed to carry inside the U.S. Capitol. But after a gunman opened fire on GOP lawmakers during baseball practice in Alexandria, Virginia, last month, House Republicans introduced a flurry of bills that would let them carry concealed weapons almost anywhere.
For Yoho, carrying a concealed gun is just like having a cell phone in his pocket. He's usually armed when he's home, and he was packing at a recent constituent event in his northern Florida district. When his office had a staff retreat, he took the entire team out skeet shooting. So he's all for arming members of Congress.
"I think it's a good idea. I have the right to protect myself," Yoho told HuffPost. "I feel like I have very good aim. My wife is better."
The bills that Yoho's colleagues are pushing — there are at least three of them — vary slightly. One would let members of Congress carry a concealed weapon anywhere in the country, including in the Capitol, with a permit. (There are a few exceptions ― for instance, where the Secret Service prohibits it.) Another bill would allow the lawmakers to carry a concealed gun almost anywhere and let the U.S. Capitol Police make the rules about carrying inside the Capitol. A third bill would let the lawmakers carry a gun anywhere in the United States, except for the Capitol.
Some Republicans couldn't contain their excitement at the prospect of being able to carry a hidden weapon at work.
"Oh. Oh yes," said Rep. Pete Sessions (R-Texas), as a smile spread across his face. "Because sometimes I walk out [of the building] and I don't go back to my office."
Asked if that meant he worries he might be attacked once he leaves the safety of the Capitol, Sessions replied sharply, "I didn't say 'worry.' You know what? When you've got a place where five or more members [of Congress] are without police, you become a target."
During the attack on GOP lawmakers last month, which injured Rep. Steve Scalise (R-La.) and others, law enforcement officers already on the scene helped subdue the shooter. But the only reason that the armed Capitol Police were there was to provide the security escort that Scalise receives as a member of the House Republican leadership. The other lawmakers present — two of whom, Reps. Mo Brooks (R-Ala.) and Jeff Duncan (R-S.C.), are co-sponsors of the new bills — were unarmed.
Rep. Thomas Massie (R-Ky.) — who moved his congressional office in Kentucky out of a gun-free building and encourages his employees to carry firearms — said he has talked to members of Congress and a staffer who were at the baseball practice who "believe they could have done something" if they'd had a gun.
Some of those lawmakers are "very proficient" with firearms, Massie said. "I know this because I've shot with them at the congressional shooting competition." Lawmakers might also have had a "better position on the shooter," he added.
Gun rights advocates routinely claim that arming ordinary citizens helps prevent shootings. But of 62 mass shootings in the United States over the last 30 years, not a single one was ended this way, according to an in-depth investigation by Mother Jones. It's not just unusual for armed civilians to try to intervene in a shooting rampage, but those attempts are rarely successful, the magazine found.
"It's a crazy thing to have gone through, obviously," said Peter Ambler, who served as legislative director for then-Rep. Gabrielle Giffords (D-Ariz.) at the time she was shot in the head in Tucson, Arizona, in 2011. "You sort of feel really vulnerable in situations like that."
But, he added, "there's a big difference between owning a gun or having one on you, and also knowing how to effectively use it in a situation." Ambler, who was not there the day his boss was critically injured, is now executive director of Americans for Responsible Solutions, the Giffords-founded gun violence prevention group.
An armed civilian who helped subdue the gunman in Tucson also almost shot an innocent person. The officers who shot the gunman at the GOP baseball practice "spend their professional lives training for situations like that," Ambler noted. Most average people aren't going to have that kind of training, he said.
Rep. Don Young (R-Alaska) said he didn't worry there could be consequences if lawmakers carried guns ― and, say, one of them was a bad shot. "I don't worry about that too much because I already carry a gun," he said. "I don't worry about anything."
"He's only worried about the good shots," Sessions chimed in with a laugh.
Some of their Democratic colleagues, however, were horrified at the idea of members of Congress walking around with concealed weapons.
"There are a lot of members that don't know how to handle firearms," said Rep. Kathy Castor (D-Fla.), who noted she has a BB gun at home, but just for shooting squirrels. "There's enough high emotion around this place. It would not be just a danger to members of Congress. It would be a danger to the public."
None of the bills focused on expanding lawmakers' access to guns is expected to go very far. But gun control advocates worry that they reflect another, broader push by the National Rifle Association to mandate concealed carry reciprocity nationwide, which would require states to recognize concealed carry gun permits from all other states. Rep. Richard Hudson (R-N.C.) introduced the NRA-backed legislation in January and it has a whopping 200 co-sponsors — nearly half of the House of Representatives.
Prior to the baseball practice shooting, GOP lawmakers and the NRA appeared to be focusing on an effort to loosen restrictions on gun silencers. But the shooting took place on the same day that a House committee hearing was scheduled to address that topic. That hearing was promptly canceled and hasn't been rescheduled. The NRA's focus has turned to making it easy for people to carry concealed nationwide.
"In the days after the Alexandria shooting, the gun lobby made a calculated shift from focusing on making firearm silencers more widely available to pushing proposals to move us towards 'concealed carry reciprocity' ... [which] would decimate our nation's public safety laws," said Shannon Watts, founder of Moms Demand Action for Gun Sense in America, in an email.
It's unclear when, or if, the reciprocity bill will get a vote. The NRA did not respond to a request for comment on legislative strategy.
Although Massie isn't a co-sponsor on the lawmaker-specific bills, he has his own proposal to allow concealed carry permit holders from other states to bear arms in Washington, D.C.
"We've got to take care of everybody at the same time, not just the lawmakers," he said.
But members of Congress really want to pack heat themselves. Yoho laughed when asked if he felt comfortable with someone like Rep. Greg Gianforte (R-Mont.), best known for body-slamming a reporter on the campaign trail, carrying a gun in the Capitol.
"Keeps you in check, doesn't it?" he said.
Popular in the Community