In the summer of 2009, as Democratic town hall meetings grew unruly with protests over President Barack Obama's health care proposal, lawmakers looked for ways to calm the waters. One idea was to simply scrap the in-person town hall.
Instead of inviting constituents to community centers or school auditoriums, Democratic lawmakers would send out dial-in information for conference calls. People could still "attend" and questions could be "posed." But the opportunities for direct confrontation ― the type that made for cable catnip ― were greatly limited.
"I had hosted town hall meetings over the telephone so no one could act out," former Rep. Earl Pomeroy (D-N.D.) told The Huffington Post. "I knew [the protesters'] entire purpose was to disrupt and create some video making a member look awkward and defensive. They didn't want dialogue. They wanted to shout at me and get on the television."
For short-term purposes, the strategy worked. Pomeroy and others were spared the heat of town hall unrest. But in the long run, it only cemented the image of lawmakers afraid to defend the very agenda their party was pursuing.
"Looking back all these years, I didn't give them a platform to publicly humiliate me in a meeting for the purpose of trying to put me on TV," Pomeroy said. "On the other hand, I'd always prided myself on being open and engaging North Dakotans. In retrospect, maybe I should have done that more."
Eight years later, Republican lawmakers are faced with the same dilemma: to stand and endure the anger of constituents scared about the direction of their party's health care policy or to duck and cover in cozier confines. As in 2009, there appears to be some division over the best approach, with none proving particularly enjoyable.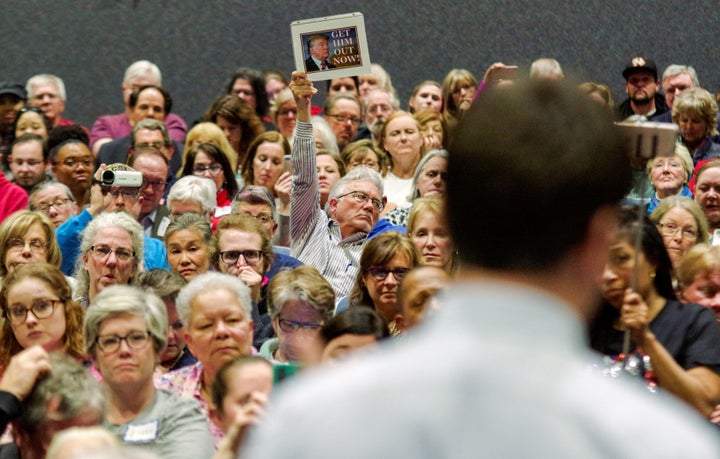 On Tuesday, a number of Republican lawmakers held open forums, only to be confronted by constituents' pleas not to repeal Obamacare and demands to hold the Trump administration more accountable. Senate Majority Leader Mitch McConnell (R-Ky.) was pressed repeatedly on the two topics. Sen. Joni Ernst (R-Iowa) was jeered when she left a town hall after 45 minutes, crowd members chanting, "Your last term." Sen. Chuck Grassley (R-Iowa) had a constituent tell him that if "wasn't for Obamacare, we wouldn't be able to afford insurance," while Rep. Buddy Carter (R-Ga.) was driven to get biblical in his defense of the president.
"I am not here to tell you Donald Trump is perfect. I am not here to tell you I agree with everything he has done," Carter told a boisterous crowd. "Those of you who have studied the Bible know that God has used imperfect people to do great things before."
At least those lawmakers showed up.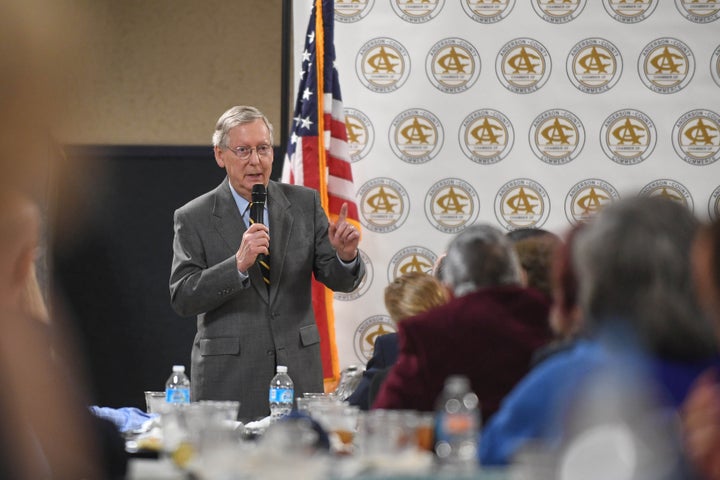 In recent weeks, other politicians have gone the Pomeroy route. Reps. Tom MacArthur (R-N.J.), Carlos Curbelo (R-Fla.), Martha McSally (R-Ariz.), Ron DeSantis (R-Fla.), Rodney Davis (R-Ill.), John Katko (R-N.Y.), Elise Stefanik (R-N.Y.), Bill Huizenga (R-Mich.), Mike Bishop (R-Mich.), Barbara Comstock (R-Va.), Ryan Costello (R-Pa.), Patrick Meehan (R-Pa.), Dan Donovan (R-N.Y.), Peter Roskam (R-Ill.), John Culberson (R-Texas), Kay Granger (R-Texas), Randy Weber (R-Texas), Michael Burgess (R-Texas), Brian Babin (R-Texas), Matt Gaetz (R-Fla.), Mike Kelly (R-Pa.), Chris Stewart (R-Utah) and Ken Buck (R-Colo.), among others, have turned to conference calls as an alternative to in-person meetings.
Rep. Steve Pearce (R-N.M.) avoided constituents who gathered in his office before hosting a tele-town hall to hear their concerns. Rep. Tom Emmer (R-Minn.) said he'd cancel town halls if people there became disruptive. Rep. Don Bacon (R-Neb.), who had pledged on the campaign trail to hold town hall meetings, said he was avoiding them now out of fear they'd be hijacked.
"It doesn't make sense that you would allow the fringe to take over a town hall," Bacon told The World-Herald. "It's not fair to the people there, and it's what they're going to try to do. And I just don't see putting myself in that situation or those who want to attend."
In ducking town hall gatherings, the GOP lawmakers fell back on several excuses ― one being that those who show up are there precisely to agitate; another being that the format can become a security risks when tempers flare, as they often do.
On Monday evening, President Trump himself tweeted that the crowds showing up at these events are actually just liberal activists.
The current crop of politicians also aren't the first to make these calculations. For several election cycles now, members of Congress have been hosting fewer and fewer such events.
As any congressional aide knows, it's not just that in-person town halls are tricky; it's that tele-town halls have definite advantages. Questions can be screened, if the host so desires. Legislative staffers can feed their boss data points, as the lawmaker fields queries and complaints. All the while, the communications director hovers nearby to enforce message discipline.
A video from a town hall services provider lays out the ease with which it works:
This all comes at a cost, though. A lawmaker only willing to talk on the phone is a lawmaker sacrificing not just face time with those who elect him, but also authenticity.
Former Rep. Allen Boyd (D-Fla.) proudly recalled ― without a moment's hesitation ― that he'd held 16 town hall meetings in the summer of 2009. "Even as my staff advised me against doing them," he told HuffPost.
Boyd said he was better off for it. "We didn't have any YouTube moments, but they were pretty rowdy," he said. "And we were able to understand, from a first-hand experience, what was going on in the country."
Even face time with the voters isn't always enough. Boyd lost his seat in the Democrats' 2010 electoral bloodbath, just like Pomeroy.
"I said often that there was little that I did or could have done to change any of that," Boyd said. "So, you know, you've got to ride through it. I couldn't give [current lawmakers] any advice other than that. If they've done their due diligence and are comfortable with the decision they've made, then they've got to go out and defend it."
Popular in the Community