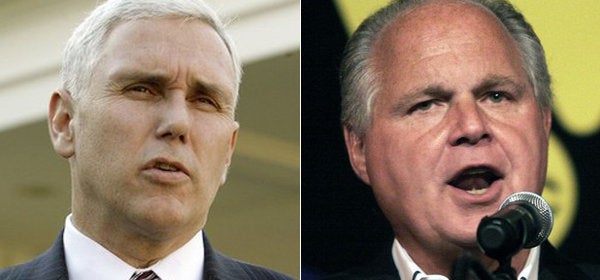 Over the past few days, talk radio host Rush Limbaugh has been, far and away, the most combative critic of Barack Obama. As Republicans on the Hill compliment the president for his willingness to talk and compromise on the stimulus, the popular conservative firebrand has openly rooted for Obama's failure.
The remarks have created a rather complicated and touchy political dynamic on the Hill, as the GOP tries to avoid a sour-puss, oppositionist label without offending its base. And on Wednesday, Rep. Mike Pence of Indiana tried to walk that tricky line.
Asked whether he shares Rush's hope that Obama will fail, Pence, the no. 3 ranked House Republican and a leader of congressional conservatives, demurred.
"Let me just say, every American hopes that our president is a success," said Pence. "But I agree strongly with Rush Limbaugh that on those issues that President Obama has committed himself to more government or more spending or a departure from traditional values, that I hope Republicans and other leaders around the country will be steady advocates for the American people.
"Everyone hopes that America succeeds and our president succeeds," Pence added, "but Republicans are going to stand for conservative values..."
On a broader level, the Limbaugh tirades reflect the sort of soul-searching journey on which the GOP has embarked. While Senate Republicans seem poised to work with Democrats on a stimulus package, the House side has resolutely toed a partisan line. Earlier in the day, both Pence and Minority Leader John Boehner said they were spending no time whipping votes against to the House stimulus package -- resistance came that easily.
But how sincerely the party wants to embrace the Limbaugh base is a trickier debate. The GOP is holding a retreat this week to plot out its future and the issues it will pursue. Among the headlining guests will be former Gov. Mitt Romney, Gov. Tim Pawlenty, and Gov. Mitch Daniels, said Pence. Asked if Limbaugh was on the invite list, he replied: "Rush Limbaugh would be welcomed at the Republican retreat."
Popular in the Community