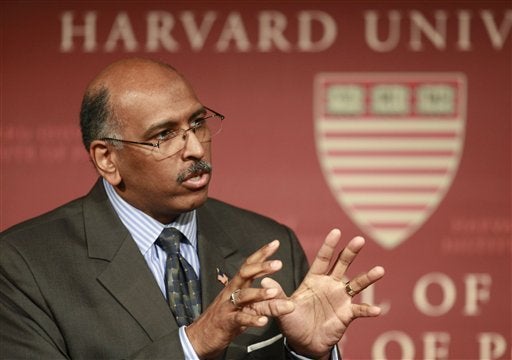 Michael Steele got a much-needed boost on Friday in the form of a letter of support signed by 31 state GOP chairmen.
In the letter provided to CNN, the chairmen commend Steele's electoral record as "stellar," his fundraising efforts as "solid" and
credit him with building "our Victory programs' ability to identify and deliver voters for Republican candidates."
Under Steele's leadership, the chairmen continued, "the RNC has the ability, focus, and drive to lead Republicans to a sweeping victory in November."
This show of support marks a departure from recent news signaling that the state apparatus of the Republican party might be turning on Steele. On Thursday, Tom Fetzer the Chairman of the North Carolina GOP party called on Steele to resign.
According to CNN, more state GOP chairmen are expected to sign on to the letter in he coming days.

Republican State Chairmen Line Up Behind RNC Chairman Michael Steele

NEW ORLEANS - State Republican leaders from around the country today quickly lined up to show their strong support the Republican National Committee Chairman Michael Steele for his strong record in winning elections, raising funds to support the Republican campaign, and creating a strong partnership with state parties.

As additional state leaders continue to sign on, 31 chairs have signed the following statement as of this moment:

As Republican Party state chairmen, we believe Chairman Michael Steele can lead the RNC to be a full partner with us this fall in our efforts to fire Nancy Pelosi and win Republican majorities in Congress and among governors. His record at winning elections has been stellar, his fundraising ability has been solid, and he has honed our Victory programs' ability to identify and deliver voters for Republican candidates.

The charge of any national Chairman is to raise money and win elections. With over $100 million raised, victories in Virginia, New Jersey and Massachusetts, and victories in 29 of 37 special elections, Michael Steele has demonstrated that under his Chairmanship the RNC has the ability, focus, and drive to lead Republicans to a sweeping victory in November.

The RNC under Chairman Michael Steele is a full partner with state committees, responsive to our needs, and intensely interested in providing the support necessary for victory. That process is not an easy process. Technology has had a great impact on the art of politics. That impact has required the RNC to adapt and change to work effectively in this modern environment. Change can sometimes be difficult. But the changes Michael Steele has brought to the RNC were essential for our party to adapt, and win, when we do not, for the moment, hold the White House or Congress.

We stand behind Chairman Steele as he continues to lead us on the path victory in November.

Randy Ruedrich, Alaska
Ron Nehring, California
Dick Wadhams, Colorado
Chris Healy, Connecticut
Tom Ross, Delaware
Robert Kabel, District of Columbia
Sue Everhart, Georgia
Jesus Torres, Guam
Jonah Ka'auwai, Hawaii
Norman Semanko, Idaho
Pat Brady, Illinois
Steve Robertson, Kentucky
Charlie Webster, Maine
Audrey Scott, Maryland
Jennifer Nassour, Massachusetts
Ron Weiser, Michigan
Tony Sutton, Minnesota
Will Deschamps, Montana
Mark Fahleson, Nebraska
John Sununu, New Hampshire
Jay Webber, New Jersey
Harvey Yates, New Mexico
Robert Tiernan, Oregon
Rob Gleason, Pennsylvania
Gio Cicione, Rhode Island
Chris Devaney, Tennessee
Dave Hansen, Utah
Steven Larrabee, Vermont
Pat Mullins, Virginia
Luke Esser, Washington
Reince Priebus, Wisconsin
Popular in the Community