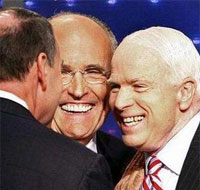 An endorsement in California. Fundraising dinners. An 'Exchange of Ideas' with a former Reagan speechwriter. The four Republican frontrunners chose these events over tonight's forum in front of African-American voters at Baltimore's Morgan State University.
The top GOP candidates have been widely criticized for snubbing the event tonight, with even President Bush advising the eventual nominee "to reach out to the African American community."
Despite several months notice, Republicans have cited scheduling conflicts to justify skipping Morgan State forum, which was first announced in March. Staff and fundraisers from all four campaigns failed to respond to Huffington Post inquiries today asking when the events they are attending today were first planned.
One GOP candidate might even be digging himself a deeper hole with minority voters.
Former New York City mayor Rudy Giuliani is in California today, raising money and accepting the endorsement of former GOP governor Pete Wilson. The AP noted it was a "mixed blessing" for Giuliani "due to Wilson's hardline stand on illegal immigration," which was credited for "driving Hispanics from the GOP in California."
Sen. John McCain will be in New York City tonight, appearing in an "Exchange of Ideas" campaign event with top Reagan White House speechwriter Peggy Noonan.
Ex-senator Fred Thompson is at home in Tennessee tonight where he is also raising money.
Like Giuliani, former governor Mitt Romney is in California for a San Diego fundraiser. He defended his choice to sit out the Morgan State forum to the Christian Broadcasting Network's David Brody, saying he's forced to turn down some debate invitations "because you've got to raise the money, and you've got to do the grassroots work."
Romney blamed the media for generating too much attention to the issue. "Of course we care about minority voters. We're not entirely brain dead. We want people in the entire country to vote for us -- Hispanic voters, African-American voters -- we all want them in the primary and in the general."
REAL LIFE. REAL NEWS. REAL VOICES.
Help us tell more of the stories that matter from voices that too often remain unheard.