WASHINGTON ― House GOP leaders are forging ahead with their health care legislation, downplaying a potential conservative mutiny on the Republican proposal to overhaul the Affordable Care Act even as there are real questions whether their plan can pass.
Speaker Paul Ryan (R-Wis.) once again projected confidence Wednesday morning, telling reporters he was confident Republicans would get behind the complementary bills being reviewed by committees this afternoon.
"I have no doubt we'll pass this, because we're going to keep our promises," Ryan said.
Ryan said any member who wanted to participate in drafting the repeal and replace plan could have helped. And while it's true there were working groups for the legislation that members could have joined a long time ago, leaders actually hid the bills in an undisclosed room and didn't let Republicans read the legislation until Monday.
Regardless of the process, the speaker and other GOP leaders spent a good part of their closed-door conference meeting Wednesday morning trying to convince Republicans that this legislation is their only hope for repealing Obamacare.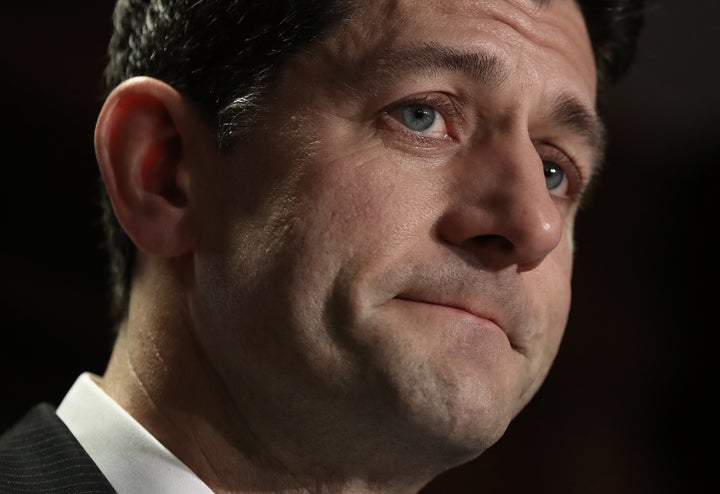 "They do play up the 'take it or leave it,'" Rep. Justin Amash (R-Mich.) told The Huffington Post, adding that he was unconvinced by the sales pitch.
Conservatives insist they will not vote for the current GOP legislation, which they've panned as "Obamacare 2.0" and "Obamacare-lite." But leaders are betting that Republicans will eventually feel the pressure once President Donald Trump makes more of a push for their plan.
"For a lot of them, they maybe haven't felt the inertia that comes from Air Force One landing in their district," Energy and Commerce Chairman Greg Walden (R-Ore.) said of conservatives Wednesday, as he headed to mark up the bill that's in his committee.
Walden said he believes that, as whip efforts from the White House "ramp up," conservatives will get onboard. "The dynamic changes," he said.
For now, House GOP leaders are trying to fill in the gaps left by mixed messages from the White House.
"This was a rallying cry today to get our team on the same page," Rep. Chris Collins (R-N.Y.) said of the conference meeting on Wednesday.
Collins, who was the first member of Congress to endorse Trump, seemed to have accepted the leadership line that Republicans have only one option when it comes to the repeal and replacement of Obamacare.
"The path forward is, if the Republican conference doesn't pass this, our whole agenda goes down the tubes," Collins said.
"If we don't get this done, woe be the Republican conference in 2018 midterm elections ― and we know this," he added.
Conservatives agreed that was the message on Wednesday. "They definitely have a rallying cry," Rep. Paul Gosar (R-Ariz.) said, adding with a wink that "time will tell" if it's an effective one. But conservatives don't seem to buy the "this is our only shot" approach.
Amash was emphatic Tuesday night after the House Freedom Caucus met that this health care plan isn't the only path to getting rid of Obamacare. "It's never true that you have to take whatever bill is given to you," he said. 
Amash added that if Republicans don't pass this version of health care legislation, they could pass something else, and he suggested the current plan is an impossible lift anyway. "It's false that there are 218 votes," Amash said, noting he had caught Ryan's comments earlier in the day guaranteeing the votes for passage.
Amash reiterated his belief that Republicans need to start the process over and begin with the conservative health care proposal written by Sen. Rand Paul (R-Ky.) and Rep. Mark Sanford (R-S.C.), and he wholeheartedly rejected the idea that the current legislation backed by leadership is their only shot.
"It's false," Amash said. "It's like saying, 'If we don't eat dinner in Paris tonight, our families will starve.'"
REAL LIFE. REAL NEWS. REAL VOICES.
Help us tell more of the stories that matter from voices that too often remain unheard.
BEFORE YOU GO
PHOTO GALLERY
2017 Scenes From Congress & Capitol Hill