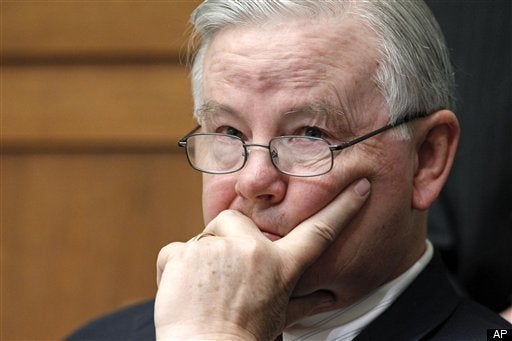 House Republican leadership threatened to strip Rep. Joe Barton's seniority on the Energy and Commerce Committee if the Texas Republican didn't immediately retract an apology he had issued to BP earlier on Thursday, a GOP leadership aide told HuffPost.
His post, however, is still not secure.
Barton is the highest-ranking Republican on the committee and stands to become its chairman if Republicans regain control of the House following the elections in November. He was called into a meeting with Minority Leader John Boehner (R-Ohio) and Minority Whip Eric Cantor (R-Va.) and slammed for issuing the apology.
"Barton met with Boehner and Cantor this afternoon. He was told, 'Apologize, immediately. Or you will lose your position, immediately. Now that he has apologized, we'll see what happens going forward," said the leadership aide.
"He was concerned about explaining his point that the White House doesn't necessarily have the authority to do what they did. But, when you start out by apologizing to BP, you've lost your audience," said a second aide, "especially when they agreed to the fund willingly and when our Members are on record supporting the fund."
The meeting followed remarks Barton made during a hearing Thursday morning with BP's CEO Tony Hayward.
"I'm ashamed of what happened in the White House yesterday," said Barton. "I think it is a tragedy in the first proportion that a private corporation can be subjected to what I would characterize as a shakedown -- in this case a $20 billion shakedown -- with the attorney general of the United States, who is legitimately conducting a criminal investigation and has every right to do so to protect the American people, participating in what amounts to a $20 billion slush fund that's unprecedented in our nation's history, which has no legal standing, which I think sets a terrible precedent for our nation's future."
"I'm only speaking for myself. I'm not speaking for anyone else, but I apologize," Barton added. "I do not want to live in a county where any time a citizen or a corporation does something that is legitimately wrong, [it is] subject to some sort of political pressure that, again, in my words, amounts to a shakedown."
Popular in the Community