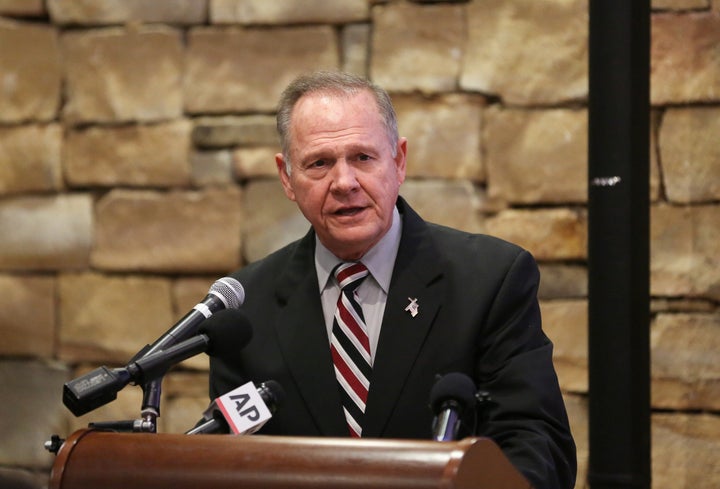 Republican supporters nationwide have yet to embrace calls by GOP leaders that party nominee Roy Moore end his Senate candidacy in Alabama, a HuffPost/YouGov poll shows, though support for him in the national survey is tepid, at best.
By a 12-percentage-point margin, 39 percent to 27 percent, registered Republicans and independents who lean toward the party say Moore should not drop out of the race because of sexual assault and misconduct allegations against him. The rest of those polled said they were unsure about what he should do.
Results on that question have varied across surveys since the allegations surfaced. A poll by Quinnipiac University of solely Republican voters showed a close split on the matter, with 38 percent saying Moore should keep running and 42 percent saying he should not. In a Morning Consult/Politico survey, again of only Republican voters, respondents said by a nearly a two-to-one margin he should drop out.
While the HuffPost/YouGov survey looked at a broader population by including GOP-leaning independents and American not registered to vote, that doesn't seem to be a source of the discrepancy. Support for Moore continuing his candidacy was larger solely among Republican voters in the HuffPost/YouGov poll than among the larger sample ― 42 percent said he should stay in the race, while 23 percent said he should exit and 35 percent weren't sure.
Both the Quinnipiac and Morning Consult/Politico polls, however, offered significantly more details about the allegations facing the candidate. Quinnipiac, the only one of the three conducted by phone rather than online, didn't offer respondents an explicit option to say that they were unsure.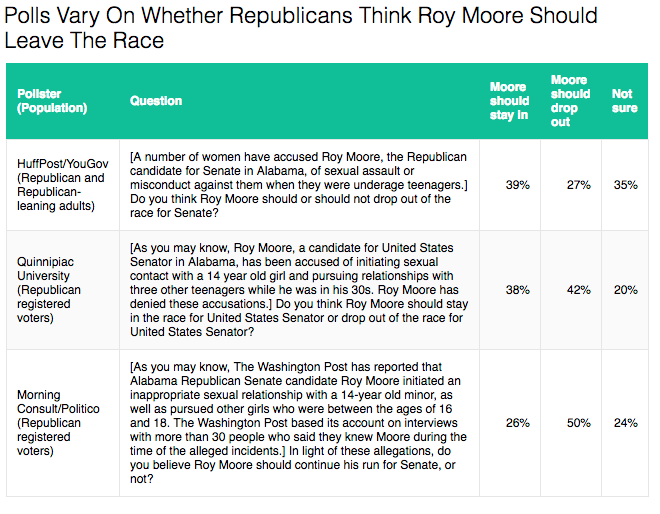 Just 17 percent of Republicans and GOP leaners in the HuffPost/YouGov poll said the accusations against Moore are credible, with 32 percent saying they're not and the remaining half unsure. If the allegations are true, 46 percent say, they should disqualify Moore from serving. A quarter said that Moore sexually assaulting underage girls would be relevant, but not disqualifying, while 12 percent said it would be entirely irrelevant. Republican and Republican-leaning women are 16 points likelier than their male counterparts to say the allegations are disqualifying if true.
Republicans are far less fervent in their support of Moore than they were for President Donald Trump when he faced several accusations of sexual assault just before last year's election. In a HuffPost/YouGov survey taken in October 2016, a majority of Republicans dismissed the allegations as not credible, and just 19 percent said that the accusations, if true, would disqualify Trump for the presidency.
That likely reflects, to some extent, the different standings of the two men within the party. While Trump was, less than a month before the election, the GOP's standard-bearer, Moore is relatively unknown outside Alabama and wasn't the first choice in the Senate race of many establishment Republicans.
After initially hedging that the allegations against Moore were heinous "if true," most national GOP leaders have distanced themselves from the candidate. The Republican National Committee has pulled funding from his campaign, and all but one of the senators who endorsed him have since withdrawn their support.
In the HuffPost/YouGov poll, just 15 percent of Republicans and Republican-leaning independents believe that most or all members of the congressional GOP support Moore, while 44 percent say that just some or almost none still back him, with the remainder unsure.
What Republican leaders think of Moore, of course, may influence the national debate on him, but it is unlikely to matter much in Alabama's Dec. 12 special election for the seat Jeff Sessions vacated to serve as Trump's attorney general. Running against Moore is Democrat Doug Jones.
Surveys in the state also diverge on the current state of Moore's political fortunes, in no small part due to differing assumptions about voter turnout. Figuring out who will cast ballots was a tricky proposition for pollsters even before the latest news gave Republicans a possible incentive to stay home.
Use the widget below to further explore the results of the HuffPost/YouGov survey, using the menu at the top to select survey questions and the buttons at the bottom to filter the data by subgroups:
The HuffPost/YouGov poll consisted of 1,000 completed interviews conducted Nov. 13-14 among U.S. adults, using a sample selected from YouGov's opt-in online panel to match the demographics and other characteristics of the adult U.S. population.
HuffPost has teamed up with YouGov to conduct daily opinion polls. You can learn more about this project and take part in YouGov's nationally representative opinion polling. More details on the polls' methodology are available here.
Most surveys report a margin of error that represents some, but not all, potential survey errors. YouGov's reports include a model-based margin of error, which rests on a specific set of statistical assumptions about the selected sample rather than the standard methodology for random probability sampling. If these assumptions are wrong, the model-based margin of error may also be inaccurate. Click here for a more detailed explanation of the model-based margin of error.